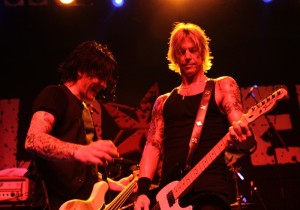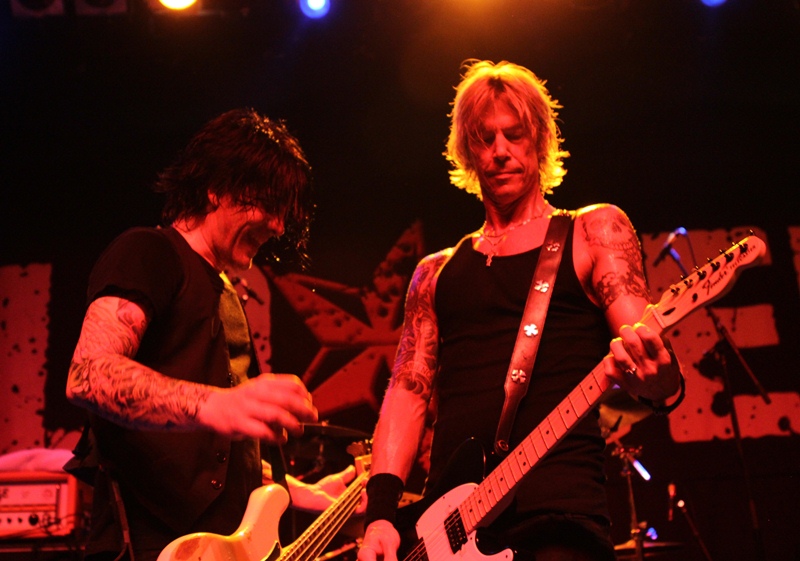 The wrath of Soundwave continues. In the midst of Sidewave week here we are at The Manning Bar in Sydney tonight to see Danko Jones, Fozzy and Loaded and I'm set for what I know will be a rockin' night.
Danko Jones are up first tonight, this three piece from Canada are in Australia for the first time and doing their best to get the crowd going early. 'She Makes Me Forget My Name' is as gritty and rock and roll as you like. As the crowd starts to make their way slowly in, I really wish there were more people here to see Danko Jones as they are damn good. Bringing the "rock and roll and the hoochie coochie coo" as Mr Jones put it tonight, they are no bullshit and with songs like 'Kiss on the First Date' which  got the reception it deserves (good by the way) as did 'Beautiful Day' they're on a roll now. This machine is tight and really put on a damn good show.  Throwing in some crowd participation with some killer riffs mid song including 'Iron Man' by Black Sabbath which got a nice little sing along going. Regardless of the lack of crowd interaction early on, they have won everyone over by the end of their set and let's hope it's not long before these guys come back. A quality set from a band more people should know about.
I do have to giggle as 'Rocket Queen' is playing in between sets. Ahhh the good ol' days…
AC/DC's 'Have a Drink on Me' blares through the P.A. as an intro to these self-proclaimed 'Huge Rock Stars' Fozzy who are up now and immediately full of rock moves and all out showmanship Chris Jericho bounds on to the stage to join his band mates opening with 'Spider in my Mouth' and instantly this band shines musically as the heaviness is evident and the tightness of these guys is insane. Chris is not the best singer in the world but he is the perfect front man and eternal showman as they run through 'Sandpaper' complete with bitchin' harmony guitar solo. 'Pray for Blood' is a monster and I think what I really like about this band is they're just out to have fun and it shows. 'She's my Addiction' is a stand out. 'God Pounds His Nails' is so good with a Hey, Hey, Hey and a 1, 2, 3… oh random a couple of dudes from Sum 41 are here watching the show. 'Sin and Bones' is as heavy as you'd want and played perfectly with some great guitar work once again and getting their biggest reaction of the night so far. 'Enemy' it's fair to say is Fozzy's best known track and is awesome tonight and those here loved it. You have to love a 'Fozzy Fozzy Fozzy Oi Oi Oi' chant that we admittedly have heard about five times during their set but was still pretty cool each time. Leaving us tonight with 'Blood Happens' and holy shit this is a monster. I guess Fozzy just really know how to put on a good show and that's shown tonight.  They've come a long way from their beginnings and I can't wait to continue to see them grow.
Duff McKagan's Loaded are up. "Sydney are you ready to get sick?" asks Duff as they start, get this… 'Sick' and you can tell straight away that the crowd love Duff that's for sure, I guess when you've been in the industry for that long and in bands like I don't know, Guns n' Roses and Velvet Revolver people will follow what you do. Admittedly 'Loaded' haven't broken here and that's a shame as their style of sleazy just balls out Rock and Roll really suits the Aussie lifestyle. Third song in is where it's at for me 'We Win' should be a commercial radio hit, the melody is there, the hook is there but it's just a shame that more people can't hear this. Oh shit, it even has a 'whoa oh' sing along. Go listen to this song now!!
Much like Danko Jones, this is Loaded's first time in Australia and thankfully due to a festival like Soundwave they are given the opportunity. 'Dead Skin' from 'The Taking' is great but as Duff takes his own life in his hands he lays back on the crowd and crowd surfs, while playing his guitar mind you. Impressive. 'Seattle Head' was great but was topped by the guy yelling out a request for 'Believe In Me' man that is old school ha ha. 'Lords of Abbadon' shuts that guy up and again showing just how good some of these Loaded songs are. Reminiscing about memories lost from precious visits due to 'Cocaine' see what they did there… Oh no way. Didn't expect a Guns n Roses track at all, here we have 'So Fine' dedicated to Chris Jericho who supposedly tried to kiss Duff backstage and I now wonder if that leaves hope for more 'classics'?! Sooner said than done we get 'Memory' but throwing in a touch of 'Patience' for good measure with a great crowd sing-along. Wow this is old school time as 'Attitude' gets a run, whoa. Duff has just put on the bass, things are getting serious now, that or getting to the end of the night…
Danko Jones has just joined the band on stage for a really raw slower version of the Gunners classic 'You're Crazy' which was amazing then followed by 'Dust n Bones' which almost got the biggest crowd love for the night. One more song and one to love, with that bass riff we all know and love that starts it off 'It's So Easy' sent the place in to a frenzy as you'd expect from this Duff loving crowd. This was the best way to end the set and a truly great night.
Overall Loaded really are a fuckin' good band actually, well worth your time, old school GnR fan or not. Leave that behind and just check out a great 'new' band that is making great new music. What a kickass night of rock and roll.
Check out our interview with Duff McKagan here…
Check out our interview with Danko Jones here…
Check out our interview with Rich Ward of Fozzy here…
Essential Information
Venue: The Manning Bar – Sydney
Date: February 25, 2013
Supports: Danko Jones, Fozzy
Website: www.duff-loaded.com
Loaded Setlist:
Sick
Executioner's Song
We Win
Sleaze Factory
Dead Skin
Dark Days
Seattle Head
Johna
Lords of Abbadon
Cocaine
New Rose
So Fine
Memory / Patience
Attitude
You're Crazy
Dust N Bones
It's So Easy
Photo's by: Inside Edge Photography
www.facebook.com/InsideEdgePhotography
Feature gallery coming soon