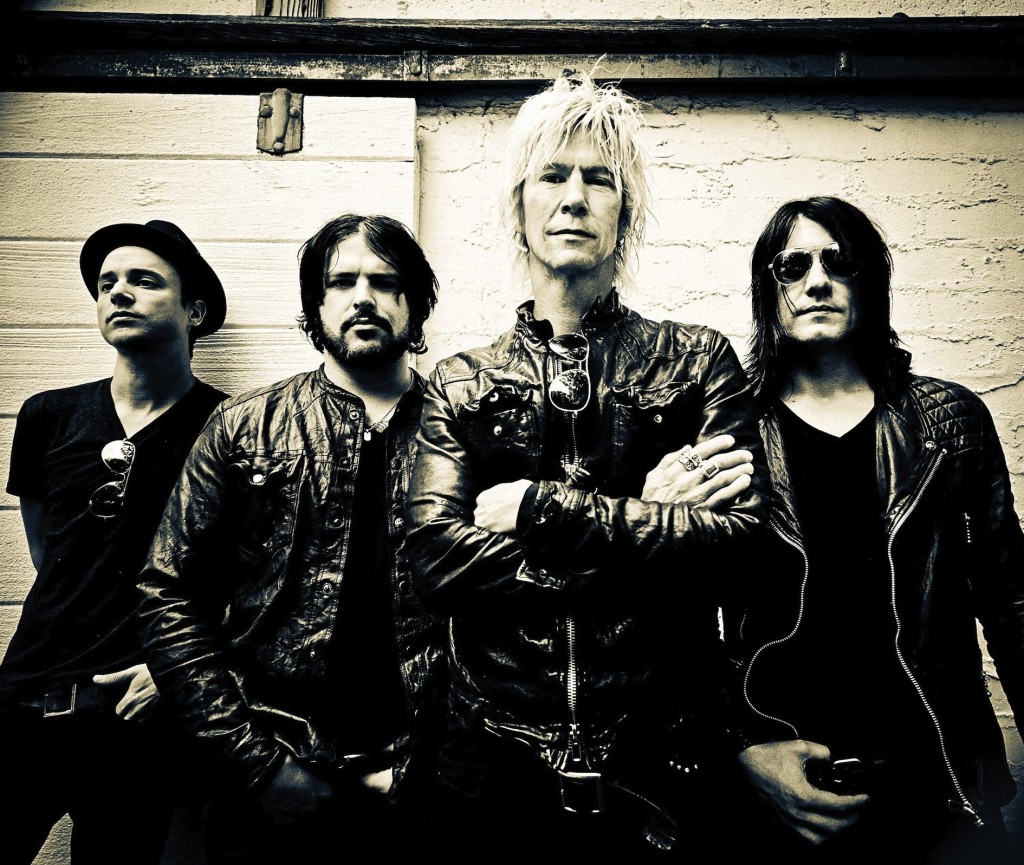 "We just do our own thing and that's what we've done, and we try to keep turning the screw a little musically on the new music that we write and we like to be a little different and we've got ourselves a nice little following around the world and Australia's next."
From tour press release: When names like Guns N' Roses and Velvet Revolver populate your résumé, you have a lot to live up to on your solo releases. Duff McKagan not only lives up to it, but has cemented his legacy as one of Rock's most unique figures.
Duff McKagan and his gang have been building a sound full up with earthy ground and pound. Sure there's an undeniable streak of the platinum level hookery and crookery that took Duff to the very top of the candy mountain and this is nowhere more evident than his third album, 'The Taking'.
Duff is headed to back Australia, this time with his band 'Loaded' and we had the chance to talk to him about the band, they're upcoming Soundwave shows, some great memories of the past and plans for the future…
Thanks for time to talk to us Duff.
Awesome, yeah thanks for taking the time to talk to me.
Now to start off, I'm not sure if you know, but it was twenty years ago today I was at Calder Park in Melbourne seeing Guns n Roses play and it was amazing, do you have any memories of that day or tour that you can share?
No I did not realise that, wow.  Absolutely, you know everything was especially at that point things were pretty surreal, we were playing bigger and bigger shows, and that show, I think right before the show or a couple of days before, somebody told me that it's the biggest, most well attended gig ever in the Southern Hemisphere.  Being one of the guys in the band, you can't really process that information, it was only like later that I was able to intellectually put that somewhere, like ok, well enough people bought tickets and it must've been the right time of year and our band was gelling at the right time, but really in the moment there were so many people there, that looking at it from stage it was like 'are you fucking kidding me?' all these people know our band, number 1, and number 2 they all seem to be jumping up and down at the same time, and that many people is your horizon so when they're jumping up and down, you lose your footing on stage because it looks like the Earth is moving, I remember that I had to keep looking down at the stage as I kept losing my footing, it looked like an earthquake.
Loaded are headed to Australia for the first time, how excited are you to be bringing the band to Australia for Soundwave?
I've tried, definitely on the last record, the 'Sick' record I tried to find us a couple of tours to come on, but coming down and just doing a couple of clubs in Sydney and Melbourne, it's just too far away, there's no land in between where you can play other gigs, so I was scratching my head about how the fuck we were going to get down there. People were writing to me on my site and the column at the Weekly and on facebook, actually since the first record saying 'You've gotta come down and play here' and we're finally victorious, the Soundwave thing was perfect for us, because we get to play these big festivals where probably three quarters of the people there have never even heard of our band, or maybe they've heard of us and don't know what we sound like.  So converting some of those masses, we're good at doing that and then being able to play a couple of our own shows on the sidewave things, for a band our size, the Soundwave organisation thing, it couldn't be better.
As it is your first time, what can people expect when they come to check you out?
I don't really know how to answer that, if they know our band and have seen our videos, we're like that *laughs*, we're like that but better looking in person when the lights are down. I think in a lot of ways it's very Australian, it's in your face, the band really doesn't suffer fools lightly and it's honest rock and roll, and not unlike The Saints or Rose Tattoo or those types of bands.  We don't play a bunch of Guns songs or Velvet Revolver songs, we just do our own thing and that's what we've done, and we try to keep turning the screw a little musically on the new music that we write and we like to be a little different and we've got ourselves a nice little following around the world and Australia's next.
I've asked everyone who's coming on the Soundwave tour, but as the bill is huge, is there anyone that you'd excited to see / be touring with?
To be honest with you I don't even know who's on it, I know Metallica is on it, I know the two sideshows with Danko Jones are going to be great, I like that band a lot, I've never played with them, I've actually never even seen them but I have their last two records.  Let's see, who's on this… *pulls up the website* Let me look at this thing, they've probably got us on the Hard Rock day or something…
It's a one day event…
One day? Well kick ass.  Garbage, yeah yeah, we could just go through this right now. Linkin Park, they're pretty damn good, A Perfect Circle I've heard of them, Kyuss Lives, The Stone Sours, there's a lot of good bands on there, oh there we are…  Shit, Ghost is playing! Have you seen them?
No I haven't…
Dude you've gotta, it's like 70's Blue Oyster Cult, but they wear like masks and they're like the Devils… it's so strange, the music is so good, there's some genius behind this, it's great.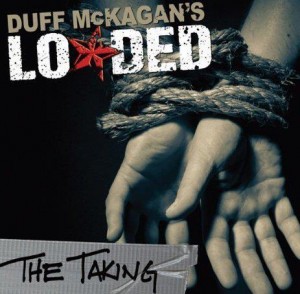 You've been to Australia now a few times with your various bands, and as you'd be well aware, we're a passionate and loyal bunch of music lovers, what do you think it is about all the music you've been a part of that attracts this dedication?
I think maybe because, in all the bands I'm known for, Loaded included, I guess Guns N' Roses became quote unquote mainstream only because we became so big but we were against the grain.  We came out at a time when a large amount of people were ready to go against the grain. Velvet Revolver weren't a mainstream band, we wrote hard rock songs that we liked and you've gotta like your own music first; you can't go out and fake it.  So I think maybe the Australian rocker, your typical Australian rocker likes shit that's honest.
I'm looking at all these bands on Soundwave and there's not one band where you're like 'oh really?' they all have some authenticity to it.
Your third album 'The Taking' was released last year, in comparison to your previous releases how do you feel you've evolved as a band in making 'The Taking'?
It just got a little darker, a little heavier.  We toured with some heavier bands before we made 'The Taking', we did a Motorhead tour and we played a lot of festivals over in Europe and once you're immersed around the harder rocking stuff night after night, the songs you write are going to reflect that a little bit. Also like the subject matter, even though it doesn't talk about the financial crisis and all that crap, it does influence the lyric writing for me for sure, what's going around on the news and whatnot and what I'm reading influences the lyrics big time, we went into darker times you know *laughs*.
I annoyingly haven't had a chance to read your book yet but when you were putting it together, and looking back over your career was there anything that stood out as something you haven't done that you want to do?
Oh there's plenty. A lot of days I wake up and I don't even feel that I've started you know?  I think people look at my life and think 'oh you've done so much' and I don't even think that I've started, I'd like to write more books, I'd like to be successful in raising my kids, I want to be in the best band in the world and I want to play on a Prince record *laughs* and that's just today.  So I don't know… now it's given me all these Sidewaves, sorry I'm stuck in to the Soundwave website now, you've lost me now *laughs*
On the flipside of that what do you feel has been the ultimate moment you've got to experience throughout your career?
Well there's gigs like the one we played twenty years ago today, that one, you can't really get much bigger than that, you're playing the biggest gig in the Southern Hemisphere. If that band was that band now, because of the internet you'd probably be bigger if that's even possible. I've been in bands that are big enough for my liking, and probably looking from the outside and I've looked at bands from the outside like Metallica and go 'Jesus Christ they're huge' and I probably from the inside it gets a little weird sometimes right?  It did for me, I just want to rock, I just want to play a club tonight wouldn't that be cool?  You always want what you don't have, that's one think I've learned on this journey.
What does the rest of 2013 have in store for Loaded?
Well, what have we got?  Soundwave, then we've got Japan, we're doing two shows up there and I actually have Steven Adler's new band coming to play the first two gigs, I had dinner with him this last Fall and he seems to be doing good, and I thought it'd be a good idea to just try to see how this works out.  I'm proud of the guy, I still love the guy and always will. So we're going to do a couple of shows and see how that goes and who knows, maybe we'll do some more together?
Then maybe you can bring that package down here…
Right! yeah yeah yeah!
We're out of time, but thanks for your time Duff, see you at Soundwave.
Thanks so much.
Essential Information
From: Seattle, WA, USA
Band members:  Duff McKagan – Vocals, Guitar, Mike Squires – Guitar, Jeff Rouse – Bass, Isaac Carpenter – Drums
Website: http://www.duff-loaded.com
Latest release: The Taking (Out Now)
SOUNDWAVE FESTIVAL – FEBRUARY/MARCH 2013
SOUNDWAVE FESTIVAL VENUES AND DATES
SATURDAY 23 FEBRUARY – BRISBANE, RNA SHOWGROUNDS – SOLD OUT!
SUNDAY 24 FEBRUARY – SYDNEY, OLYMPIC PARK – SOLD OUT!
FRIDAY 1 MARCH – MELBOURNE, FLEMINGTON RACECOURSE – SOLD OUT!
SATURDAY 2 MARCH – ADELAIDE, BONYTHON PARK – SOLD OUT!
MONDAY 4 MARCH – PERTH, CLAREMONT SHOWGROUNDS – SOLD OUT!
SIDEWAVE VENUES AND DATES
MONDAY 25 FEBRUARY – SYDNEY, MANNING BAR – 18+ (w Danko Jones & Fozzy)
THURSDAY 28 FEBRUARY – MELBOURNE, THE ESPY – 18+ (w Danko Jones)

For more information head to www.soundwavefestival.com