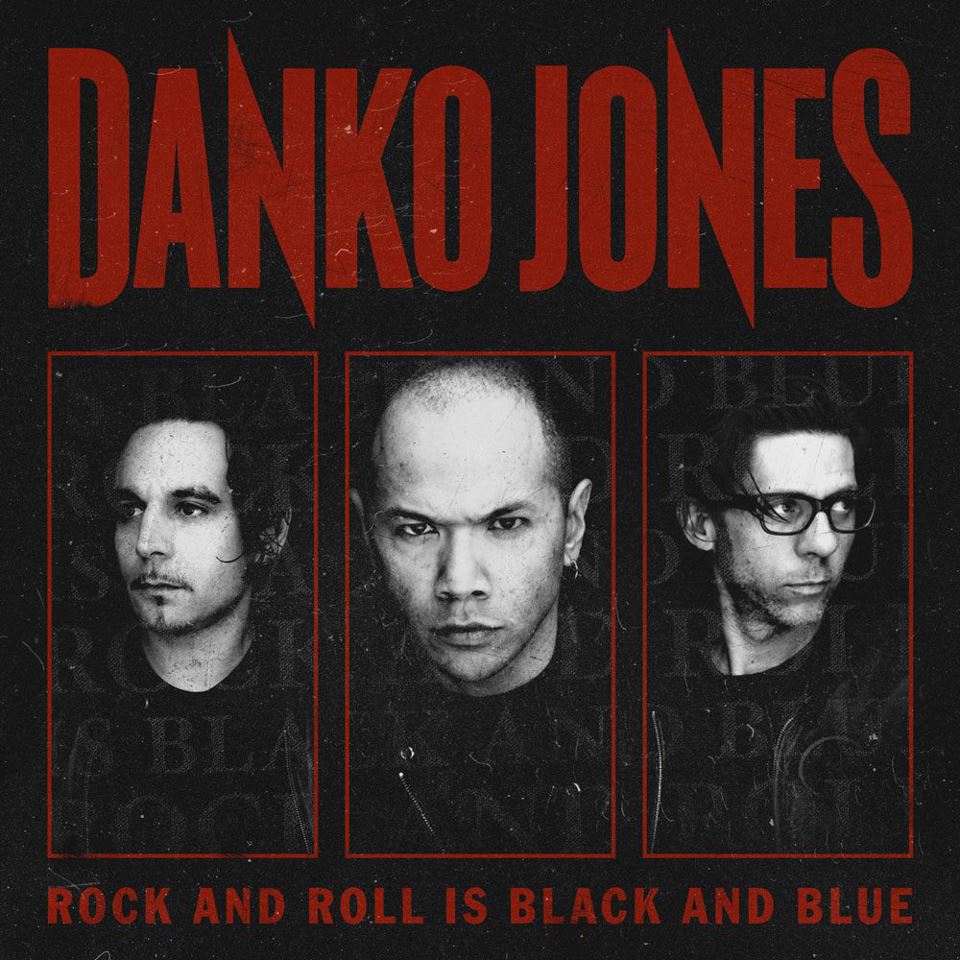 "Trust me, when I'm in Australia for Soundwave, I'm not going to be out sightseeing, my job is to rock the Australian audiences."
With a comment like the above, it's no wonder that Danko Jones have built up such a strong reputation as a killer live rock act since they begun in 1996.  Heading to Australia for Soundwave Festival and a couple of club shows with Duff McKagan's Loaded, the band come armed with a new album Rock N Roll Is Black And Blue, which was released late 2012 and now their sixth studio album.
We recently chatted to Danko himself about their return to Australia, after first playing here back in 2004.
Danko, thanks for chatting today!  So in a few weeks, you are heading back to Australia for Soundwave Festival, not a bad way to make a return visit and play some shows!
Definitely is, the lineup I've seen for this year is really impressive and there's a huge Toronto contingent that will also be out here for Soundwave.  It's going to be a lot fun you know, Fucked Up are there, you've got Gallows, Sum 41, Billy Talent, Cancer Bats.
Chatting to a lot of bands coming out for Soundwave over the years, it does seem that one of the things bands look forward to most is getting to travel around Australia for a week or so with a bunch of friends/bands!
Well that's the thing because there's bands in the lineup also who we've toured with before who aren't necessarily from that Toronto contingent and then bands I've wanted to check out now for quite a while like Red Fang, who I've only recently gotten into.  Then there are the bands I grew up listening to -the obvious being Metallica and Anthrax.
You've been out here once before, it's taken a while to return hasn't it?
Yes that's right, back in 2004 and ever since then I keep asking – we're going to this place and this place and this place, but what about Australia?  But it's just never been on the itinerary until this year.
For me personally at least, given our strong rock history, I'm surprised there hasn't been that demand for Danko Jones out here in Australia…
And that's the thing, I've always thought of Australia as that country that welcomes rock and who are knowledgeable about rock and where rock thrives in.  Whether its bands like KISS who have done so well over there, or The Tea Party or then the bands that come out of Australia over the years like Airbourne, Wolfmother, Rose Tattoo, etc, etc…then there's some other Australian bands who I really like which you wouldn't consider to be hard rock in the classic sense, like the Birthday Party and The Saints.  But it's still such a vibrant music scene that's exported all this great rock music and I'm often thinking, well if this came out of there, then we should be getting in there.
Outside of the Festival, you've also got a couple of smaller club shows with Duff McKagan, have you played shows with Loaded previously?
Playing with Duff McKagan's Loaded will indeed by cool as I've met Duff a couple of times over the years and he's always been nice.  Axl took us on tour during 2010 to ten countries so we've toured the world with Axl Rose a couple of years ago.  So there's these little connections and there's people in our crew who have worked with Loaded, so there's a great meeting ground right there.
You hail from Canada, but you seem to have really entrenched Danko Jones in the European festival circuit.  Has that been something that you've almost purely been able to achieve by that relentless touring ethic you guys have, combined with obviously being a killer live band of course?
Well kind of yes and no.  In one way it's the only way we've been able to build it up, playing in front of 10,000 people in one go and obviously making sure the show was good, so we have a good show and then maybe the 10,000 people who saw you will then come to the club show you're playing after they saw you.  You do that for around 10 years and it keeps building up and up, especially if you keep doing great shows.  We've been lucky in that sense as I don't think we are a band – even as I say this I've found out we're currently number 30, so technically we are in the Top 30 rock singles chart in America – but what I was going to say was we are not really one if those bands that to hear on the radio – and even if you do, you don't get the full appreciation until you see the band performing live.  Maybe you don't like the song you heard on the radio, but you need to see us live to get those things you can't otherwise pick up from just listening to us.  Building that is just one of those things where you've got up tackle it one by one, city by city as we are not in the age of MTV and just make a video and 3million will watch your video, and of that 300,000 liked it and they'll buy your album or go to your shows.  Those days are gone, so you've just got to go out there.  Those days though were never for us, we never got a heavily played video on MTV, we always had to go out to the clubs.  When people go 'oh so what do you guys have to say about downloading and the unravelling of the music industry and such', I always say we've never been affected by it, we've never gone gold in our lives, we've never put out a record that's gone gold, so there's never been much to be affected. We've always been playing the clubs.
You're right though when you mentioned the Festival circuit in Europe though that's how it's gained some ground for us, and our status in Europe.  Of course that also bled over into other parts of the world – it bled into America, Canada and now Australia and I think it's carrying on from there.  There's even been countless bands now that we've met and who've gotten to know us from touring in Europe, who I would never have otherwise met.  That network then just becomes this big giant web and before you know it, you know people you'd never been able to know if you'd remained in your home country.  It's a funny thing because there's a lot of fish in Canada, as there are in the likes of Australia, Sweden, Belgium, Holland, Germany or wherever, where there's huge bands that can play arenas multiple nights at a time, but there's crickets if you leave the country…crickets!  I've always said that's a great position to be in, to get that big, but at the same time, I'd rather be a smaller fish in a big, huge ocean and be able to swim everywhere you can and that's what we've been able to do you know.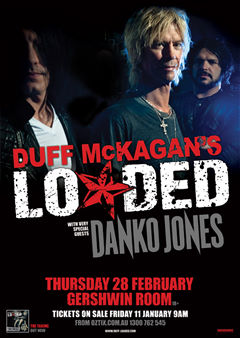 As you earlier mentioned, Rock & Roll Is Black & Blue and the single, Just A Beautiful Day is currently #29 on the US Active Rock Charts and hit Top Ten in Canada, that level of "commercial" confirmation so to speak must be an intriguing thing to have this time around?
It's great to get any kind of support and any kind of positive feedback in any kind of stream.  Radio play is one of the real concrete ways to figure out how you're doing as it reaches a lot of people still in this day and age.  But as I said earlier, it's never really defined this band, we are still very much grassroots, roll up your sleeves and get dirty about it.  But it's great to know you do have a charting single and the US charts see just so defining worldwide, to say you even have a song in the Top 30 rock singles charts, it's cool you know.
This is what your 6th full length album now, looking at how the songs were written for this release, how different is that process to when you look back to the earlier releases?
It was pretty different actually, we had Atom Willard (Angels and Airways) join our band and he lives in Los Angeles.  So we had to fly him out to Toronto and he'd spend a week in Toronto and we'd do these massive jams from sunset to sunrise because we knew we didn't have huge amounts of time, so we couldn't really afford to take a day off when he would fly over, so we really went for it. Actually the process yielded more songs than if he would have lived here.  The album before, it was just JC and I in a room, banging shit out.  But this time it harked back to the beginnings of this band where we used to jam, where we would rehearse because we had a show on Friday!  Now we rehearse because we've got to go out on tour for a month or however long.  So things have changed that way for this album but in terms of banging out the ideas and the songs, nothing really changed.  I would write a whole bunch of riffs and then bring it in.  It just so happens that this time around there's a drummer and a bass player in there writing, rather than just a bass player.  It was a really nice way to make a record this time around, the old fashioned way really.
Are you the kind of person that finds yourself able to undertake song writing whilst out on the road touring?
No, I don't usually do that.  You know I could, if it meant to get an album done on time, I had to get them all written whilst out on the road, I could put nose to the grindstone and do it.  But I would prefer when I wake up in the morning whilst on tour that my focus is on the show that night.  Trust me, when I'm in Australia for Soundwave, I'm not going to be out sightseeing, my job is to rock the Australian audiences.  I don't want to have any distractions from that, you know I could be eating a meal, or talking to somebody, or checking my emails or something, but my mind is always on the show.  The only time I have to finally kind of relax is when the show is over, the time after the show, to when I go to sleep is mostly relaxing time and then when I wake up the next day, the whole process starts again.  For me being on tour it's stressful that way, but I feel like I'm cheating the audience if during the day I'm out checking the sights, I just feel like my attention and energies should be focussed on the show.
So what new tracks can we expect to hear when you are out in Australia?
Well on the recent tours we did through Canada and Europe, we were playing around 5 songs, but interchanging a few of them each night.  It's a weird thing, as a band goes on and as they keep releasing records and whether they've had that big one album or not, it gets to the point where if you can keep your band afloat long enough to accumulate a discography over around 5 records you get to this weird point where you have to sprinkle the setlist with songs from all your records in order to please everybody basically.  There's a song that everybody knows, there's one that everybody's expecting, there's a song that certain people know because they've been fans since day 1, then there's the songs for those who just got into the band over this most recent album and that's how we build a set now.  But when we were just starting out, it was like let's unleash everything we had, this is all we got.  Now when you've got like 14 or 15 videos, what songs do you choose man?
Well Danko, thanks for chatting today and have a blast down here in Australia, I know there's a whole bunch of awaiting Danko Jones fans, old and new…
With the advancement of social media over the years I've always, always acknowledged to people in our 'circle' that there's a lot of people who leave comments about us coming back to Australia to play some shows.  I've always noticed that and can't wait to get down there!
Essential Information
From: Toronto, Canada
Band members: Danko Jones, John Calabrese, Atom Willard
Website: www.dankojones.com
Latest release: Rock N Roll Is Black N Blue (Out now)
Australian Tour Dates:
Soundwave:
SATURDAY 23 FEB – BRISBANE, RNA SHOWGROUNDS – SOLD OUT!
SUNDAY 24 FEB – SYDNEY, OLYMPIC PARK – SOLD OUT!
FRIDAY 1 MARCH – MELBOURNE, FLEMINGTON RACECOURSE – SOLD OUT!
SATURDAY 2 MARCH – ADELAIDE, BONYTHON PARK – SOLD OUT!
MONDAY 4 MARCH– PERTH, CLAREMONT SHOWGROUNDS – SOLD OUT!
Sidewaves:
MONDAY 25 FEB – Sydney– Manning Bar –  w/Duff McKagan's Loaded
THURSDAY 28 FEB – Melbourne – The Espy – w/Duff McKagan's Loaded