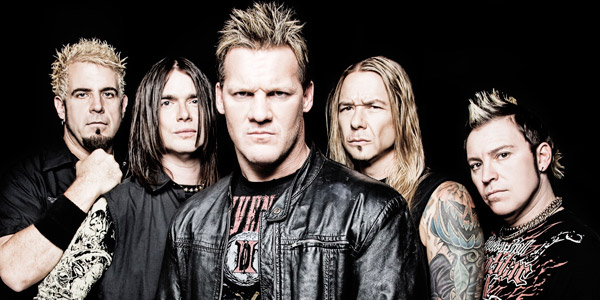 "If you don't treat it like it's a corporation, you don't treat it like a business it just becomes fun and people do it because they want to do it and then when things become fun you have a tendency to want to prioritize it, and then as we started to prioritize on the band focus on putting more and more of our efforts and time into it and on this record."
From Bio: "No matter what people say, bigger is always better – especially when we're talking about heavy metal. And heavy metal doesn't get much bigger than FOZZY.
The band is the brainchild of Rich Ward and Chris Jericho, two larger-than-life personalities that have spent the past decade shaping their own brand of hard hitting music. Ward is one of metal's pioneers – as the mastermind of Stuck Mojo, he soldered metal with rhythmic vocals long before it became fashionable, and front men don't come more dynamic than Chris Jericho, one of professional wrestling's biggest superstars, the embodiment of charisma, and the by-product of a lifetime immersed in metal."
In one of the coolest interviews I know I've done in a long time, it was a pleasure to talk to 'The Duke', Rich Ward who braved Hurricane Sandy to talk to us about their kick ass new album 'Sin and Bones', the upcoming Soundwave tour of Australia and Australia in general and of all things, Journey… that and what he thinks of our website name.
Hi Rich, how are you, mate?
Hey Troy… May the Rock be with You, that's the best title of all time.  It's amazing, really cool to speak with you, thanks for taking time for me today.
No thank you for your time, I'm sure you're getting ready for a show.
Yeah man, I'm in Albany New York, just had dinner, we don't go on stage for another couple of hours, so I'm laying in my bunk in my bus talking to Troy in Australia, so it's cool.
Oh, how did you go with the weather there yesterday, everyone and everything alright?
Yeah we're fine, we had some heavy winds and some hard rains last night in Toronto and the night before we were just getting the outer bands of the storm when we were in Cleveland, but we got lucky because we came right through here, right through Albany where we are but fortunately for us this town was spared. We didn't see any flooding or any downed trees, and the sun was out for a part of the time today, so the lucky stars were looking over our shoulders and taking care of us.
Great to hear, so I have to start by asking that back when Fozzy first started in 1999 did you ever think you'd still be doing it and it would have become what it is some 13 years on?
Absolutely not, I mean it was completely a spoofy fun band that we were doing to have a good time with our new friend Chris Jericho that I met through some wrestlers that I knew through the Stuck Mojo band I was in, and Stuck Mojo was the love of my life and I had no intentions of quitting that band or putting it on the back burner to play in a band called Fozzy and here we are thirteen years later and I've made what I think is the best record of my career in 'Sin and Bones' and Chris and I's camaraderie and chemistry as songwriters and band mates, it couldn't be better.  I've got the same drummer I've had with me since I was a kid and played on all the Stuck Mojo records and I have the best bass player in the world named Paul Di Leo with me and one of my best friends and greatest guitar players on the planet in Billy Grey playing with me.
It's one of those things that in the early years you don't look past the next day, you're going and you're playing cover songs and having a good laugh and it's your buds and everything and we're not even thinking of the next gig, we're just having a good time and I just think it's down to, sometimes when you just let things blossom organically it's not something you sit down and try to force this or we should do this and when things don't become a board room conversation if you know what I mean? If you don't treat it like it's a corporation, you don't treat it like a business it just becomes fun and people do it because they want to do it and then when things become fun you have a tendency to want to prioritize it, and then as we started to prioritize on the band focus on putting more and more of our efforts and time into it and on this record.
I didn't have any other active bands when I was writing and recording this record which is the first time in history when I wasn't multi-tasking another tour or another album that I did in the past when I was writing for Stuck Mojo any leftover songs that didn't work out I would give to Fozzy and vice versa, if I was writing for Fozzy and this song wasn't working out I'd hold it for my Stuck Mojo pile of songs.  It's just funny at some point, I think the only person in the world that can multi task beautifully is Devin Townsend, I think beyond him it's very difficult to honour multiple projects and honour them with 100% clarity and focus, it's a tough thing to do.
I can imagine. There are a number of artists now, like the guys in Alter Bridge who have so many bands now, not sure how they do it…
Yeah and that's true, but I think Tremonti, whenever he's doing Alter Bridge he's doing Alter Bridge and whenever he's doing Creed he's doing Creed, he does a good job of delineating time and really focussing and allocating his priorities, like where he is now it's all about his solo record, and Tremonti's been good like that whereas me, I haven't always been as organised (laughs) I try to do too much and plus it's the business side of things, I haven't been very successful in telling people 'no' and that's difficult in this business when people always think of it as 'Oh the band guys and they're making this thing' well it's not just the band guys, there's record companies, there's booking agents and there's managers and then you have outside of that your road crew guys.  You take six months off to write a record, what are your road crew guys doing?  There's so many thing to take into consideration and there's lots of external pressures in this business and I'm just not good at saying no, so someone says 'hey, I know you're in the middle of doing a record but can we go out and do a six show run of the west coast, we have some promoters that want to do it?' and instead of saying no, I want to focus on the record, I say 'OK' and I think that's where Devin and Tremoni are good, they're very good allocators of time and discipline and I'm just a wreck (laughs) so it becomes difficult, but as I get older I'm getting better at it.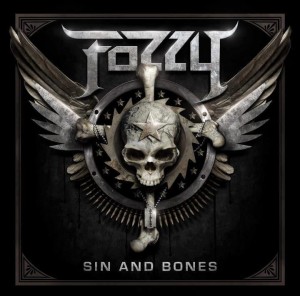 Congratulations on 'Sin and Bones', it's a killer record. It actually feels like 'Chasing The Grail' had only just been released, were you all amped to just get back in to the studio and make a new record?
Oh thank you.  Yeah it came down to, we were looking at sales figures for 'Chasing the Grail' and also because of Chris' wrestling schedule and other contributing factors like we talked about earlier in the interview, we didn't do a tonne of touring on 'Chasing The Grail', so the shelf life of the record wasn't as long as we would've liked it to have been, and it sold well, we were really happy with it but it felt like it came to a point where it was time to consider doing something forward to really move the band forward.  I had just come out of a side project with Mike Portnoy called The Adrenalin Mob and I met Paul Di Leo from that and that was a great experience for me as playing with Paul was really inspiring as he and I play identically, we're very groovy players and I was really inspired to write with Paul and as I said earlier, my drummer Frank and I have been playing together since we were kids and I just thought this was a good time to get back in the studio and write.  We had been talking to the guys at Century Media and they wanted to put out a new record for us and all the pieces were just lining up as if it was just meant to be to go back in and make a new record, and then as it would be, we had an offer to do a big late summer full time festival run for seven weeks of touring which was ironically coincide right when the record had finished being recorded.
Everything just fell in place and it was just meant to be and I'm glad that we did because in the old days the 70's or 80's bands were putting out an album every six months or every year, now we get an album cycle of being two or three years and I think it can be a happy medium.  Sometimes things can just be organically, just let them unfold, you look at how things are going, you look at the music industry on how it is, and CD sales are down and instead of buying records people are spending money on concerts and you want to constantly keep your fan base energised and the best way to do it is A) Put out a new record and B) Stay out on the road, so we just knew that we needed to work hard to keep both things moving.
This really is a heavy record but there's also a very big melodic sense to the album, how do you manage to blend these song melodies with the heavy riffs?
Well that's kind of like my passion is I love heavy music, but melodically all my favourite bands are late 70's AOR bands like Journey and Styx and Foreigner and Queen, Night Ranger, and Boston, Boston is one of my favourite bands of all time and so Chris, he also loves the same bands, so Chris will send me fourteen, fifteen, sixteen sets of lyrics and he pretty much allows me to create the melody to his lyrics along with the riffs, so I feel like over time our trademark is exactly what you said, marrying these really heavy aggressive metal riffs with this kind of melodic vocal approach and I feel like we're one of the few bands out there doing it and again it's just something that happened really organically.  My favourite guitarists in the world are all these riffy guys, I'm absolutely in love with Dimebag and Zakk Wylde and Doug Aldrich and Vivian Campbell growing up with 'Dio', and Randy Rhoads, so I grew up with those guys but I always wished at times that Dime and the rhythm section of the Pantera band could've played with Paul Rodgers, you know what I mean?  What would that have been like?  To me that has always been my kind of dream band to have these heavy cool riffs and blend them with this classic melodic approach.
Now, you're heading back to Australia to play Soundwave, what can we expect to hear set wise on the tour?
I don't even know how long of a set we have, I'm one of these just show up and then, I feel like I'm in the Marines, you're the first to go and the last to know, and I kinda like it that way as I always look at touring as being at war, like thirty minutes before we go on its game face and ok, what's the set and visualising the inside of the venue filled with folks and giving then 110% of their expectations.  I still want to be the greatest band in the world, I'm still that fifteen year old kid before I ever played my first gig standing in my mirror air guitaring in my mirror to 'Number of The Beast', I'm still that guy, I still get mad when I play with a band on a festival that I feel was better than us on the day and I don't ever want to be the second best band and I don't care if that means I have to set myself on fire and extinguish myself in a pool full of goat urine, I will do whatever it takes to be the best and the craziest and people who have seen us before they know what to expect.  We're a super energetic band ala Van Halen, Chili Peppers, the classic super high energy show but we also incorporate the classic Priest, Maiden and Accept classic metal show approach and I kind of feel like we've found the perfect blend of metal and fun time rock and roll which plays really well in a festival environment.
Being here a couple of times now, do you have a memory of one of your trips that stands out that you can share with us?
Yeah we've been twice and I have to say it feels like that all I did was take a fourteen hour plane ride and landed back in my hometown of Atlanta, because people are just like they are back in the south, Australians are so laid back and friendly and cool and they make you feel so welcome.  So, my favourite memories, obviously the gigs are great but part of  being special of being in a band is having the opportunity to travel and hanging out after the shows with the locals and going to the local food spot to have a curry or a pastie or whatever, and to me staying in World Tower on one of the top floors in Sydney and overlooking the harbour, and going to the Sydney Zoo and the game park in Adelaide, I mean some of my fondest memories of all time being a touring musician have come from going to Australia and I'm going to do the same thing this time, I'm going to play my butt off and on my days off I'm going to be the ultimate tourist and see as much stuff as I can.
You'll also be happy to know that today Journey just announced their first tour ever of Australia at the same time Soundwave is on so you'll be in town when they are…
Oh my God! That's awesome, I just saw them two weeks ago and they were amazing, they were so good, anybody who is in Australia that hasn't seen the band, I mean they are completely reenergised with Arnel the new singer, he's an amazing singer, close your eyes and its 98% Steve Perry and yet he has this youthful, great, naïve way about him, naïve I mean in the best way possible, that thing where he's not jaded and we've done this for a million years let's get this show over with, you can genuinely see the joy in his face.  I don't go to many concerts as I see so many bands go through the motions or they're just on tour to help finance their drugs and alcohol addictions or it gives them an opportunity to stroke their egos.  For me it's all about that moment of being on stage with 110db of guitar crushing in my back and having that energy exchange with the audience and I'm so happy that one of my favourite bands Journey has continued that with Deen Castronovo on drums and Arnel, those guys have really injected the band with a new integrity and a new feel of excellence.
On a side note, I absolutely love your solo record 'My Kung Fu Is Good', would you ever consider another?
Yeah I'm going to do it, just those things have to be specifically for when I have a lot of downtime and have a story to tell, that record was a breakup record.  There are a couple of songs that weren't specifically tied to the breakup but most of them are, and so for me to do a solo record I don't want to do just a trivial, 'have a good day', it has to be something to me that is helping to tell a story that means a lot and whether that or what that is hasn't struck me.  Musically I'm there but lyrically I'm not there right now, so those are my pet projects, I make those for other lost lonely hearts, sentimental softies like myself who are total rockers but deep down inside we all think Pink Floyd and Peter Gabriel are the greatest.
Lastly, do you have a message for your Australian fans?
Just that you guys are the greatest in the world and I'm so excited to come back and bask in your shining faces and enthusiasm and we're going to have a great show and just so honoured that Soundwave has invited us to come out, and we're going to exceed expectations and come and have a great time, so if anyone wants to take me to get the greatest curry in Sydney or Melbourne I'm up, let's do this!
Essential Information
From: Atlanta, GA, USA
Band members:  Chris Jericho – Vocals, Rich Ward – Guitar/Vocals, Frank Fontsere – Drums, Paul Di Leo – Bass, Billy Grey – Guitar
Website: www.fozzyrock.com
Latest release: Sin and Bones (Out Now – Century Media)
Read our review of Sin and Bones here
SOUNDWAVE FESTIVAL – FEBRUARY/MARCH 2013
SOUNDWAVE FESTIVAL VENUES AND DATES
SATURDAY 23 – BRISBANE, RNA SHOWGROUNDS – SOLD OUT!
SUNDAY 24 – SYDNEY, OLYMPIC PARK – SOLD OUT!
FRIDAY 1 – MELBOURNE, FLEMINGTON RACECOURSE – SOLD OUT!
SATURDAY 2 – ADELAIDE, BONYTHON PARK – SOLD OUT!
MONDAY 4 – PERTH, CLAREMONT SHOWGROUNDS – SOLD OUT!
For more information head to www.soundwavefestival.com