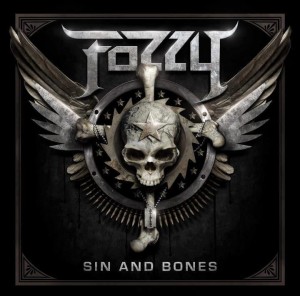 In what seems like, but isn't really a quick turnaround from 2010 release Chasing The Grail, Fozzy hit us with new album, Sin and Bones.  Whilst technically the bands fifth album, it's their third of solely original material.  Upon the first spin, I couldn't help but notice that Sin and Bones was considerably more diverse and less heavier than Chasing The Grail, which for me was not an issue, as I love Fozzy at their most melodic.  Don't let the crushing riffs of opening track Spider In My Mouth fool you as an ultra melodic chorus awaits that immediately transported me into the much loved solo material of "The Duke", guitarist Rich Ward.  First single Sandpaper features M Shadows from Avenged Sevenfold and is similarly a track that is up there with the most immediate and dare I say it, radio friendly that Fozzy have ever been, but my favourite part of the song – the super addictive guitar solo.
Blood Happens in contrast features punishing riffs and is really devoid of a chorus, not sure whether the band has been playing this live, but that's where I think this track will find it's place.   Fozzy are certainly not afraid of delivering a ballad and Inside My Head may not grab you on the first few listens, but you might get there in the end.  The title track sees Fozzy at their most riff'tastic, whilst delivering another of the albums stellar chorus's.  A Passed Life plods along for nigh on 7 minutes, but things get back on track again with the straight up hard rock of She's My Addiction – best track on the album, hell yeah, that's what I say and features a guitar solo from Motorhead's Phil Campbell.  Storm The Beaches finishes the album in similarly epic fashion as the band did with Wormwood on their last album, Chasing The Light.  "It's June 6, 1944, I turned 19, two days before, pride and bravery I can't ignore, representing my country in this world war…." A song about the Normandy D-Day landings, there's a lyrical story to be told with this song and the band certainly don't hold back musically in adding to the lyrical portrayal.
With a couple of obvious tracks that may get the band extended airplay and some potential new fans, basically if you haven't gotten into Chris Jericho and his Fozzy cohorts by now, then this album isn't going to sway you otherwise.  But for those already onto the Fozzy bandwagon, this could possibly be your favourite Fozzy album yet!
Essential Information
For fans of: Fozzy, Rich Ward, Chris Jericho, Stuck Mojo
Release date: August 13, 2012
Record label: Century Media
Website: www.fozzyrock.com
Track listing:
1. Spider In My Mouth
2. Sandpaper
3. Blood Happens
4. Inside My Head
5. Sin And Bones
6. A Passed Life
7. She's My Addiction
8. Shine Forever
9. Dark Passenger
10. Storm The Beaches