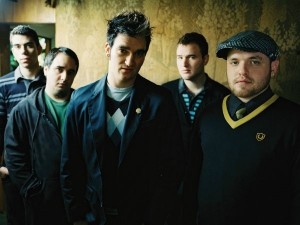 "It was just special, there were these anthems that made you feel like you were a part of something but at the same time you could just go and enjoy yourself and sing along."
Their album Radiosurgery has been out now for over six months and in support of it New Found Glory were back in Australia to play some shows with their friends Taking Back Sunday and also brought along The Maine and This Time Next Year to give us an amazing night of rockin' pop punk goodness.  It was a great show and you can read our review of it below.
Prior to their set in Sydney we had the opportunity to sit down with Chad Gilbert and Jordan Pundik of New Found Glory to discuss the tour, the story behind their cover of The Ramone's classic 'Blitzkrieg Bop' and their plans for the rest of 2012 and beyond.
We give you Chad and Jordan…
You played your first show in Brisbane the other night, how did that go?
Jordan:  Good.
Chad:  The first one was my favourite show in Brisbane we've ever played, it was sold out and insane.  The second show was a lot smaller, it was an all ages show, which is funny because in the States all the shows are all ages and then you come to Australia and not all of them are, and then a lot of people are like 'I can't go to your show, it needs to be all ages' so you play an all ages one and it's never as big as the over 18 one, it's so funny how it works.  It's so different in the States than in Australia because you can't play a show in the States that isn't all ages.  They're always all ages.
Jordan: Yeah if you don't you'll get so much shit for it.
Chad: Well the difference is your drinking age is 18, in The States our drinking age is 21 so if you book a show not all ages you lose a good majority of your fan base.
For those that have never seen a New Found Glory show (me included) what can we expect to see tonight?
Jordan:  All of us jumping around, crowd singing along, I don't know, we like to get a bit interactive.
Chad:  An energetic set, we play our songs back to back, we fly through the set.  We kind of write a set list of all of our crowd favourite best live songs.  Just a lot of energy, just not stop energy, there's just no down time in our set.  It's just song, song.
So no acoustic break down set in the middle?
Chad: Ha ha no, no experimental times.
You've played Australia before as part of the Soundwave festivals and the likes, but how different is it coming and doing your own headlining shows?
Jordan:  We get to play a longer set, so people are definitely stoked on that.  Obviously Soundwave and those kinds of things are huge, but it's just more of an intimate thing.
Chad:  Our fans like it more, like you said, they get to hear more songs.
What would you say is the crowd favourite at the moment?
Chad: The ultimate crowd favourite to me is 'Basket Case' the Green Day cover that we do, that one goes over crazy.  'Blitzkrieg Bop' goes over pretty crazy too, honestly man, like I said, there isn't really a down time in our set.  I think the kids are most excited to hear 'Basket Case' out of the covers.
With Blitzkrieg Bop Have you ever thought to claim that song as your own and 90% of your fans wouldn't know it was a cover? Ha ha
Chad:  No, they know it…
Jordan:  People everywhere know it, my aunt and my mom love that song you know ha ha.
Chad:  I kinda thought the same thing as you. What happened was we played a show at Hoodwink Fest with Marky Ramone in our band.  We played an entire Ramones set with Marky.  Cyrus took the night off, with Marky, we practised with him in a practise space and we did this Ramones set. Leading up to that we wanted to practise as a band before we even got with Marky, and we played this College and we were like let's just practise it tonight and I don't know it's like a college, college kids are into like Rihanna and no one's gonna know it, it's just gonna be real weird but let's just practise it.  And we played it and everybody lost their shit, everybody went crazy.  I remember when we did that I saw the impact and it's an amazing thing, it's sort of like sad because when Ramones were an active touring band in the States, they didn't draw tonnes of people, they did in other countries, but in America they play like The Stone Pony which held like 600 people you know.  So it was just amazing to see how that band has crossed every boundary or genre of music.
What are some of your favourites to play live?
Jordan: Honestly, if the crowd is singing loud it makes it great.  It could be my favourite song on our record and we play it and no one is singing along or anything it takes the shine off it.
Chad:  I like 'Anthem for the Unwanted' because it's a newer one and the kids sing along to it.
Did people attach to the new album pretty much straight away?
Chad: Yeah man, we've been pretty lucky, especially down here, Dave from Epitaph really gets our record out to our fans and does a great job and yeah people heard our new record down here and people are loving it.  Like you'll see tonight for the new songs, especially for 'Radiosurgery' and 'Anthem for the Unwanted' those songs get great reactions.
You can't not be happy when listening to the album, when you were putting it together, did you have any particular concept in mind?
Chad:  Yeah I think the goal is honestly to do what you just said, to write a record that came across as a fun record, that's like The Ramones and Green Day, you know those classic albums that we listened to growing up that you can just put on and go out with your friends and have a good time.  It was just special, there were these anthems that made you feel like you were a part of something but at the same time you could just go and enjoy yourself and sing along.  That was sort of what we wanted to do with this album I think, at least for me musically, was pull from my old influences and just I don't know, I feel like over the past three years there's been a lot of screamy bands that have gotten really popular which is totally cool, a lot of those bands are great.  A lot of indie rock bands that kind of have that hip kind of style that play great music too, but I feel like there's always those records that people need like I don't have to be a part of anything, I can just put on this record and have a good time and that's what at least I wanted this record to be.
Seven albums in now, what's next for the band?
Jordan: Eight ha ha
Chad:  Yeah, keep going…
Jordan:  Keep going as long as we can.
Are you working on any new material at the moment?
Chad: No, it's kind of like once Warped tour is done and the stuff we do over the Fall, I don't want to feel like at least for me, worry or think about writing new songs.  Warped tour is such an important tour for this album and what this album is about and I think it's going to give it a whole new life too.  So I just want to wait until that tour is done before I even think about it.
Have you toured the album in the States yet?
Chad: The album, yeah we did in the Fall, that tour we started three days after the album came out.  The kids had downloaded it, well some of them did but it's a lot different.  We played this show, a radio show recently in Philly and the record has been out for a few months and we played 'Anthem for the Unwanted' and it was so good, kids went off, so now that they've had it.  And we haven't done Warped tour in five years.
What is your take on the new breed of pop punk bands around these days?  Got any favourites?
Jordan:  Yeah, I definitely have some favourites, the band 'The Wonder Years', the band 'Stars Hide Fire'.
Chad:  I like this band with a girl singer, they're kinda pop punkish, they kinda sound like old Green Day crossed with Jawbreaker they're called 'Candy Hearts', they're an awesome kind of pop punkish alternative punkish band.
What's it like having these other three bands on the bill, are you guys all friends and have you all played together before?
Jordan: Us and Taking Back Sunday we've known each other for a long time and then This Time Next Year, they toured with us in the States on the Pop Punks not dead tour, so we've known them.
Chad:  We just met The Maine this tour, they're really nice guys.  Taking Back Sunday, we've known them for a while but we've never really done a proper tour with them, we've done Warped tour but we've never done like us and them together on a show.  Kids are pretty psyched about it, the last two nights have been fun.
Besides Warped tour, what does the rest of 2012 hold for New Found Glory?
Chad: We're still figuring it out, we're supposed to go over to England, there's a Warped tour London going on, we're not on that yet but there's talks about them maybe wanting us on there so that could be pretty cool is it works out.  Then strap on our own tour after that show in England and Europe maybe.  Then towards the end of the year we're going to put together a cool tour in the States for our 'Sticks and Stones' album, it's like a ten year anniversary.
You should come here and play that for us, no one comes and does those tours…
Chad:  See the thing is though is like you guys are like the diehard fans that love everything.  In The States, it's one of those things where people see the band so much they want to see something different, the want to go to a show that's way special.  You guys get New Found Glory once a year, you don't want to just hear one album, a lot of the fans want to hear everything you know, because we're never down here.  But in the States for instance we just did a tour last Fall, we're going to do the entire Warped tour and two months later we're going to do another tour in the States.  So to get those kids and to give them something special, that's why you do it.  Does that make sense?  For me to come all the way to Australia to play one album, I would do it, but I feel people would be bummed too, like certain fans may love it but I'd rather play a three hour set and play everything than one album.  If I'm all the way down here you know what I mean…
Check out our review of the New Found Glory, Taking Back Sunday, The Maine, This Time Next Year Sydney concert here…
Check out our review of Radiosurgery here…
Check out our previous interview with Jordan Pundik here…
Essential Information
From: Coral Springs, FL, USA
Band members: Chad Gilbert – Guitar, Jordan Pundik – Vocals, Cyrus Bolooki – Drums, Ian Grushka – Bass, Steve Klein – Guitar
Website: http://www.newfoundglory.com
Latest release: Radiosurgery (Epitaph)