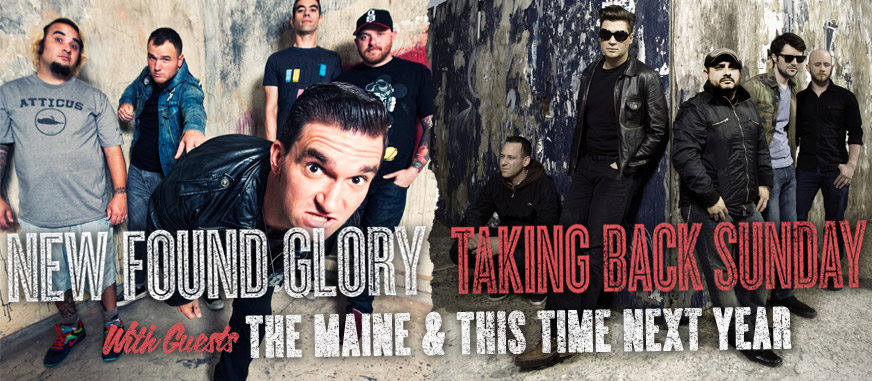 It's always something pretty cool when you get a four band line up that you're pumped to check out, all the bands tonight complement each other and I can tell we're in for a good night.
This Time Next Year hit the ground running and didn't slow down. Their energetic pop punk sound had the crowd pumped up in no time. What I love about this band is the duelling vocals and instant hooks. They also took every chance they could to praise the other bands on the bill and judging by the crowd reaction it's a fairly even split between TBS and NFG. A great start to what should be an enjoyable night.
Now I've been a fan of The Maine since I picked up their debut album in the states in 2009 so I'm excited to see this set. But with a third album I'm not yet familiar with I'm hoping some material off the first 2 Albums get a run. Let's see…
With more of a mainstream rock sound balancing out the acts tonight, The Maine delivered a great set of old and new material, they couldn't get the crowd as engaged as they should've but it wasn't from lack of trying. There was definitely love for this band but not to extent of the jumping around pop punk bands. The band is tight. The songs are delivered perfectly although some muddy vocals made it difficult at times to hear but I enjoyed the set none the less. I can't wait to hear more from these guys.
As people start to use me as a focal point and somewhat of a door to get a good spot, they all start to head towards the front evidently for Taking Back Sunday. Incidentally the band I'm most excited to see tonight. Just having spoken to Adam and Shaun from TBS I'm excited to witness this show. So with 5 minutes to go and the count of people pushing past me now at 37 we're ready to go…
The crowd erupts as the band takes the stage with singer Adam Lazzara hobbling to his spot at the centre of the stage with his broken foot, something that had no intention of stopping him tonight. Belting into El Paso, the opener of their newest album you can they mean more than business, in fact this business has been franchised. Biggest reaction early on in the set came from 'Liar (It Takes One To Know One)' a song it seemed that many had been waiting to hear for more than a long time. I hate to use the word intense but onstage this is one intense band, their stage presence is amazing, they are meant to do this. 'Faith (When I Let You Down)' was unbelievable. My guide is the mosh and number of raised fists that tells me that. If that wasn't a good enough indicator then the crowd participation whoa ohs definitely gave it away. This song is destined to become a TBS classic. 'What It Feels Like To Be A Ghost' was delivered with so much energy, 'A Decade Under The Influence' was amazing, this set is just killing it.
The broken leg only hindering Adam occasionally as he'd sit or lean when required but you could tell he wanted to do nothing more than be the front man, the showman he is and he still was. Wow 'Make Damn Sure' just won best song of the night, that was insane, I mean how does this set just keep getting better, song after song delivers and shows how good this band actually is, oh and to continue on, show closer 'Cute Without The E' was unbelievable and a perfect send off. As Adam hobbled off stage and took a bow and the crowd happy with what they just saw. They are now in for a treat with the pop punk styling's of NFG
When Jordan and Chad from New Found Glory told me their show was energetic. I believed them. Did I believe that from the first second they walked, I mean ran on stage that they'd be able to keep this up for the whole show? Let's see ha ha.
Title track 'Radiosurgery' which is one of the catchiest songs released in the last few years got a great response but the crowd sing along kicked in when a chant of 'Hey Ho Let's Go' started of 'Blitzkrieg Bop' which is a perfect crowd participation song. 'Anthem For The Unwanted' was just that, an anthem and as I looked around to many a smile while this one was being played, it was a great thing to see. Plus you can't beat a good whoa oh oh oh oh oh either.
The crowd participation continued but in a different way as Chad handed his guitar over to a dude and he did a pretty good job actually and hammed it up and in all seriousness could've been part of the band. 'Truth Of My Youth' was awesome and 'Failure's Not Flattering' was even better. Song after song of pop punk goodness is thrown at us. Old stuff, new stuff, it's all good tonight and the energy is still up there which I'm surprised about as the guys have practically run a marathon on this stage! 'It's Not Your Fault' was one of my favourite songs for the night where they finally slowed down somewhat and delivered this catchy tune to the pleasure of the adorning crowd.  Then straight back up for 'Hit Or Miss' which was so fuckin' awesome that the awesome store ran out of awesome.
Encore time. 'Basket Case' which of course is a cover of the Green Day classic went down like the Titanic and was a perfect into to final song of the night, the now 10 year old 'My Friends Over You' that got the entire place rockin' and showed why New Found Glory are still around making music today. New Found Glory delivered tonight.  An energetic, fun, shirtless bass player and action packed performance.  I'd never seen these guys perform and I'm glad tonight was my introduction.  Hey Ho, time to go!
Essential Information
Venue: The Big Top at Luna Park – Sydney
Date: April 7 2012
Line Up: This Time Next Year, The Maine, Taking Back Sunday, New Found Glory
Website: www.newfoundglory.com, www.takingbacksunday.com, http://www.wearethemaine.net, http://thistimenextyearca.tumblr.com