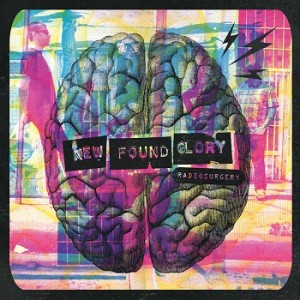 In 25 words or less: "Pop punks not dead"…this album proves it!
With a history thus far spanning fourteen years and now seven albums, New Found Glory have certainly been one of the mainstays of pop punk and in 2011 with an uprising of young challengers to the pop punk throne, New Found Glory have hit back with 12 songs and 35 minutes of pure pop punk perfection.  Importantly, unlike some of their recent efforts, this album is all about consistency – returning to producer Neal Avron and inspired by those that have influenced them, the result is an album full of consistently great classic pop punk anthems.
Opening with the heavily Green Day tinged title track of Radiosurgery, whilst vocalist Jordan Pundik sings "I can't get your face out of my head", in return my brain is singing "I can't get your song out of my head".  An infectious way to open the album, but the reality is that it's just the first of many choruses, hooks, guitar riffs and melodies you will have drilled in your brain by the time this album is finished with you.  Yes that's right, finished with you…you may try to resist, but you won't…you can't…your brain is having far too much fun with these songs to be able to tell your fingers to hit stop!
Whilst relationships in general, once again feature heavily as far as lyrical content goes such as Dumped, Summer Fling, Don't Mean A Thing, Memories and Battle Scars, by no means is this musically sad, depressing and angsty.  Yeah I know am about to break music review cliché #24, but I love a cliché…with summer around the corner here in Australia, yes you guessed it….this album is full of perfect super breezy, summer anthems.  On the Aussie release of this album, we even get a cover of Blitzkrieg Bop, which of course stays true to the original!
Pop punks not dead…that's what the inside cover of this CD says and with New Found Glory, Zebrahead and Bowling For Soup all releasing smashing new albums in 2011, it most definitely is not!
Check out our interview with Jordan Pundik right here…
Essential information
Check it out if you like: Classic pop punk
Release date: Out now
Label: Epitaph/Warner Music Australia
Produced by: Neal Avron
Website: www.newfoundglorystuff.com