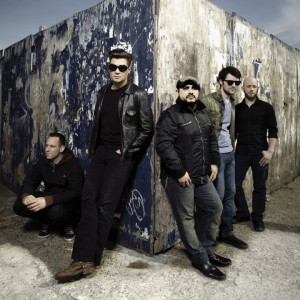 "Well that's kind of the feeling we had when we first got back together and all got in the same room.  We went into it realistically, knowing that there's a great chance that it couldn't work, but right when we started writing everything really clicked, so for us we were really confident after that first writing session."
With the 'Tell All Your Friends' line up finally back in Australia to play some shows for us after close to a decade apart, Taking Back Sunday joined New Found Glory, The Maine and This Time Next Year for a rockin' night.  You can read our review of the show below.  Showcasing the bands catalogue in their set, and they explain that below, but there are some plans for a certain ten year anniversary coming up…
With a broken foot due to an accident involving a tree, a subdued Adam Lazzara wasn't running away and bass player Shaun Cooper sat down with us prior to their set in Sydney to discuss the tour, the reunion of the original band line up and their plans for the rest of 2012 and beyond.
Timber…
Has having the original line up reunited put a spark back into the band?
Adam: Yeah it has it was kind of like strange all the time that we had been a part, well John and Shaun and then Eddie, Mark and I and then we got back together and just how well things worked you know.  It's like there were certain songs just waiting around for us to get back together and put them down you know?
You played your first shows in Brisbane the other night, how did they go?
Adam:  Great!  We got in to town and then we had a day to acclimate right, yeah?
Shaun: Yeah.
Adam: So, first show was great, Second show was…
Shaun: It was almost as good as the first one, it was an all ages show the second one so the crowd was way more sedate, teenagers, can't drink and stuff so it's a little bit more laid back…
Adam: It's always cool to be so far away from home and have people want to see you play ha ha
Shaun: Anyone that shows up is amazing.
I do have to ask about your foot Adam, how are you holding up?
Adam: Um, well, like during the shows?  Good… it's so frustrating for me, cause I can't do what I would normally do and I can't do what I want to, but on the flip side it's also really interesting just because I'm stationary, you know I can't walk or do anything.  So I have this effect vocal  that I always use anyway but now we just out it towards the front of the stage so I get to play with that a little more, so we're kind of introducing new sounds and stuff.  I was really, really worried about it, like were people going to hate the show and then but after the Brisbane show, both nights, people seemed super excited.
I had a friend that saw you in Brisbane and said the show was amazing and so intense and wanted to know who or where you draw from influences when putting on your shows?
Adam:  Oh he saw the show in Brisbane?
Yeah, he loved it.
Adam:  Nice!  Tell him thank you.
Shaun: That's awesome.
Adam: Well for us, well I think it's a wide range for everyone in the band, most of us like a lot of different styles of music individually.  Stage stuff I guess it's just from growing up watching like 'At The Drive In' and like even like the older videos like 'Tom Petty' and stuff like that.  We all grew up going to hard core punk rock shows, so we definitely draw a lot from there, but I feel as we've gotten a little bit older we're kind of going back into more of our parents rock and roll and things like that, there's just this sea of influence there to pull from.
For those that have never seen a Taking Back Sunday show before, what can people expect at one of your live shows?
Adam: Utter chaos right? Ha ha.  We were actually talking to our stage manager Ray after the Brisbane shows and its very unpredictable, like I like to think you don't know what's going to happen next as everybody just lets the music take them away…
Shaun: I think the thing with our live show too is that no one's going out there faking it, we wouldn't do this night after night if it was.  That's why the performance is intense is because that's how we're feeling.  We're not doing our moves, we're not doing synchronised jumps and shit like 'Ok are we ready?  Here it is.' So I think it's just that real kind of bang that we aim for.
What about something like the cool 80's hair band moves?
Shaun: Oh yeah the guitar throws and stuff, yeah I can't even do that shit man ha ha, the one time I did it my bass flew off and that was like ten years ago…
Adam:  Ha ha yeah you're not gonna do that again…
Shaun: Never, never again.
How do you create the set list at this point? Do you cover only this band's line up material or is it the whole catalogue?
Adam: Yeah, there's stuff from all the records on there.  Our set is an hour on this tour because we're playing right before New Found Glory and there's a few songs from every record on there.  A lot of people said when John and Shaun came back to the band thinking that we'd only play from the records that they were on being the new one and the first one but that's not the case at all.
Shaun:  We give the people what they want.
Do you have a favourite song to perform live?
Adam:  It changes man, like right now, I have to go with El Paso for me right now, that song's like a bomb and so I really love to play that.  It just kind of changes as tours evolve.
Shaun:  Yeah I don't know, it changes from night to night too, whatever the crowd's reacting the best to.  Last night 'Cute Without The E' went over really, really great, it was just so cool as that song is so old and people are still reacting to it.  The way they are and what we were saying before, this far away from home, it's shocking.
My personal favourite on the new album is 'It Doesn't Feel A Thing Like Falling' any chance of getting that in there?
Adam: Oh cool, thanks.  Man, when was the last time we played that?
Shaun:  I think like Detroit last Summer
Adam: ha ha ha
Shaun: Didn't we play that after?
Adam: Yeah, we played it on The Maine tour a few nights.  We haven't practised up on it, had you caught us right before the sound check we definitely would've practised it.  Cause if we just went out there and tried to do it right now, I'm not quite sure…
It would feel a thing like falling…
Adam: Ha ha yeah, it'd feel everything like falling.
The self titled album has been out for a little while now, how has the reaction to it been?
Adam: Great man, it's like a real nerve wracking thing to put yourself out there, so much and say 'Hey, here's this thing that we made and we love' and you give it away and it's not yours anymore, but we noticed that the album came out in the Summer and almost immediately people were singing along with the new songs and that's something that can sometimes take months you know?
When you were putting the self titled album together after close to ten years apart, was there any initial hesitation or nerves in thinking, what are we doing?  Or this may not work?
Adam:  Well that's kind of the feeling we had when we first got back together and all got in the same room.  We went into it realistically, knowing that there's a great chance that it couldn't work, but right when we started writing everything really clicked, so for us we were really confident after that first writing session.
Shaun:  We didn't know what else we could do anyway.
Song wise on the album, coming together to write, what inspired the songs for the release?
Adam:  As far as lyrically, it was some stuff that we had kicking around and then other stuff that came and evolved as the songs presented themselves.  Actually the writing was a huge total collaboration, basically how it goes, someone with come in with just a part or like two parts and then show it to everyone and the next thing we knew there'd be a song there.
Would it be fair to say that you're already working on new material for another TBS album?
Adam:  Yeah, that's what we were doing when a tree fell on me.
That's what actually happened?
Adam: Yeah, right ha ha like it doesn't even sound real right? Ha ha
That is so Rock and Roll that it hurts…
Adam: There's nothing Rock and Roll about it, it sucks ha ha ha ha ha
When do you think we can expect to hear something do you think?
Adam:  Well, there's this tour here and then I think we're home for four days and then we go over to Europe and then Warped Tour in the Summer and then in the Fall we're planning to do like a ten year 'Tell All Your Friends' front to back tour.  Then I would imagine once we wrap that up that's when realistically we'll be able to get back into the studio.
No bands ever come here and do the full album shows…
Adam: No?
Shaun:  We'll keep that in mind.
Adam: Yeah… if it makes sense, why not?  Cause then it'll be Winter for us and Summer for you guys, which we love Summer… I'm going to send an email.
Check out our review of the New Found Glory, Taking Back Sunday, The Maine, This Time Next Year Sydney concert here…
Check out our review of Taking Back Sunday's self titled album here…
Check out our recent chat with Shaun Cooper here…

Essential Information
From: Long Island, New York, USA
Band members: Adam Lazzara – vocals, Eddie Reyes – guitar, John Nolan – guitar/vocals, Mark O'Connell – drums, Shaun Cooper – bass/tomfoolery
Website: http://www.takingbacksunday.com
Latest release: Taking Back Sunday (self titled) – Warner Music Australia