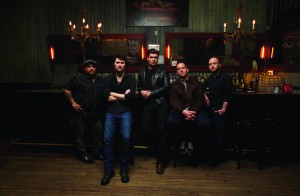 With the original lineup back together from the bands 2002 release Tell All Your Friends, Taking Back Sunday are headed back to Australia for what promises to be a massive tour with their good friends, New Found Glory.  Reunited lineup, rejuvenated and ready to take all before them, Taking Back Sunday released their self titled and incredibly well received fifth album last year.  The touring road has taken them all over the world in recent months, with Australia soon getting our chance.
We spoke to bass player Shaun Cooper about his return to the band and what we can expect from the band out here in Australia.
Hey Shaun, thanks for taking the time to chat today.  Last I saw you have been playing shows in South America, how did that tour all go?
It was completely surprising, we didn't know what to expect, particularly from countries that don't speak English.  The Portuguese language is so much different, we have a lot of Spanish here in the States, so that's kind of common to us, but Portugal and Brazil, that's a whole different animal with how people respond to our music, but it was amazing.
In a few months you will be travelling a fair bit longer over to Australia.  The band was out here in 2010 for Soundwave I think it was, but have you personally been out here before?
Actually, I have toured twice before with my old band.  My brother in law is actually from Melbourne, so I've got family over there as well.  I've always had such a good time with my old band, everybody is so cool and the weather is so much better than what we have back here in the States currently, we are so motivated and can't wait to get out there.
Last year you also hit up the UK, so you have done your share of international travel in the past 12 months.  How do you guys find the long haul tours, because you all have families etc these days?
That's the thing, it's never easy to leave home for any period of time, but this is our passion and fortunately we get to pursue our passion as our job.  So if that means leaving home and the other sacrifices we have to make, it's all worth it once we hit that stage.  The touring is tiring, sometimes it's not comfortable and you have to sleep on a bus or in a crummy hotel room or whatever through to crashing on people's floors, we've done it all.  But I'm so very fortunate to be able to tour these foreign countries and take in different cultures.
So you are touring Australia with New Found Glory, have you done much touring with the guys before?
We all go way back with the NFG guys, so it was something that was suggested to us and obviously it's an amazing opportunity.  They are great guys and we've been fans of theirs before we even started touring, so it was a real blessing to be able to come out together.
And with the lineup now being the original Tell All Your Friends lineup, how have you found the last couple of years coming together as a band again, touring the world, and releasing a new album, bet you didn't expect to doing this in 2012?
No I never imagined when I left the band in 2003.  When I left the band, I thought that was it.  I didn't have any hard feelings when they were blowing up and doing great things, I knew they had worked so hard for it and I never imagined I would be back in the band.  The fact we've rekindled all these relationships and can write songs together again, our best work is ahead of us.  It's really inspiring creatively to be back together, just being friends and getting to work together, it's more rewarding than I could have imagined.
What can we expect as far as the setlist goes when you are out here…does it weigh heavily with the first album and your last album?
We try and make it a good mix of everything.  The band has released five records and we want to try and play what people want to hear.  We don't just play all new stuff or the Tell All Your Friends stuff, we want to cover all bases and we've been doing that a while now and it's been working well.  We just want people to leave happy and hear the stuff they want to hear the most!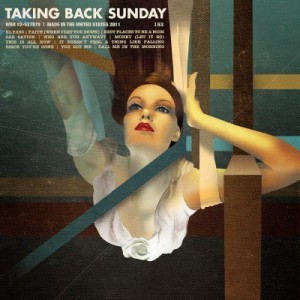 Whilst you have only just released a new single/video from your last album, this question might be a little premature, but has there been any discussion or thought given yet to a follow up album?
Well we enjoy being around together, so we are constantly trying to write.  We had some time after the last tour, we took a few days after it ended and used the opportunity of being together to bang out some ideas and see what we come up with.  So we came out with some good stuff, they're loose ideas but we will try and continue to do that whilst we can.  We've got a lot of touring still ahead, so there's no plans to put out a new record anytime soon, so we'll keep writing and coming up with some new ideas when we get the time.
Taking Back Sunday as a band has been going strong since 1999, despite the numerous lineup changes and the like, have you noticed a massive change in the makeup of your fanbase over the years?
I think what we've started to see is the kids who were around our age and got into the music, when we kind of started touring, well we didn't start hardcore touring until 2001 really.  So the kids that had grown up with us, have seemed to stick with the band and have gotten their younger family members into the music, so we've seen them coming out more, so it's a real mix in our fanbase and continues to grow and widen as we do.  It's a fortunate thing that our music has been passed down to the kids over the years and they're getting it and responding.
Obviously much has changed during in the years you guys haven't been together as a band, but what things do you feel haven't changed in 2012, compared to say back in 2002?
I think the biggest thing is how we all write music together.  When we wrote Tell All Your Friends, we were all relying on each other for different things and we were all open to each other's ideas.  After that record was written, when we started to demo songs, there was much more pushing and pulling in different directions and people were trying to take the band in their own way, so that was five separate ways and made it a lot harder to get things done.  Since we've grown up a little bit, we've gone back to realising we can rely on each other, rather than fighting each other.  That's how this latest self titled album was written and how we will continue to write in the future.
Check out our review of Taking Back Sunday's latest album…
Essential Information
From: Long Island, New York, USA
Band members: Adam Lazzara vocals, Eddie Reyes guitar, John Nolan guitar/vocals, Mark O'Connell drums, Shaun Cooper bass/tomfoolery
Website: www.takingbacksunday.com
Latest release: Taking Back Sunday (2011)
Tour dates
THURSDAY 5 APRIL – BRISBANE, THE TIVOLI – 18+
www.ticketek.com.au
SATURDAY 7 APRIL – SYDNEY, BIG TOP LUNA PARK – LIC/AA
www.ticketek.com.au / www.bigtopsydney.com / www.oztix.com.au
SUNDAY 8 APRIL – MELBOURNE, FESTIVAL HALL– Lic and Unlic areas
www.ticketmaster.com.au
TUESDAY 10 APRIL – ADELAIDE, THEBARTON THEATRE– LIC/AA
www.venutix.com.au 
Presented by triple j's Short.Fast.Loud, Channel V, Blunt Magazine and Soundwave Touring