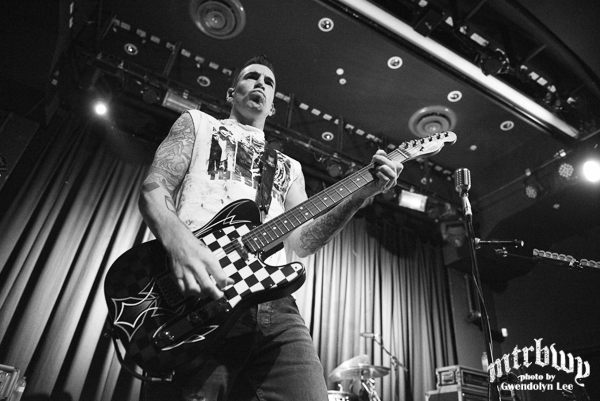 It feels like a lot of band's are finding their way to Australia for the first time in 2018, we've had some rippers come through and tonight we get to add to that list with the Canadian rockers, Theory of a Deadman, aka Theory for those playing at home. So as a fan from the beginning of their career I can't wait to finally hear what they can do live.
Lillye open the show and holy shit this is a band with powerhouse vocals and big songs that make them the perfect opener for this crowd. They are followed by Bad Moon Born who could actually be one of the best bands in Australia at the moment. With shades of Audioslave and Led Zeppelin shining through they deliver a set of songs written to be belted out on stage and they fuckin' nail it. I implore you to check out this band!!
Ok, it's FINALLY time for Theory to play music in Australia, this is exciting! Opening with 'Lowlife' and I'm just so happy they're here. I tagged this one as the opener and it's the perfect way to start the show. Wait, this killer bit is coming up "Ahh fuck it!" Yes. Been waiting to do that for years!! 'Bitch Came Back' keeps it going and these guys sound great! Holy shit this is awesome. After the obligatory "we're finally here" message and damn fuckin' right you are now keep going! They jump to the newest album with 'Straight Jacket' and hearing it live it just fills out so much more and is pretty damned impressive. 'Blow' oh man yes!! Unexpected but so good! The world has gone officially insane indeed!! Tyler jumps behind the piano and in the beauty of live music while they tune the guitars and talk about drop bears they finally get into 'All or Nothing' which I've loved for a long time and well along with their entire catalogue but this one always stood out for me. Cover time and their amazing version of 'Wicked Game' this early is just perfect. This song has been done by many but Theory nail it. Drum solo time and Joe nailed it while the guys have a quick breather.
The band rejoins Joe and it's time to 'Drown'. I sometimes hate being this excited but when a band you've wanted to see for sixteen years finally make it here and you get to hear these songs live well you can understand why this is so good. This one is so heavy and so fat musically and just perfect. Oh wow I didn't expect this one so early in the set 'So Happy' is up and this rock fan is literally so happy right now.
A massive guitar laden intro leads us into those harmonics kick in and we get 'Santa Monica' and I could almost cry as a fan of this band I'm loving this right now. This song is just something else and finally hearing it just gives me goose bumps. 'Not Meant To Be' takes its amazing place in the set and this is just the best, plus this song has a killer middle 8 and that wins in my book and as the crowd joins in this one closes. 'Angel' gets them clapping and I love the way Theory can balance their heavy tunes with these slightly slower gems. This one shows what the band can do and do so well.
'Hate My Life' takes its place and is just as good as I expected it to be. What a song and one that was belted out by those here!! As the band leaves the stage the 'we want more' chants start as the band succumb to the chants and return. Back to give us 'Rx (Medicate)' and the reaction is far better than I expected. I knew it was coming but hearing it live just made it that little bit better than it already was, I mean amazing whistling makes this a favourite and rightfully so. This is actually a kick ass song. A random tease of 'Paradise City' was fun but then as 'Bad Girlfriend' rips in you know we've made it to the end of the show and what a way to go out. This rocker is just straight up rock and roll and one that many here were waiting for and to close with it and watching the smiles on people faces as the song finished was worth the sixteen year wait for the band to be here.
When Theory come back, word will have spread and the people will come because tonight was one hell of a rock show, and if you've never checked out Theory, start now, you'll be ready for when they come back. Thanks to Silverback for finally getting them here! Fireball shots on me next time.
Essential Information
Venue: The Manning Bar – Sydney
Date: June 22, 2018
Presented by: Silverback Touring
Website: http://www.theoryofadeadman.com
Photo: Gwendolyn Lee – Gwendolyn Lee Photography – Check out our full gallery HERE
Check out our interview with Tyler Connolly of Theory HERE
Set List:
Lowlife
Bitch Came Back
Straight Jacket
Blow
All or Nothing
Wicked Game
Drown
So Happy
Santa Monica
Not Meant To Be
Angel
Hate My Life
Rx (Medicate)
Bad Girlfriend