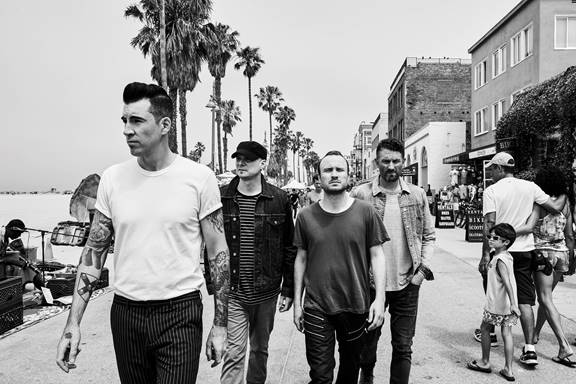 "So now we finally get to come, so yeah it actually is a dream come true, it's a place that a lot of people just want to visit but we get to play music too."
From Release: With their sixth studio album, Wake Up Call, Theory hit the reset button, diving into a new sound, a new approach, even a new location. The more melodic, intimate style that defines the project is a bold move for one of the leading rock bands in the world. Since forming in British Columbia in 2001, Theory of a Deadman — Connolly, guitarist Dave Brenner, bassist Dean Back, and drummer Joey Dandeneau — have placed nine songs in the Top 10 on the US rock charts, including the Number One hits "Bad Girlfriend," "Lowlife," "So Happy," and "Angel." To celebrate the success of Wake Up Call and the heavy radio play of the lead single Rx (Medicate) The Canadian Rock Powerhouse THEORY are headed to Australia for the VERY FIRST TIME!
In Halifax Nova Scotia, Tyler from Theory gave us a call to talk about the band's upcoming first ever tour of Australia, their newest album 'Wake Up Call', covers, advice, and much more!
You're finally heading to Australia! After so long, how pumped are you to finally be heading Down Under?
Oh we've been waiting for years man, every record we've done we've always said when can we go to Australia because we know they have those festivals down there and we have a lot of friends in other bands that go there and everybody says the same thing, they all say the people are great, it's beautiful, you've gotta go blah blah blah and we're like yeah keep rubbing it in. So now we finally get to come, so yeah it actually is a dream come true, it's a place that a lot of people just want to visit but we get to play music too.
When you're coming to a territory for the first time how do you go about structuring a set list?
I don't know, you know I think it's a little easier now because we can reach out to some fans but it's tough because fans always have songs they always want to request that we never play *laughs* but it's easier now because of streaming so you can just go on line and find out or ask the label and they'll tell you what the top streamed songs are, so you get kind of a good base of what fans are listening to the most and most likely what they'll be requesting so that's kind of how we start so it makes it a little easier.
So we can expect songs like 'Santa Monica' and 'Bad Girlfriend' and songs like that in there?
Yeah, the first time we ever went to Russia we played a whole set and when we came off on the encore they were chanting the song we never play and we used to play thirteen years ago and we had no clue that I guess that was the song that did really well there so we didn't play it and felt bad.  So you never know, we definitely have some core songs but you never know we'll get down there and someone will say why didn't you play 'Invisible Man' or something I don't know.
As a fan of the band from the beginning have you been aware of the love from down here?
No not really, we're not really privy to it and I'm sure we have Australian fans but now it's one of those things we've never seen it, we hope there is.
So are we calling you Theory now is the 'of a Deadman' dropped off or are we just changing it up a little bit?
You know we're just trying to push people in the direction of like the Red Hot Chili Peppers people calling them the Chili Peppers, people call it Zeppelin, there's a band in Canada called The Tragically Hip people call them The Hip, so I think we're trying to create more of an easy way to remember us, so if there is another band called something Theory it's just we're trying to take ownership of the name Theory and I think it makes it easier for everybody wanting to say Theory and know what you're talking about.
Your newest album 'Wake Up Call' sees the band take on a bit of a different direction; did you set out to do something different this time around?
Not really to be honest it just started with the songs, I think every album we've written started with the songs and we've kind of decided what point we wanted to take it in whatever direction but there's no real conscious effort in the beginning to say I want to write more songs on piano or more of an alternative popular feel or less heavy, we never had any of those conversations we just kind of listened to the demos and worked them up and said ok this is what we've got what do we want to do with them kind of thing.
Big fan of your cover of 'Wicked Game' now you've done covers but it's the first time a cover has appeared on one of your albums, so out of all the songs in the world why did this one get the call up?
You know I demoed it and did something between records where I recorded quite a few covers just literally for fun in my studio and there was two or three that we kind of put out there just so fans could hear them so I recorded 'Wicked Game' and let the guys hear it and then the label heard it and they kind of demanded we put it on the record, at first we're like nah nah nah it should be like a bonus track or something and our A&R guy was very insistent on putting on the record which yeah we'd never done before, but you know, we've done six records so I guess it's time to do it.
It is one of those songs that's become timeless too and one of those songs that just stands out…
Yeah it's been done a lot I mean it's interesting I watched a car commercial on TV and there was someone doing a cover of 'Wicked Game' and I kind of laughed I mean there's nothing you can do it's a cover, it's a great song and I've already heard a million times how many other bands have covered it but you just gotta be able to do it in your own special way and put your own twist on it and hopefully it turns out great.
So it's sometimes easy to say what's changed in your time in a band but what would you say is the one thing that's stayed the same in your time together in Theory?
Probably the camaraderie with the band members, I think that we all get along really well and we've seen bands come and go and it all has to do with the inner turmoil, you get a couple of alpha males and you get four crazy dudes on a tour bus together and stuff goes sideways. So I think that's one thing after all these years we can stand back and go wow I mean shit we're like best friends, it's hard to do but it makes it a lot easier to live with one another and then when the time comes make music.
When you look back to when you started out was there one piece of advice you were given that you still go back to to this day that you still go back to and has stuck with you?
Yeah it's the song writing, I try to look at bands that I idolised growing up and how they've become famous in their own right but they always had songs and I think that when you see bands and they kind of focus more on looking cooler or have a big social media presence, we get that a lot about doing more for social media but at the end of the day the songs will live forever, the songs will last a heck of a lot longer than the band will hopefully past our lives. So probably the advice I would give people from when I started to this day is try to write a great song, try to outdo yourself every time.
Aside from Australia what are the touring plans in 2018 and will you be heading to any other territories for the first time?
This is the first time we're in Australia but no we've done a lot of the world now, there's still places we'd like to go, we'd like to go to South America, same thing other bands go down there and do festivals and that could be next on our list, maybe 2019 but right now all we're thinking about is Australia, we already have our stereotypes in order and always talking about the deadliest spiders and snakes, so maybe you can give me a heads up on how mythical that is *laughs* I mean there's probably not spiders and snakes crawling around the hotel, right?
Well not the hotel but we're still alive so you'll be alright…
Exactly *laughs* so we'll all be good.
Lastly let's look ahead to the future, finish this sentence for me, in 2018 Theory will…
Oh man, in 2018 Theory will have visited ten different countries over the year and toured probably I think 275 days, I mean this year has been a tonne of touring this year and we've already been touring like crazy and the next tour is eight weeks and that'll be four countries come that one and I think that's how 2018 ends.
Theory Australian Tour Dates 2018
Friday June 22nd SYDNEY, Manning Bar
Saturday 23rd June BRISBANE, Woolly Mammoth
Sunday 24th June PERTH, Amplifier Bar
Tuesday 26th June MELBOURNE, Prince Bandroom
Tickets on sale now
From: http://silverbacktouring.com.au/toadaustralia/
Essential information
From: Delta, British Columbia, Canada
Band members:  Tyler Connolly – Vocals / Guitar, Dave Brenner – Guitar, Dean Back – Bass, Joey Dandeneau – Drums
Website:  http://www.theoryofadeadman.com
Latest Release: Wake Up Call (Out Now – Roadrunner Records)