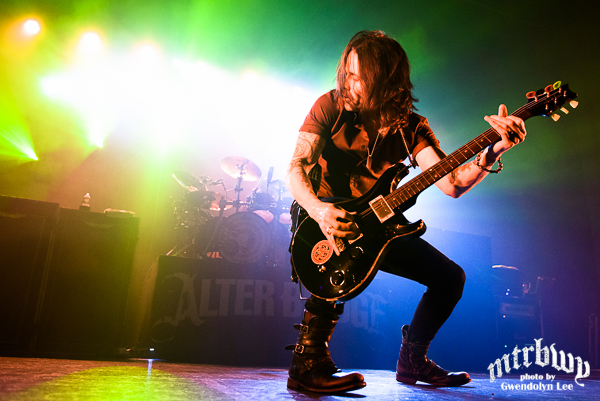 Australia loves Alter Bridge and tonight the band we love so much are here on the back of their newest album 'The Last Hero' and ready to turn the volume up, way up to show us how it's done tonight in Sydney.
Like A Storm open their set with a didgeridoo and take us into 'Chaos' with a big heavy beat and harmonies that come from the family Brooks, as 'Never Surrender' is up next with smoke cannons, catchy melodies and ripping guitar work I am digging this band a lot. Oh man it just got better with 'Nothing Remains' which is by far the stand out so far and with this slow breakdown to outro the song it shows to me that these guys are pros. This is good shit. Being their first time playing in Australia they're killing it and getting the crowd into their set in a way I haven't seen from a support band in a while they rip into 'Become The Enemy' and the didge returns as a thankful band take us to the next tune and it's a ballad!!
Look out!! It just powered up! Guitarist Matt takes lead vocals on this my new favourite song 'Break Free' and yep, just wrap it up, I'm taking it home. That was outstanding. They 'Wish You Hell' with another rocker and I'm seriously impressed by these guys and I truly hope it's not the last time we see them back here on tour as there's a whole heap of talent here and they're impressing a whole lot of people. Giving us a new track of extreme heaviness called 'Pure Evil' and a taste of their forthcoming album I know I'm ready for it as I'm loving this tonight. Time for a cover of 'TNT' by AC/DC and let's see how this goes, a version full of crowd participation, and crowd interaction as Chris makes his way through the crowd.  Closing the set with a song you are unable to not head bang to as 'Love the Way You Hate Me' plays and the didge makes its final appearance. Great way to close a killer support set. I look forward to following Like A Storm and what happens in the future. Choice Rock and Roll, bru!
Lights down and lights flash as Alter Bridge take the stage and the heavy comes with them. Myles takes to the mic on stage left and kicks in to 'Writing on The Wall' to open the show, and straight up there's many a foot planted firmly on a foldback wedge and it's on. Myles solos this one and as 'Come to Life' opens the crowd loves it and the groove this one hits and as Tremonti shows is why he's so good and this band does not miss a note. They are so damn tight. Myles Kennedy, you sir have the voice of a rockin' angel and with 'Farther Than The Sun' they somehow make it heavier in here as Myles and Mark trade solos and as Brian and Flip keep the driving rhythm going this is such an impressive sound for a four piece. 'Addicted To Pain' wow. Just wow. That was amazing. I can't say much more than that right now, I need a moment…
'Ghosts of Days Gone By' gets nice and melodic and epic in nature as it builds into the monster it is. Some amazing lights engulf the band as the volume goes up even louder somehow for ' White Knuckles' with some amazing crowd controlling and precision playing the band does not miss one single note. It's actually a pleasure watching how good this band is in a live environment. Myles solo intros the beginning of 'Cry of Achilles' from 'Fortress' complete with bass solo kicked ass then we get the riffs back and the overdrive turned up for 'Crows on a Wire' and then 'Ties That Bind' let's Tremonti and Myles mirror each other note perfect. I'm just actually blown away by the precision musicianship in this band. I feel like a sixteen year old valley girl as right now I literally can't even.
Heading to the new record with 'My Champion' and it's by far my standout from the new album and with that chorus… Oh man, that's how it's done. This is a song I can't see leaving an AB set for a long time. What a tune played perfectly and close to my favourite of the night so far. Mark Tremonti takes lead vocals for 'Water Rising' which sounds great as Myles takes the middle 8 and I dig a band that has more than one singer and lets them do their thing. Now for something a little different, we see an acoustic guitar for the first time as Myles has a chat before an unbelievable rendition of 'Wonderful Life' blending in to 'Watch Over You' and just wow. The crowd joined in for a goose bump inducing moment and as heavy and amazing as the band is, this is the moment of the night so far. Wow.
The sombre moment has been thrown out the door and stomped on about a hundred times by 'Isolation' as I'm pretty sure the roof just got blown off and watching Flip drum on this one is a treat too as he bashes the shit out of his kit. An extended guitar intro from Myles takes us to Mark opening up the doomy 'Blackbird' and what I love about this band and these songs is the heart in them, these emotions come through via the music and none of it is put on, I guess that's why this is so good they're not at any time going through the motions. I love that.
'Open Your Eyes' takes us way back to the beginning of the band and the one I was waiting to hear. It did not disappoint as the crowd joined in and Tremonti showed off once again making what he does look absolutely effortless. After band introductions I'm waiting for Edge to run on stage but he does not as 'Metalingus' is a perfect song for this end of the set. Myles voice has not tired at all from the beginning of the night as it finishes the band leaves the stage.
And they're back with 'Show Me a Leader' from the new album sounds so much better in here tonight, definitely a song written to play live and after it a little bit of a guitar play off between Myles and Mark is happening and they're just showing off now, I'm 43% sure I saw them both yawn at one point due to the ease of this playoff they're both just too good. Leaving us with 'Rise Today', the only song they really could as it's written for being a closer and they smash it so far out of the park that there's no finding it, don't even bother looking for it. It's a fitting end for an amazing set from a band of absolute musical professionals, a band that impresses me even more every time I see them as I don't know how but they just seem to get better every time.
If you've never seen Alter Bridge before there's still time, but do it soon because when they're playing the huge places you'll be happy to say you saw them in these smaller sized venues. I was blown away tonight.
Check out our interview with Myles Kennedy HERE
Check out our interview with Matt Brooks of Like A Storm HERE
Essential Information
Venue: The Enmore Theatre – Sydney
Date: April 4, 2017
Presented by: MJR Presents
Support: Like A Storm – http://www.likeastorm.com
Website: http://www.alterbridge.com
Photo: Gwendolyn Lee – Gwendolyn Lee Photography – full gallery HERE
Set List:
Writing On The Wall
Come To Life
Farther Than The Sun
Addicted To Pain
Ghosts of Days Gone By
White Knuckles
Cry Of Achilles
Crows on a Wire
Ties That Bind
My Champion
Water Rising
Wonderful Life
Watch Over You
Isolation
Blackbird
Open Your Eyes
Metalingus
Show Me A Leader
Rise Today