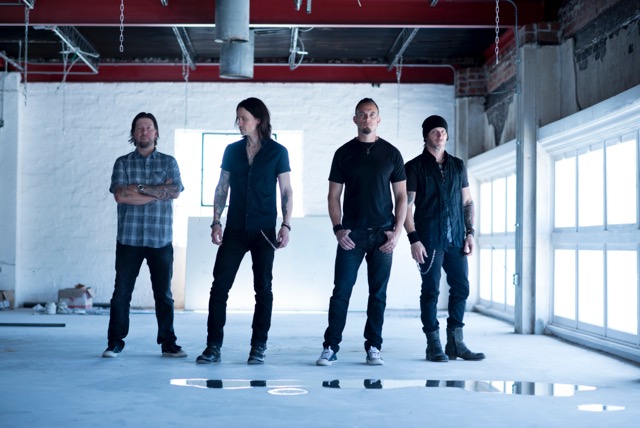 "So I think with each record we get maybe a little bolder here and there with our approach with arrangements and not being afraid to test the waters, and that's fun, it keeps it interesting as opposed to just having to write three minute singles you know?"
From Release: Orlando, Florida-based rock legends Alter Bridge are returning to Australian shores in April 2017. Early October 2016 saw Alter Bridge release their latest studio album 'The Last Hero' in Australia – to an ARIA #6 album chart debut. With an obviously loyal and ravenous fanbase down under, Alter Bridge are coming down under to celebrate the success. Alter Bridge's album Fortress was released in 2013 and it was clear their fans were eagerly waiting for them to return. Now the rock juggernaut comprised of Myles Kennedy on vocals/guitars, Mark Tremonti on guitars/vocals, Brian Marshall on bass and Scott Phillips on drums are returning to Australia on the back of their fifth album, The Last Hero.  The new release is a monster that builds upon the sound that Alter Bridge has become known for with their uncompromised vocal melodies, untouchable dueling guitar work and pounding rhythm section
While at home in Washington we spoke with Myles about the band's return to Australia, set lists, evolution, scheduling, Rockstar, and much more…
Alter Bridge are coming back to Australia, in being here a few times and with five albums now, how are you planning to shape up the sets for this tour?
Well we were fine tuning it over the last six or seven months or so just because we have the good fortune of having a thirteen year run, and we have a fair amount of material and with five records to draw from and for a while we were tending to draw from a few records more so than others so we've been trying to do our best to balance that a little more and draw from all five records in equal as we possibly can and I feel like once we get down there we'll get to fine tune that approach for sure.
Being here a few times now, do you have a favourite memory of a previous tour you can share with us?
Oh man, that's a good question, I think probably I would say the zoo, yeah probably the zoo *laughs* I'm a big animal guy and we were at the zoo and my guitar tech, my wife and I were there and this is going to sound really weird but we were there as two turtles were having intercourse and the sounds that the two turtles were making were so strange I've never really gotten past that it's traumatised me for good *laughs* so that's the memory that sticks out more than anything *laughs*
Back to the shows, does Mark Tremonti ever get the shits when you show him up on the guitar some nights? *laughs*
Oh no that never happens *laughs* I think we love the dynamic of the twin guitar approach and what I really love playing with Mark is we're very different players and it's a good thing as it doesn't get redundant when you have two guys not doing the same thing and there's a pretty broad stroke differently stylistically between the two of us but that's the beauty in playing with Mark is he's not territorial about it, I think once he recognised I was a player and loved to play he really embraced that and wanted me to feel comfortable bringing more of that into the equation with our sound and was always pushing me to do more solos. So that kind of highlights a certain selflessness with him and I love that.
'The Last Hero' has been out for around six months now, how has the cycle been since its release?
It's been good, it's been busy it's been pretty much nonstop before it was even out we'd already toured for two or three months with Disturbed over here in The States so we've been just trying to hit every corner of the world with this record because it seems to be resonating with people and there's a fair amount of interest from a touring standpoint we're just trying to ride that out as long as we can at least until the end of this year.
How personally have you seen the band evolve over your releases?
I think it's probably just a certain amount of and I don't want to say fearlessness but certainly not feeling confined, like initially when we first started making records maybe that was it, that feeling of do we have to have songs fall within this set of parameters from an arrangement standpoint, from a time standpoint, and I think as the records have gone on and we've kind of dipped our toes into more progressive elements and more experimental elements from arrangements standpoint and realised that our fan base really embraced that and out producer 'Elvis' really even more so knowing that the fans like that. So I think with each record we get maybe a little bolder here and there with our approach with arrangements and not being afraid to test the waters, and that's fun, it keeps it interesting as opposed to just having to write three minute singles you know?
As the band continues it's somewhat easy to say what's changed but what would you say is the one thing that's stayed the same in your time together?
That the four of us are just total dorks *laughs* I mean I think if anybody were ever to be a fly on the wall and just see what kind of boring rock guys we are that it would be disappointing, no crazy parties or anything… Actually that's not true, our drummer he kind of picks up the slack and that hasn't changed, Flip is party central but Mark and I are always diligently trying to learn something and improve our prowess on guitar and improve as songwriters and Brian is doing any number of things, so yeah I think that hasn't changed much with time gone on and we've proven to be just boring musician types.
You're pretty much one of the busiest voices in rock these days, then Mark has his solo project and Scott is in Projected, how do you balance it all to make sure Alter Bridge finds time to, well, be Alter Bridge?
You know we tend to carve out the schedules sometimes years in advance, we have a pretty good understanding of where things are going and I think everything has just been communication with each other and various managers involved with the different entities and just being open and honest because I think Alter Bridge is so much of an important part of the equation more than anything because of the fan base, I mean the fans have been so loyal and have stuck with us for so many years we certainly don't want to let them down, so we will continue if they continue.
There's been talk for years about a solo album from you, when if ever do you think we'll get to hear it?
Yeah I'll always be chipping away at writing it's just what I love to do, I finished one last year and I've started working on something else, it's just a matter of finding an appropriate window to put it out and promote it a little bit, so it'll happen it's just a matter of when and to what degree so I'm excited to get it out there.
I believe you're also currently working on a signature guitar?
You know that's been in the works for a really long time and the only thing that's holding it up is me and my indecisiveness because I love playing so many kinds of guitars that PRS makes so trying to encapsulate all those strengths into one guitar has been an arduous process, but yeah it's still in the embryonic stages and like the solo record it's gonna happen eventually. I think people are seeing a pattern here that Myles is a bit of a procrastinator. *laughs*
Let's talk career highlights, is there one stand out can't be beaten moment that will always stick with you?  
I think probably the experience of jamming with John Paul Jones, Jimmy Page and Jason Bonham about nearly ten years ago that was kind of it for me, I think standing in a room with those guys and getting to play some music for a few days was very, very, very special and will always be something that I look back on fondly and pinch myself.
There's been talk about that over the years, do you think we'll ever get to hear that stuff?
Well it wasn't officially recorded, a lot of people hear about that and think we were in a recording studio making a record and that's essentially not the case, it was a lot of jamming, playing quite a few of the Zeppelin tracks and then the two tracks that they had been working on that I sang over the top of that were newer but nothing was ever officially recorded so that won't see the light of day.
OK so I have to ask about 'Rockstar', just because that movie rules but what do you remember about joining Steel Dragon for a fleeting moment?
It was awesome, it was my first and only time seeing how the movie industry works so that was cool and then getting to meet Mark Wahlberg and Zakk Wylde and Jason Bonham and Jeff Pilson, there's so many people that I respected and admired, so just as a fanboy it was very cool and it was a great experience and certainly makes me appreciate the work that actors do more so. They get up very early and it's a different kind of gig than being a musician so it was cool to step into that world for a while. It was fun, it was just a lot of fun.
What does the remainder of 2017 have in store for you?
Touring, just pretty much non-stop, I've got a few more weeks off here and then we head your way then I'll be back in The States, then Europe again and yeah we're gonna be all over for the rest of the year so a lot of time in aeroplanes and busses.
Is there a chance of going back in with Slash any time soon?
I guess we'll see, obviously we're both staying pretty darn busy but we'll see what happens in the next couple of years.
Lastly let's look ahead to the future, finish this sentence for me, by the end of 2017 Alter Bridge want to…
Tour Mars, there we go *laughs* why not right?
Well you can play with Wednesday 13 who said the same thing…
Perfect, maybe we'll put together a new Soundwave on Mars, that's what we should do *laughs*
We can call it Marswave…
Marswave, I love it, I'm in.
TOUR DATES
FRIDAY 31/03/17 – AUCKLAND – POWERSTATION
MONDAY 3/04/17 – BRISBANE – EATONS HILL
TUESDAY 4/04/17 – SYDNEY – ENMORE THEATRE
THURSDAY 6/04/17 – MELBOURNE – FESTIVAL HALL
SATURDAY 8/04/17 – PERTH – METROPOLIS
TICKETS ON SALE NOW AT MJRPRESENTS.COM/ALTERBRIDGE
Essential Information
From: Orlando, Florida, USA
Band members:  Myles Kennedy – Vocals, Guitar, Mark Tremonti – Guitar, Vocals, Brian Marshall – Bass, Scott Phillips – Drums
Website:  http://www.alterbridge.com
Latest Release: The Last Hero (Out Now)