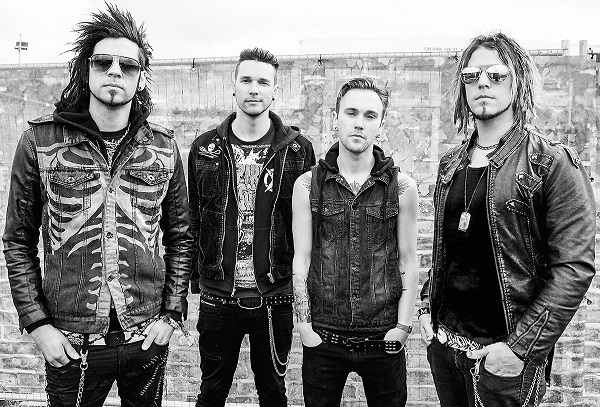 "…I suppose one of the things about rock and roll is you can't really plan out how it happens, you just sort of roll with the punches and you do your best and you're grateful for the opportunities you have, so I think it's all the more special to go home and play now having done the things we've been lucky enough to do."
From release: Known as one of the hardest working bands in the heavy rock world, LIKE A STORM have fought hard to be heard. The brothers from New Zealand went to the United States knowing no one, and built a diehard and devoted fan-base by tirelessly touring to promote their debut album, The End of The Beginning, with Alter Bridge and also with bands such as Shinedown & Creed.
While he was in Las Vegas we gave Matt Brooks from Like a Storm a call to talk about the band's upcoming first tour of Australia and New Zealand, what people can expect from the band live, new music, old music, didgeridoos, and much more…
This will be your first time touring Australia, so what can people expect should they come and see Like a Storm play?
Well firstly I've got to say we're really stoked to be playing Australia, we grew up in New Zealand but our grandparents come from Australia so we've been coming to Brisbane every single year but this is our first time playing there. I guess in terms of what people can expect, we really pride ourselves on our live show and we've been lucky to tour a lot of different parts of the world and we're just really excited to bring that live show to Australia.
Other side of that, what are YOU guys expecting from Australian audiences?
Probably the most Australian accents I've heard for a while *laughs* we're just really, really stoked to come and play Australia I mean it, we grew up listening to a lot of Australian bands like most Kiwis and we spent a lot of time in Australia growing up so for us to come back and play and especially to play with Alter Bridge who are a band we're not only huge fans of but we've been lucky enough to tour a lot of different parts of the world with them so it's just a really cool combination.
This is the bit I love, you're from NZ but Like a Storm have never played there, what's it gonna be like playing there for the first time?
You know actually we have played at home but we haven't played at home since we moved overseas. We grew up in Auckland my brothers and I playing in different bands along the north shore and then we got together and formed Like a Storm and we played a few shows there and the we decided we had this crazy dream to see if we could do it overseas and tour the world and make records and since that point we haven't played at home and so it's kind of a surreal experience to go from touring America and England and Europe to now go back to the country that you're from which is a place for the last five or six years we've just gone back to for a holiday to visit our grandfather and our family. So playing at home is like a collision of two worlds that haven't previously met, so it's really exciting and a big milestone for us in a way.
It's kind of backwards in a way, it's amazing. 
Yeah it is, I mean I suppose that we just decided to see what happened when we went overseas, it was this big adventure to come over to The States and make our first record in Los Angeles, then we started touring and then really since that first US tour things have just progressed for us in America and then The UK and Europe and so it certainly wasn't by design it was more of just that things have taken off over here we've had less and less time to come home and play at home. So it is kind of backwards and I suppose one of the things about rock and roll is you can't really plan out how it happens, you just sort of roll with the punches and you do your best and you're grateful for the opportunities you have, so I think it's all the more special to go home and play now having done the things we've been lucky enough to do.
With a couple of albums out your last being in 2015, you're in Vegas making a record and I believe we have 'Catacombs' coming this year, anything you can tell us about it?
That's exactly right, yeah we're in Vegas making 'Catacombs' and we'll have a couple of songs done by the time we come down with Alter Bridge. I think we'll at least we playing 'Pure Evil' which is our new single live which is gonna be a real trip.
Anything you can tell us about the record and what have you learned from your last two records to get where you are with this one?
I think it's and I don't know if I'd call it a departure but it's definitely a progression, 'Pure Evil' which is the first single from 'Catacombs' is a song that showcases our music going in more of a progressive metal type of direction. We've always been fans of bands that push the envelope and we've always been fans of great songwriters, so I guess for us each record that we make is a chance to develop both as songwriters and as musicians, so with 'Catacombs' we're starting to push more in the direction of still wanting to have songs that people can connect to and that we connect to but also musically taking more risks, and so I think it's the most fun record we've ever made because no idea is too crazy to try, we're throwing any idea we have at it and seeing how it sticks and it's actually really exciting to make a record that is more musically indulgent for lack of a better word.
I do have to say, I can't think of many other rock bands that can rock out a didgeridoo solo, how did you decide yeah, let's do that?
*laughs* That's true, crazy ideas for us certainly isn't a new thing I guess if you went back and said hey these guys from Auckland are gonna move overseas with a dream of playing music then you can say that the didgeridoo is just another example of that. As I said we grew up in New Zealand but we spent time every single year in Brisbane with our grandparents, and on one of those trips Chris who's my brother he's also our lead singer, he bought a didge and when we came back to New Zealand he locked himself in his bedroom for three days, and seriously nobody saw him for three days *laughs* and at the end of those three days not only had he taught himself how to play the didge but he also taught himself how to circular breathe. So I mean I can't do that, it's the most crazy difficult thing but we just thought that the didge was the coolest sound and we've always had the approach of if we like something then try and fit it into the music we make because ultimately the best thing about making your own music is you can do whatever you want and the didgeridoo for us was always just this amazing musical instrument and such a powerful and unique sound we just thought well why not combine it with the other things that we love like heavy guitar, guitar riffs and double kick drums, there's no rules when it comes to being creative and it's been one of the coolest surprises to see how well the didgeridoo fit in with heavy music.
Is it coming on tour with you?
Oh absolutely! More than one actually because as you probably know like any good Aussie, the length of a didgeridoo dictates the pitch of it, so we have different didgeridoos for different songs because our songs are in different keys, so Chris actually has a few different ones he'll bring out.
In your time together it's easy to say what's changed but what would you say is the one thing that's stayed the same within your time together?
Well you know, I'm in a band with my brothers so I would say that the kind of relationship you have never changes and I think that's probably the best thing about it, you grow up together, there's three of us and we all grew up being into music and we were super close but brothers are brothers *laughs* and I think that sort of protects you from some of the sides of the music business that maybe tempt people to lose their way and start acting out of pride and ego or just things that you can see happen to people at different times. I think being in a band with your family sort of protects you with that, so the relationship that the three of us have is exactly the same as the relationship we had growing up and that hasn't made any difference whether you're sitting around at home in Auckland or you're backstage at the O2 in London.
What's the one thing you want to accomplish by being in this band that you haven't yet had the chance to do?
You know, I don't know… we've been really fortunate and I think ultimately we just want to keep making the music that we like and keep growing with it and with the band. I think that's what ultimately draws you into making music in the first place so that you want to express yourself and you want to develop and we've been really fortunate that not only have we been allowed to develop but the more that we've pushed ourselves the more successful we've been. So to be honest if we're just allowed to keep doing what we're doing we'll be very happy indeed.
Lastly let's look ahead to the future, finish this sentence for me by the end of 2017 Like a Storm want to…
Get a good night's sleep *laughs*
TOUR DATES
FRIDAY 31/03/17 – AUCKLAND – POWERSTATION
MONDAY 3/04/17 – BRISBANE – EATONS HILL
TUESDAY 4/04/17 – SYDNEY – ENMORE THEATRE
THURSDAY 6/04/17 – MELBOURNE – FESTIVAL HALL
SATURDAY 8/04/17 – PERTH – METROPOLIS
TICKETS ON SALE NOW AT MJRPRESENTS.COM/ALTERBRIDGE
Essential Information
From: New Zealand / Los Angeles, USA
Band members:  Chris Brooks – lead vocals, guitar, didgeridoo, keys/programming, Matt Brooks – vocals, lead guitar, keys/programming, Kent Brooks – bass, vocals, keys/programming, Zach Wood – drums / percussion
Website:  http://www.likeastorm.com
Forthcoming Release: Catacombs (2017)