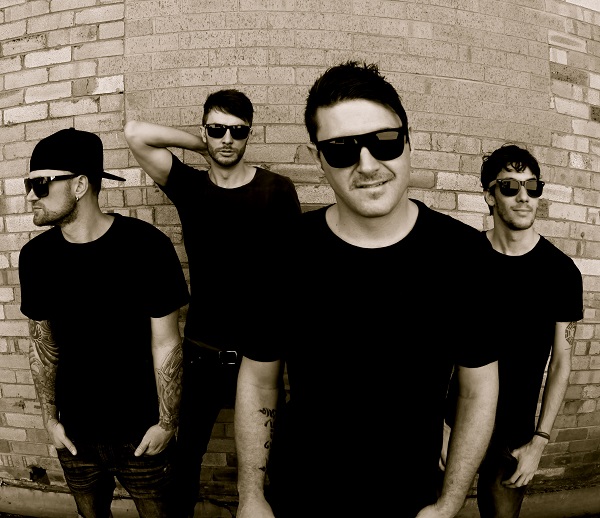 "I was straight onto this one and I went through a period of time around that Christmas break where I just thought a lot of how things work and how life works and I thought things are over just really quickly, from relationships to all sorts of things, and to me Dead In A Second was that, it can be over in a second, that's what it means, so while you're alive… live."
From tour release: Dead In A Second recently signed to Sydney based label Possum Records. The band's long awaited mini-album The Double Treblio will be released Friday March 14 through Universal Music. The Double Treblio comes almost two years after the band debuted at #3 on the iTunes Rock Chart with their independently released Maretimo EP in June 2012. The Double Treblio sessions were put on hold in April last year to allow the band to concentrate on their tribute to Chrissy Amphlett recording Girls In Town. Girls In Town was released in September 2013 and received widespread national media coverage and airplay. All proceeds from the sales of the track were donated to MS and Breast Cancer research.
We chatted to Triz of Dead In A Second about the band's new mini album 'The Double Treblio' as well as touring and their cover of The Divinyls classic 'Boys In Town'…
Let's start with the basics; for those that haven't heard of you, can you please give us the abridged version of the Dead In A Second story, and the decision on the name of the band?
Basically, a couple of years back now, after my last band actually, I was straight onto this one and I went through a period of time around that Christmas break where I just thought a lot of how things work and how life works and I thought things are over just really quickly, from relationships to all sorts of things, and to me Dead In A Second was that, it can be over in a second, that's what it means, so while you're alive… live.
You've just released your new mini album 'The Double Treblio' if you had to use only three words to describe it, what would they be?
I'd say eclectic, spiritual *pauses* and somewhat original…
Tell us about the title of the album, how it came about and what it means to you…
It's very spiritual, it all started when and this might sound a bit odd, I started seeing a lot of double and triple numbers, and I'm talking a lot, and I looked into it a bit further on websites and through guru ladies of numerology and all that sort of thing, there was no name for the double and the triple and she actually suggested that someone should come up with a name, so I did, and it happens to come with six songs, so that's how it is, it just means the double and the triple. But this whole recording process was tough, I recorded this in my living room *laughs* and it was day in and day out and the numbers were something that kept me going and once I realised what they meant and not going too deep but they say seeing a lot of double and triple numbers is basically spirits telling you you're right in synch of where you should be, so I kinda listened to them and said 'alright, I'll go with that' *laughs* as you second guess yourself a lot with art, but the numbers made some good decisions and kept me going.
In terms of your song writing, what do you consider to be the most important ingredients that make up one of your songs, is it the spiritual side?
No I think that just comes with being who you are as person, I don't think that comes with who you are as a musician, but, at the same time I believe your personality comes out in your playing so I don't think it is. Be the best person you can be, as a musicians, as a player, as a writer, whatever it is you do, be as good as you can be at that. From a song writing point of view I just know how I do it, I don't know how other people do it, but for me I want to feel a connection, if it's not right from a connection point of view, it's usually put in the bin pretty quick, and there has to be a bigger feeling than just your own feeling if you know what I mean? *laughs*
Both lyrically and musically, what or who inspires/influences your music the most?
I think just life in general, I don't think there's a person I can name or an artist I can name that inspires me so much that I have to write music and play music, I think it's just more of a general thing, I think just the people around me from family and friends and people I work with in the industry and what's happening socially around the world and how we connect to things and how we prioritize and how we fuck up what's around us as well. So there's many avenues from a song writing point of view, inspiration though is always going to be family.
It's been almost two years since your last EP release, what did you do differently this time around compared to when you made Maretimo?
*laughs* Well the first EP 'Maretimo' was my first kind of go at it for me in making a record on my own basically, and yeah, there was lots of learning curves so this time it just took a lot more time to get it to sound the way I wanted it to sound, it was like reading a manual as you're going *laughs* for building a house and it was like that's what I do with the pipes and that's what I do with the tiling and I'd find myself recording for hours at night time and actually studying what I was aiming to do the next week or two, so what I did different and I hope other people can say the same is that I hope I got better at what I did. I just got a bit more thorough with it, it's a really different way of recording, usually a band comes in and records and then someone else turns it into something, this was really different, this wasn't the case, this was me living and breathing it for a year and a half, as a player, as an engineer, as a producer, and also a massive critic at the same time, so I was wearing all those T-shirts and it was pretty exhausting by the end.
Probably a bit warm too…
*laughs* Yeah exactly…
As the button pusher, how hard was it to get everything sounding exactly as you needed it to?
It was really difficult, because it was trial and error. I've worked in lots of big studios and they just have a way of doing things and it's usually the right way that's why they do it, but this was a big thing to take on, this was trial and error, but it's done now and the most important thing is getting the songs across as how you visualise them. I've recorded overseas and I've had some songs that I thought were going to do great things and they haven't turned out that strong and the love just didn't go into them.  A lot of studios, and I won't mention any names, but there's a lot of people out there that just want to make money and that's it, whereas this was never about money, it was just getting the songs the way they're meant to sound and that's what I did, it just took time. I remember mixing the record and just listening to it and saying it's not right and starting all over again, so it really was trial and error and at the same time instincts, using your instincts and that's it. *laughs*
Live, you're currently out playing some shows in support of the new release, how would you describe a typical live show of yours?
I don't know, I haven't played one in a while, I've been recording *laughs* no, we played one last week and it was fantastic, there's a lot of energy there really is, so that's how I'd describe it, fun and energetic.
After this run finishing up in April, can we expect some dates later in the year?
Definitely, I'm not in a hurry to record for at least twelve months, so if we're not playing I'm going to be holidaying or barbequing or something, I definitely don't want to be recording *laughs*, it hasn't just been the last release, it's been the whole process from the first EP to now which is actually closer to three years, so it's a lot of work so I'm kind of fried. To answer your question, we're going to be going out and playing as many shows as we can for the next twelve months from tours to just shows, so we'll see. We do have a plan, but also we're just going to keep an eye on the scene and what's going on out there.
I have to ask about your awesome cover of The Divinyls track, well you renamed it 'Girls In Town', why was that something you wanted to do or felt like you should do?
I just kind of felt for me personally I just wanted to give something back rather than just take and I felt giving a song to charity to make money from and all proceeds going to those charities was giving. I've heard it before but I thought it was smarter than just buying a pen… buying a pen for $2 at a shopping centre isn't acceptable, it's your part and I just felt there was more I can do, and Chrissy was a massive, massive influence growing up and her and Mark from a song writing point of view they wrote really great songs. When she passed it was really sad and I thought this was a long shot, I'd always wanted to do this song, and it wasn't like she passed and I had the idea, I'd always wanted to do it as a cover and I thought it'd be a really cool rock and roll shift to change the lyric. Then it came down to you either do it or you don't, and you can't just send them an email as the answer will be no, so I kind of just had to back myself up and it took a while and after speaking to Michael our management, he was like 'Go for it Triz' and that's basically all I needed and started recording it. Then got in touch with them, The Divinyls themselves and Sony who own the rights to it and got the approval to change the lyric and change the title of the song which is a big thing as apparently that hasn't been done before, as it's not a common thing to cover a song and change the name of it, so there was a little bit of paper work and got the all clear and away we go. So it was just good to give back.
In terms of a message, is there a message you want to get across to people with Dead In A Second?
Of course there is, man, but it's not really something I can pinpoint, there's not one particular message, there's a message in each song, even the band title is a message, it can be over really quickly, live, be cool, be a nice person, so on the individual songs, they might have different messages but it's not directed to one person, or group of people, maybe the song writing itself is just an experience and that in itself is a message to us song writers to remind us, this is what we do and what we don't do. So not really, to me, music and writing and creating is all about being free and seeing what comes out and trying to do good with it.
For a bit of fun, say you get the chance to open for any artist or band in the world, who would they be and why?
Ooh… oh wow… I think it'd have to be AC/DC, I mean to go on before AC/DC would be ridiculous. Actually I take that back, I'd like to have us, Divinyls and then AC/DC, to me that would make my night pretty good. *laughs*
If you could cover one song in your live set that no one would ever expect, what would it be and why?
Ooh geez, I don't know… the National Lampoon's 'Holiday Road' *laughs* I've actually never heard the song as a song, I've only heard it in the movies but I just love the whole vibe of it. If that's the name of the song, I'm not sure what it's actually called…
Lastly, with 2014 well on its way now, let's predict the future, so finish this for me, in 2014 Dead In A Second will:
Make enough money to employ a fulltime lighting guy… *laughs* we will cover a lot of kilometres on the Australian road, that's one thing that will happen and I can back up, so that's what we'll do, we'll cover a lot of k's on the Australian freeway…

Check out our review of 'The Double Treblio' HERE
Essential Information
From: Sydney, Australia
For fans of: Rock/Hop/Rip your face off
Band members: Trizo – Rick Hammond – Simon Koster – Jonathan Lawrence
Current release: The Double Treblio (Possum / Universal Music Australia)
Website: Official facebook page
Catch SWARM FEST – FEATURING DEAD IN A SECOND & JERICCO – TOUR DATES & TICKETING INFO
Fri March 28 – The Esplanade Hotel – Gershwin Room, Melbourne
www.oztix.com.au or venue PH: (03) 9534 0211 (03) 9534 0211
Sat March 29 – Enigma Bar – Adelaide
www.moshtix.com.au  www.oztix.com.au  www.venuetix.com.au or venue PH: (08) 8212 2313 (08) 8212 2313
Fri April 11 – Bald Face Stag – Sydney
www.gobookem.com or venue PH: (02) 9560 7188 (02) 9560 7188
Sat April 12 – Great Northern – Newcastle
www.bigtix.com.au or venue PH: (02) 4925 3551 (02) 4925 3551
*Tickets on sale NOW
*Tickets for Adelaide, Sydney & Newcastle – $12 + bk fee pre sale & $15 on night
*Tickets for Melbourne – $15 + bk fee pre sale & $18 on night