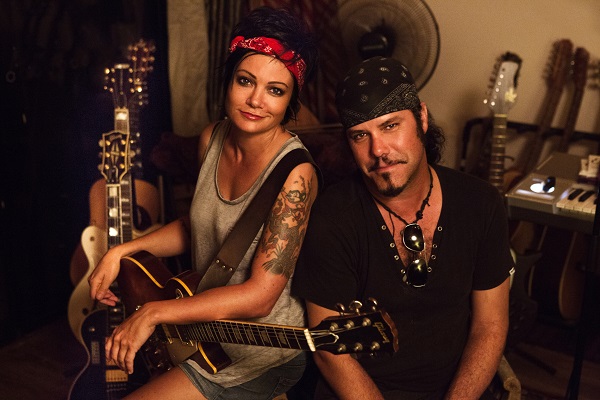 "Consider it almost like a dark rock and roll take on The Eurythmics, Annie Lennox and this beautiful voice that was always at the forefront, but Dave Stewart was always sitting back producing all the music around it, right? That's how I want to approach this project…"
Jeff Martin is a man that most would know from his work as front man of the magnificent rock band The Tea Party, but also through his solo work, his writing and producing, he is truly an outstanding talent in the world of music. Now he has teamed up with Australia's own Sarah McLeod for a tour and new music which will open more than a few eyes…
We chatted to Jeff Martin ahead of his tour with Sarah McLeod all about the pairing and what we can expect and a nice little insight into the world of The Tea Party and what we can expect in 2014…
So how did this musical meeting of minds between you and Sarah McLeod happen?
*laughs* I'm still asking myself the same question, well you know it happened about just over a year ago, Sarah was doing a residency at a little venue in the Central Coast and she happened to invite me to a be a part of it, and she invited many singer song writers and all that, and it was just a melding of the minds, her and I just totally got on like long lost brother and sister of hardcore rock and roll *laughs* lifestyle anyways and we just kind of in a very artistic and friendship way we just really fell for one and other. I told her after that gig, we were sitting there having some drinks and I said 'Listen girl, I've got to produce you as your voice is something I've been looking for for a long time outside of all the other production things I've done whether it be The Tea Party, Armada, 777 blah blah blah and so she held me to my word and kept on badgering me to make it happen because I can be quite elusive and I can admit that, but the point came where we did another gig together for a bushfire relief for what happened in the Blue Mountains and that was the night, I think it was October or November or something that we just decided that OK let's do this for certain. So we got here together in my studio in Byron and we came up with the song 'Man The Lifeboats' and that's all it took for me to see that this is not only something that could be accomplished but could be great, like really great. So now we're going to embark on this short tour together to get a feel for being on the road, get a fee for more than just a day, we're probably going to write some more songs while we're on the road and then over the course of this year my dance card is pretty full, obviously with The Tea Party record coming out and the world tour that will happen with that. I will have down time and when my downtime comes Sarah's going to keep on coming up to Byron and we're going to keep writing songs to the equivalent of 'Man The Lifeboats' and hopefully by 2015 we'll have a record that we can tour.
I've just heard the single 'Man The Lifeboats' which is just awesome by the way, how did the song come about?
It came about because Sarah had this song in her vault for some time before The Superjesus took their hiatus and it was one of these songs that Sarah had written but I think it's how should I say it, the esoteric nature of the song just in its infancy, just her voice and an acoustic the melody is just a bit too dark for The Superjesus I guess? This is what she tells me anyway… and that's cool, and I feel kind of blessed that this happened, because let's face facts there's nothing too dark for me *laughs* so you know the darker the colours the better. So when she brought the song to me in its infancy, just her and the acoustic guitar I immediately thought this deep demonic pirate ship song production around it, she loved the idea and we ran with it and we were here in my studio for three nights, four days, there was a lot of rum consumed and various other things and by the end of it all we ended up with that, so yeah like I said, it's just a great start to where the best is yet to come.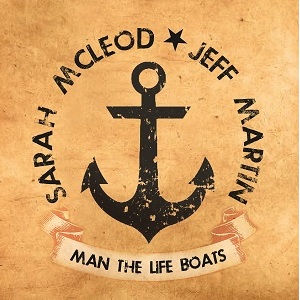 Sarah told me that she wanted to be the Captain of the ship, but you took on that role, is that true?
*laughs* Well… first of all I'm a lot bigger than she is… and I've got a more authoritative voice *laughs* oh you know what I love about the whole situation? Sarah is actually the focal point, if you want to call it a ship, that's the focal point and that's how I want to keep it you know? Consider it almost like a dark rock and roll take on The Eurythmics, Annie Lennox and this beautiful voice that was always at the forefront, but Dave Stewart was always sitting back producing all the music around it, right? That's how I want to approach this project, obviously with The Tea Party I'm front and centre and it's all the circumstance and the big rock star and all that stuff and I just love with Sarah I get to take a back seat and just create a chariot for her to ride upon.
You mentioned the run of shows coming up, have you got an idea of how the show will work?
Nope… *laughs*For the most part… I mean we've got a schematic, Sarah's going to do her own set for a little under an hour, I'll do a set after that and just try to for the last time in a long time I'll have the chance with just my voice and an acoustic guitar do some classic Tea Party stuff and some things from my solo career really for the last time, now with The Tea Party record coming out it's just such a big machine that I can't foresee myself having any time to do solo work for the next two years, except for what I do with Sarah. So I'm going to really embrace that time on stage and then after my set for an hour on stage, Sarah and I come together and we're going to perform 'Man The Lifeboats' and we've got these very obscure covers that we've created duets for that's certainly taken me out of the box, as it's things that I never would've considered doing, but the way that Sarah brought them to me, delicately, she didn't have a hard time convincing me to do it…
Intrigued, I can't wait to see what this turns out like…
Me too…
In working together, what has been the most rewarding and or challenging part or the pairing?
Well, I wouldn't say it was challenging, I would say it was refreshing, she's such a great artist in her own right prior to us working together and certainly with us working together she's getting stronger as an artist and my confidence in her has allowed me to I won't say a back seat, but it's allowed me to be in the producer chair and not be at the forefront of it all and not leading the charge. She's very, very adamant in her ideas and how she wants to see things through and for the most part, I'd say 99% of our discussions artistically I'm just agreeing with her.
After an amazing run of shows in Australia back in 2012 and with a live DVD and album following, was this the rejuvenation the band needed?
Oh absolutely, you think after seven or eight years of us not even talking to each other and for us to be able to come back as a band and play like that, I could tell just from my own standpoint, I'd played in the band for twenty five years or whatever it is and I don't recall the band being better like for instance that night at The Hordern, there's a maturity and a newfound respect for one another as well, and I think that's going to be quite obvious when music critics and fans alike hear the record that we bring out this year, it's in my opinion anyways, and I hope I'm right, it's everything that every Tea Party fan and those that weren't a Tea Party fan would want to hear.
When are we looking for a release?
In a perfect world, we'd like to see it come out at the end of May, so that's what we're shooting for.
After this run with Sarah, what are your plans for the remainder of 2014 are you straight out on the road?
Well, I'm not really the most educated answer as far as that's concerned, with The Tea Party it's such a big monster and there are so many factors involved now, it's big record companies, it's big agents, it's big everywhere, so I don't really know how it's going to go. I know that the three of us would like to start here in Australia and six times out of ten we usually get our way *laughs* but we'll see how that goes, it's really all up to logistics. I know that the three of us have put all our cards on the table and for the most part everything else that we had leading up to the release of The Tea Party will be secondary and that's not to put off anything that Sarah and I are doing it's just what Sarah and I have agreed on as she's as busy as I am with a lot of her projects coming up. So we're just trying to put it together that when I've got breaks with The Tea Party that she's going to try and have breaks with her various projects so we can still keep on getting together and writing and moving forward with what we're trying to do.
You've always had an amazing connection with Australia, both as a solo artist and with the band, what do you think it is about Australia that just gets your music?
Well… I think it stems from, especially the age group that would listen to The Tea Party, I think that would be from… well so now I'm wrong, cause I would've thought that if you were judging from The Hordern Pavilion, that show,  I would've thought they'd be from 33 onwards, but what we noticed and what you can tell from the DVD is that the first fifteen to twenty rows of The Hordern Pavilion was all like twenty year olds so it's people that have maybe discovered The Tea Party through older siblings or something like that right? So we're one of these lucky bands where our music isn't really set in a time or a place, it's just music that translates over time and younger generations are getting into it as well. So that being said, as far as the Australian audiences are concerned it's just an open-mindedness to the type of rock and roll we do which is I don't really think you can compare it to another band, it's something on its own and I think because it is on its own I think it's something that doesn't have a past due date, you know?
2014 has just begun, let's predict the future, so if you can finish this sentence for me… In 2014 Jeff Martin will…
Make a lot of people happy…
Check out our chat with Sarah McLeod here…
Check out our review of the Hodern Pavilion Tea Party show from 2012 here…
Essential information
From:  Australia / Canada
Website: http://www.jeffmartin777.com
Here's a little taste of what you may expect when you check out their show…
JEFF MARTIN AND SARAH MCLEOD 'MAN THE LIFE BOATS' TOUR 2014

** Tix on sale Wednesday December 18.

Wed 29-Jan-14
MELBOURNE NORTHCOTE SOCIAL CLUB
Tix: $40.00 + BF (presales) / $45.00 (door sales)
Tickets through www.northcotesocialclub.com <http://www.northcotesocialclub.com> / (03) 9486 1677
Thu 30-Jan-14
GEELONG BEAVS BAR
Tix: $40.00 + BF (presales) / $45.00 (door sales)
Tickets through www.oztix.com.au <http://www.oztix.com.au> / 1300 762 545
Fri 31-Jan-14
BALLARAT KAROVA LOUNGE
Tix: $40.00 + BF (presales) / $45.00 (door sales)
Tickets through www.oztix.com.au <http://www.oztix.com.au> / 1300 762 545
Sat 01-Feb-14
ADELAIDE THE GRACE EMILY
Tix: $40.00 + BF (presales) / $45.00 (door sales)
Tickets through www.moshtix.com.au <http://www.moshtix.com.au> / 1300 438 849
Tue 04-Feb-14
CRONULLA BRASS MONKEY
Tix: $40.00 + BF (presales) / $45.00 (door sales)
Tickets through www.brassmonkey.com.au <http://www.brassmonkey.com.au> / (02) 9544 3844  & www.oztix.com.au <http://www.oztix.com.au> / 1300 762 545
Wed 05-Feb-14
CRONULLA BRASS MONKEY
Tix: $40.00 + BF (presales) / $45.00 (door sales)
Tickets through www.brassmonkey.com.au <http://www.brassmonkey.com.au> / (02) 9544 3844  & www.oztix.com.au <http://www.oztix.com.au> / 1300 762 545

Thu 06-Feb-14
SYDNEY THE BASEMENT
Tix: $40.00 + BF (presales) / $45.00 (door sales)
Tickets through www.moshtix.com.au <http://www.moshtix.com.au> / 1300 438 849
Fri 07-Feb-14
WOLLONGONG HERITAGE HOTEL
Tix: $40.00 + BF (presales) / $45.00 (door sales)
Tickets through www.heritagehotel.com.au <http://www.heritagehotel.com.au> / (02) 4284 5884 & www.oztix.com.au <http://www.oztix.com.au> / 1300 762 545
Sat 08-Feb-14
PENRITH TATTERSALLS HOTEL
Tix: $40.00 + BF (presales) / $45.00 (door sales)
Tickets through www.oztix.com.au <http://www.oztix.com.au> / 1300 762 545
Sun 09-Feb-14
BRISBANE BLACK BEAR LODGE
Tix: $40.00 + BF (presales) / $45.00 (door sales)
Tickets through www.oztix.com.au <http://www.oztix.com.au> / 1300 762 545