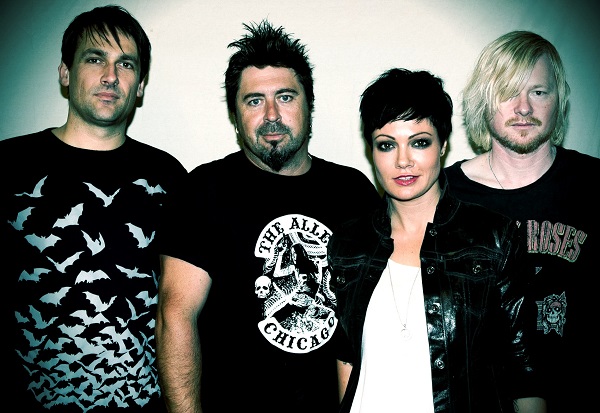 "…we've written a few songs together with an aim to release something but we've given ourselves no deadlines, no agenda or pressure, everyone's still got a lot on and separate lives, so we're just trying to keep it really fun and natural and when we get ideas we execute them and when we want to play, we play, it's pretty loose actually"
From release: Respected Aussie rock outfit The Superjesus is hitting the road for the Australia Day long weekend, celebrating in fine style with three live shows.  They'll kick off on 24th January at Waves Wollongong, then head to Bateau Bay Hotel on the 25th, with a massive Australia Day gig on 26th January at Garrison Point, Bankstown. Following their successful 'Reformation' tour earlier this year, which saw the band playing live for the first time in ten years, The Superjesus has been working on new material and are looking forward to road testing it on their fans, with further live dates to come.
The Superjesus rose to prominence in Adelaide in 1994, and was eagerly embraced for their electrifying live shows, spearheaded by charismatic front woman, Sarah McLeod.  They were quick to find support from national broadcaster Triple J and were on their way, enjoying multiplatinum album success with Sumo, Jetage and Rock Music and delivering hit singles such as 'Gravity', 'Secret Agent Man', 'Shut My Eyes' and 'Down Again'.
A very punctual Sarah McLeod gave us a call for a chat about the reformed Superjesus and their upcoming shows, as well as her forthcoming project and shows with Jeff Martin…
What was the catalyst behind getting back together after so long apart?
That was easy, our drummer Paul has been living in Washington for ten years and he came home, and we went 'oh yay Paul's back, let's go!' there wasn't that much thought around it, we didn't have a plan, we just liked playing together and set up a few shows and went for it. We didn't even talk about it that much it was just like, great, obviously that's what we should be doing.
Was there any hesitation at all?
None, no, and seriously the first show that we did which was the 1st February last year, so almost a year ago, it was on my birthday as well at The Gov in Adelaide and we would've rehearsed two days prior and I hadn't seen then in ten years, so it was like 'hi everybody' bang out the songs, I think we played them twice and then at the gig it was like nothing had happened. The band is really strange like that, we just get together and do it and it's just exactly the same as it was before, identical. There's no mucking around, we don't add things, or try things, we just play it as it was before and it's just exactly the fuckin' same, it's so weird.
Yeah but was it weird looking at everyone thinking you all sound the same but you all look different?
Actually no because they all look exactly the same, it's an absolute time warp *laughs*… even Ruddy the bass player, he's even wearing the same clothes, he pulls out the same shirt and I'm like oh my god, that's Paulie's shirt, it's just a little more faded. We've all still got the same haircuts, it's so weird.
How was it going back and revisiting the material, great to play it again?
It was actually because it got pretty stagnate towards the end there and I personally was just sick of playing the same songs again all the time and I found myself drinking a lot just to get through gigs because I was bored, and you know in having a break from it and going back to it, I'm listening to those songs and all the memories from the time and accumulating what I've learned over time and the retrospect and all this new emotion back into it and listening to the songs with fresh ears I've found a new appreciation for them, and playing them with the band suddenly it's like 'oh man, I love this song' and I didn't really like this song that much when we were doing it, they were just our songs. I didn't really pick any certain songs for any other reason than it was fun to play or anything, I never really listened to it with a different hat on as if I didn't write it, I was so involved in it I couldn't see, now I can listen to them as new fresh songs and I've realised that they are cooler songs than I thought, it's awesome.
Now you're back to do a few shows over the Australia Day weekend…
yeah this weekend, I've been sitting here just playing some songs as like I said, we don't rehearse, we just get together and do it, I haven't seen them since June and we're just getting together on Friday and just doing it, and it's like the force brings us together and it just happens. It's weird…
So is this the beginning of a big year for the Superjesus?
Well we're not really sure what we're doing with it, we got back together and played and were like 'oh wow, I love you guys, I love these songs, people are still coming to the shows, now what?' *laughs* we've written a few songs together with an aim to release something but we've given ourselves no deadlines, no agenda or pressure, everyone's still got a lot on and separate lives, so we're just trying to keep it really fun and natural and when we get ideas we execute them and when we want to play, we play, it's pretty loose actually. *laughs*
New music, any chance of something coming soon?
I couldn't tell you… the ones that we've written so far I really like, so when I put my Superjesus hat on I get really excited about and I go for it, then I take off that hat and put on a different hat for a different project and I get really excited about that and I get really oblivious about all my other projects. Then I go back to the drawing board and I put a different hat on and say 'oh that's right, these songs are rad, where am I? So it's just a question of organising the calendar better, really.
In the twenty years since the band was at its peak, a lot has changed musically throughout the world, do you feel there's a new need to adapt to these changing times?
I don't think you need to adapt musically but I think you need to adapt with you attitude as to how you connect with your audience, definitely, but I don't feel the need to change musically, change with the times because the times are changing. I do lots of different styles of music because I'm interested in different styles of music, but the main thing that we've all had to adjust to is how the industry works and social networking just takes over your life and it's a very different way of marketing a band. No longer do we have that mystique thing which was pretty cool when people didn't know so much about you, now everybody knows everything and what we have for breakfast, and there's merit in that as well, it's just a completely different way of marketing strategy.
So maybe your next album cover can be some form of cat picture?
*laughs*
Looking back at those amazing times in the mid 90's, was there a moment that stands out for you as the pinnacle to this day?
Yeah for sure, I think for me anyway, it wouldn't be the same for the guys because they weren't there. We were on tour in America and we were in America and I think we had three days off and I left the guys in Chicago and I flew back to Sydney to the ARIA's and we won an award, and I stayed up all night long at the party and just got the first plane out of there in the morning straight back to Chicago, by myself, I was pretty young, I'd never flown that far by myself and to the second, I got in the cab, we were playing The Metro in Chicago which is such a rad venue, with a band called Local H and we were opening for them, I got there right before we went on, I got changed out in the band room, said hey fellas I've just been to Australia, we just won an ARIA, where are my pants, we're on and we played  and it was so surreal and probably the most rock and roll, coolest thing I've ever done.
You're also busy at the moment straight after the Superjesus shows you're heading out and doing a run of shows with the real life pirate Mr Jeff Martin…
Yep he sure is… it's funny because we've just written this new song together called 'Man The Lifeboats' hence the name of the tour. I originally wrote the demo of it and Jeff came in and made it magic and originally I'm singing this chant in the background of 'I'm the captain of the ship, I'm the captain, I'm the captain of the ship' and he was like 'oh you have to let me sing that part' and I was like, 'no I want to sing it' and he said 'no, no, I'm the captain and they've been calling me the captain for years.' And I was like 'ok you can do it, but maybe I'll sing over the top of you' and he pulled me down in the mix after that… *laughs* we started with a bit of a swashbuckling theme with a few of the tracks we have written so we're on a bit of a trip at the moment.
What can we expect at these upcoming shows?
Well I'm going to do a set by myself and then Jeff's going to do a set by himself and then we're doing a combined set at the end that we've been constructing, which is the new single and some interesting covers that we have changed quite drastically and mashed them into other songs with all different tunings, some of them you can't even recognize. The set that we're going to do together we're really looking forward to it, it's going to be a lot of fun.
Any truth to you guys working on further material together?
We are talking about doing an album, again similar to the Superjesus, and he's got a Tea Party album coming out, so while we've both got a lot of projects on that we're both trying to juggle, we've started writing the second single already and we're pretty excited and pretty inspired, so at very least we'll do some sort of EP, whether it continues to become and album, I think it will, yeah. We're pretty keen on this whole partnership, it's really driving us along, it's fun, we both feel that we've got some sort of reinvention happening.
What is it about Jeff that drew you to working with him?
He has the most amazing voice I've ever heard, the way he can convey emotion in a lyric it just drips passion, the texture and control and the feel, I mean he's a great guitar player, and a lot of people can play guitar if they sit and practise long enough but you can't practise to become the vocalist that he is. There's not many vocalists that I can say that I'm completely fuckin' blown away by, and he's one of them. He is really from a different world.
So 2014 has just begun, let's predict the future. Finish this sentence, by the end of 2014, Sarah McLeod will…
Wow, that's a tough question for me as I have so much going on… Sarah McLeod will with any luck come into her own and find her true path. I do do a lot of things and I would like to find the one particular on that is the main thing, I haven't really chosen what the main thing is yet, I'm juggling a lot of balls, so to come into my own and feel comfortable with decisions made on projects would be nice.
Essential information
From: Adelaide, Australia
Band members:  Sarah McLeod, Tim Henwood, Stuart Rudd, Paul Berryman
Website:  http://www.thesuperjesus.com
The Superjesus live in January 2014:
Friday 24th – Waves, Wollongong
Tickets: Moshtix: 1300 438 849 / www.moshtix.com.au
Saturday 25th – Bateau Bay Hotel, Bateau Bay
Tickets via venue: (02) 4332 8022 & Oztix: 1300 762 545  www.oztix.com.au
Sunday 26th – Australia Day concert, Garrison Point, Bankstown
Free public event
JEFF MARTIN AND SARAH MCLEOD 'MAN THE LIFE BOATS' TOUR 2014

** Tix on sale NOW.

Wed 29-Jan-14
MELBOURNE NORTHCOTE SOCIAL CLUB
Tix: $40.00 + BF (presales) / $45.00 (door sales)
Tickets through www.northcotesocialclub.com <http://www.northcotesocialclub.com> / (03) 9486 1677
Thu 30-Jan-14
GEELONG BEAVS BAR
Tix: $40.00 + BF (presales) / $45.00 (door sales)
Tickets through www.oztix.com.au <http://www.oztix.com.au> / 1300 762 545
Fri 31-Jan-14
BALLARAT KAROVA LOUNGE
Tix: $40.00 + BF (presales) / $45.00 (door sales)
Tickets through www.oztix.com.au <http://www.oztix.com.au> / 1300 762 545
Sat 01-Feb-14
ADELAIDE THE GRACE EMILY
Tix: $40.00 + BF (presales) / $45.00 (door sales)
Tickets through www.moshtix.com.au <http://www.moshtix.com.au> / 1300 438 849
Tue 04-Feb-14
CRONULLA BRASS MONKEY
Tix: $40.00 + BF (presales) / $45.00 (door sales)
Tickets through www.brassmonkey.com.au <http://www.brassmonkey.com.au> / (02) 9544 3844  & www.oztix.com.au <http://www.oztix.com.au> / 1300 762 545
Wed 05-Feb-14
CRONULLA BRASS MONKEY
Tix: $40.00 + BF (presales) / $45.00 (door sales)
Tickets through www.brassmonkey.com.au <http://www.brassmonkey.com.au> / (02) 9544 3844  & www.oztix.com.au <http://www.oztix.com.au> / 1300 762 545

Thu 06-Feb-14
SYDNEY THE BASEMENT
Tix: $40.00 + BF (presales) / $45.00 (door sales)
Tickets through www.moshtix.com.au <http://www.moshtix.com.au> / 1300 438 849
Fri 07-Feb-14
WOLLONGONG HERITAGE HOTEL
Tix: $40.00 + BF (presales) / $45.00 (door sales)
Tickets through www.heritagehotel.com.au <http://www.heritagehotel.com.au> / (02) 4284 5884 & www.oztix.com.au <http://www.oztix.com.au> / 1300 762 545
Sat 08-Feb-14
PENRITH TATTERSALLS HOTEL
Tix: $40.00 + BF (presales) / $45.00 (door sales)
Tickets through www.oztix.com.au <http://www.oztix.com.au> / 1300 762 545
Sun 09-Feb-14
BRISBANE BLACK BEAR LODGE
Tix: $40.00 + BF (presales) / $45.00 (door sales)
Tickets through www.oztix.com.au <http://www.oztix.com.au> / 1300 762 54