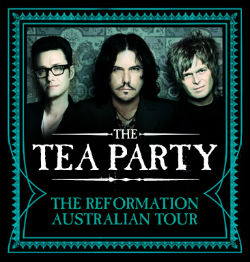 As the Hordern Pavilion in Sydney turned dark, and the stage immersed in purple lighting, the roar of the crowd was nothing short of deafening as the reformed Tea Party took the stage. Plain and simple, I'm pretty sure we're in for something special tonight and as front man Jeff Martin opened his mouth for the first time the crowd roared once again. Opening with 'The River' and wasting no time they gave us track after track of their trademarked 'Moroccan Roll' with lengthy intros and even lengthier songs each greeted with a cheer that has been dormant for many years.
"Hey Sydney, you remember this? You ready to rock?" a resounding yes as 'The Bazaar' proceeded to blow the roof off the Hordern and we're only second song in. Mind you it's been twenty minutes already ha ha. "Did you miss us?" Jeff asks and same response but this time louder, and just thinking, seven years on, you'd never guess they'd been away as it sounds like they've been doing this every day forever. Oh and welcome random instrument number 1: The Theremin. Ahh Tea Party you guys are wacky, but they are the only band that can get away with it.  What other weird and wacky instruments can we expect, oh let's wait and see…
'PsychoPomp' is a ride Jeff asks if we wanted to come on. I counted. 99.98% of the crowd said yes. The two guys next to me who would not stop talking the whole way through the gig didn't get to vote as, well, they were talking and didn't hear the question. Oh good now one of them is whistling along, awesome.  This song sees Stuart Chatwood take to the keys to give us a haunting aspect to this monster of a song that every single person feels.
The cheers before were nothing on this statement "The Tea Party is back for good" and that "We'll have a new record next year." I'm pretty sure we'll hold you to that Mr Martin. An impromptu cover of the Jeff Buckley song 'Last Goodbye' was tackled solo by Jeff and he put his twist on it and it was twisted well. So much so that it took me a second to recognize the song, that's talent right there. It was used as the lead in for 'The Messenger' and to me it's amazing to hear the power of his voice. It truly is something amazing, having only ever seen Jeff martin solo before, I'd always heard about how amazing The Tea Party were as a live band and well, yeah, I get it now. The band re-joined Jeff to finish the track giving it a kick into overdrive. Proclaiming that The Tea Party were always a band before their time, 'Fire in the head', Jeff tells us that it could've given us the greatest ringtone ever, to a smattering of laughter, and then realisation that yes, he's right… 'Oh Youuuuu' and what it did though is give us the heaviest track of the night so far and my favourite so far as well as everyone else's from the sounds of it as it received the biggest reaction of the night so far, what a song. Oh and talking guys update, they left. Yay.
Filming a DVD tonight amazingly for the first time ever made this show just that little bit more special, not that the guys on the stage treated it any differently to any other show, they put in every ounce of effort tonight and I for one was stoked to be at this show tonight and to be able to watch it again in the coming months.
Breaking it down now for a couple of acoustic numbers, including random instrument number 2: A squeezebox? Yeah that's what it looks like. I'd like to call it a hurdy gurdy but is it? This awesome acoustic interlude is just one of the nicest musical pieces I've ever heard; it's entitled 'The Badger' and just wow. Belting out another couple of acoustic driven tracks including the 'Sun Going Down' which showcased some serious guitar talent by Jeff, in a bluesy slide driven song, this was an amazing moment tonight, but as Jeff Burrows and Stuart Chatwod joined Jeff back on stage to finish the song, it was given power, part and parcel from the drum sound of Burrows.
The electric 12 string brings out the best in 'Halcyon Days' again with that 'Moroccan Roll' sound The Tea Party are known for  and here is random instrument 3: No idea, is it a cello? A sitar? No, it's more of a cello. Regardless. Amazing. What was also amazing and up next was a cover of 'Kashmir' by Led Zeppelin. Just unbelievable. Jeff takes a bow to the guitar and plays it like it was the last instrument in the world and with absolute flawless ness and in to 'Save Me.'
OK, so I have to say, I'm one of those 'commercial' Tea Party fans, so when 'Heaven Coming Down' started and it was the song I'd been waiting for. I was more than happy, hearing it live and played to perfection was such an amazing moment and capped off what was already a night of mind blowing live music.  Oh, it's not over yet, I just meant that in the way of, I could pretty much be done now and be happy. 'Release' a song that was haunting. moving and important as it was dedicated to violence against women and the Tea Party's involvement in the white ribbon campaign, that alone made it nothing short of awesome.
'Temptation.' Wow. What can I say?  Of course this song got the biggest cheer and I mean, I can't say anything more than it was a stand out for the night.  I've already been blown away tonight so I'm all out of amazingness… off for an encore and with two to go, yeah I read the set list earlier, they return to 'Sister Awake' with its outstanding instrumental intro. The squeezebox returns… A bongo joins the party and a wall of electric sound closes the song. Oh and you can add 'Paint It Black' to the list of well-chosen and well done covers for the evening. Man there is so much talent in this band. The set is closed out with 'Overload' and a perfect way to end a two hour and fifteen minute set of six songs, I kid, but what a way to go out on this, the band's reformation tour.
How three guys can make what they did sound as big as it did tonight amazes me, I was so glad that I got to witness it and here's to many, many more shows like this from a band that is here to stay.  Welcome back guys, you've obviously been missed as made evident by tonight's reception you received.  Well played. Thank you.
In cased you missed it, here's our interview with Jeff Martin and Stuart Chatwood…
Essential Information
Venue: The Hordern Pavilion – Sydney
Date: July 21 2012
Supports: Georgia Fair
Website: http://www.teaparty.com
Set List:
The River
The Bazaar
Lullaby
Psychopomp
Correspondences
The Messenger
Fire In The Head
The Badger
Shadows on the Mountainside
Sun Going Down
Halcyon Days
Save Me
Heaven Coming Down
Release
Temptation
Sister Awake
Overload