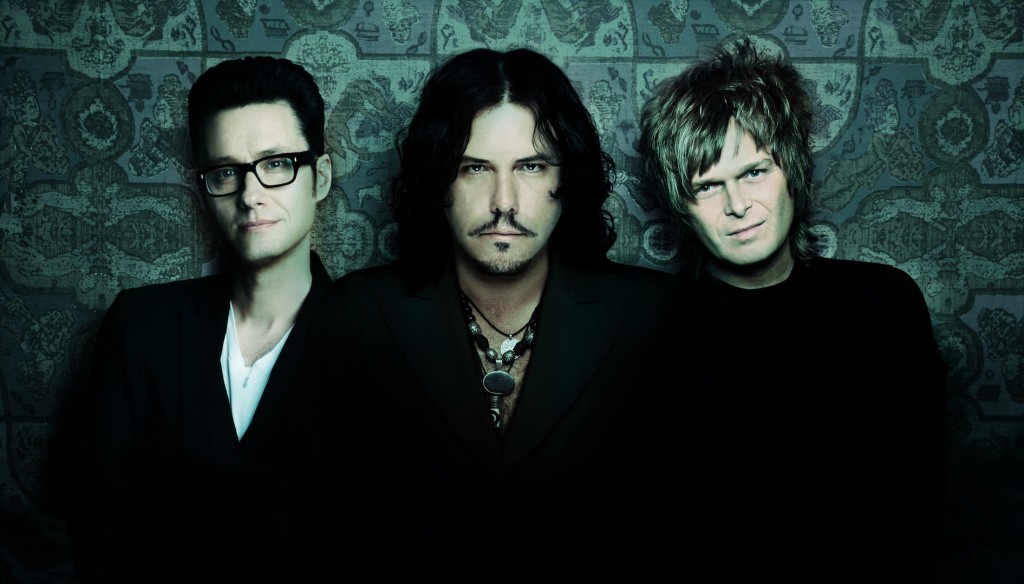 "So I think even more so now than ever, The Tea Party's music is more relevant, and there is no band like us in Rock and Roll."
From Tour Release: After fifteen years together, with eight albums under their belts and countless tours through Canada, the United States, Europe & Australia, The Tea Party went their separate ways in 2005. Creativity amongst the members continued with Jeff Martin (vox/guitar) basing himself in Australia & touring consistently in solo/band mode with The Armada & 777. Stuart Chatwood (bass/keyboards) took to composing video game soundtracks, including all eight titles in the series of The Prince of Persia which have gone on to sell over ten million copies, and Jeff Burrows (drums/percussion) continued to perform (with band Crash Karma) whilst maintaining a Radio career. Reuniting for a series of Canadian shows and festivals in 2011, The Tea Party's renowned & powerful blues – rock – Indian/Middle-Eastern sound (utilising 12 string guitars and exotic instruments such as sitars, sarods, harmoniums and goblet drums etc) received an overwhelmingly positive response from fans & media alike which reignited the fire that once was.
In Australia for a show or two to promote the reformation and upcoming July tour, we had the chance to chat to Jeff Martin and Stuart Chatwood from The Tea Party, Jeff Burrows wanted a quote and to let everyone know "I feel like shit." So he sat this one out, but we chatted to Jeff and Stuart about the return of The Tea Party, the tour and the future…
So I guess we start with the eternal question, why after so long apart was it time to reform?
Jeff – You know seven years had gone by and I think it was enough time, I can't speak for the other two personally, but for myself there was enough time had passed that whatever wounds there were from the separation had certainly healed for my part.  I knew that over the course of time, over the seven years there was constant demand for the band to come back 'please come back…' a band like The Tea Party, when it leaves the rock scene there's such a void because no one else can fill it you know, and so, it was at a point where our agents in Canada got in contact with us with some dates that were put forth and things like, can you guys resolve your differences for the sake of the music.  For the sake of the music we got back together and it's been magic ever since, the two tours we've done have been great, the band's more powerful than ever and the friendship is coming back as well.
Is this a permanent thing?
Jeff – Is it permanent?
Stuart – Nothing is permanent.
Jeff – Well, I'd like to think it will be, permanent in a way that yes we'd like to continue doing this, but there are steps we all have to take, but we're all very positive about the road and we're looking forward to it.
So rather than permanent, maybe I should say, is it something more of a case we'll see what happens?
Stuart – I think we're trying to grow it organically again, instead of just rushing in head over heels and making a record that maybe would be mediocre, get the respect back first and the friendship back first you know.
Was there ever a time you thought that the band may not get back together?
Jeff – I'm certainly guilty of saying that a lot in the press in the first few years, because I mean obviously for me it was fresh, but eventually, hopefully reason comes in to play and emotions die down and it's for the greater good to come back.
Stuart – And I see some of the bands that haven't gotten back together, like there's a band in Canada called Triumph and they're never going to get back together, I think we're more mature and I have faith in the people we are that will eventually come out.
When do you think we can expect new music from the band?
Jeff – Like I said, we're taking it one step at a time.  This tour in Australia is to reacquaint our fan base that is here, just dying to see the band again and to acquaint ourselves with our new fan base, basically the 18 – 25 year olds that didn't get a chance to see The Tea Party when it was last around, but they'd heard the myths and the stories and the legend and all that ha ha.  So they get to come and see it again, because what Stu, Jeff and I witnessed in our tours in Canada was the first twenty rows were all under 25.
Well I'm 36 and I haven't seen you before so I'm looking forward to it.
Jeff – You'll be at the back ha ha
Now, of course the shows are coming up in July, what can fans expect and for those that haven't seen a Tea Party show before, explain to us what a Tea Party show is like…
Stuart – Well, we were talking today about how we're not promoting a record so it gives us the ability to go back to the beginning of our catalogue and just choose the best songs to take people on the ultimate journey.  We tried that in Canada last summer and it went well, there are a few songs we're going to sub in and sub out, so I think… actually I won't say that as I don't want to jinx it ha ha.
Jeff we know and have seen a lot of your solo work, but Stuart can you fill us in a little on what you've been up to?
Stuart – Actually I'll give you a scoop, I've only told this to a few people.  When the band broke up, Smashing Pumpkins got a hold of me to play bass in the band, I made it down to the final three men and they wanted a girl ha ha ha.
In the time away, when you would've been writing songs, were there ever ideas you came up with thinking 'Oh that's a Tea Party song, I'll put that aside in case it ever happens again'?
Stuart – That's what I do, yeah.  Like I have my composing career and project The Art Decay and project with my friend in New York, ambient folk music, music therapy and then Tea Party stuff at the top ha ha.  But I'm sure you're the same yeah (to Jeff) your acoustic stuff?
Jeff – I do, but in a way that pretty much everything that I write could in fact turn in to a Tea Party song because the way that I wrote songs in the past, they all started out as acoustic schematics and then the three of us got together and composed them and turned them in to the monsters they became.  So in actual fact, there are some things that knowing what the band needs to do now if it was to record new music, I would yeah, definitely be able to separate some things.
I have been asked to ask you about all the funky instruments you play on stage, can we expect to see all that on the tour, and will everything be coming back?
Stuart – We'll probably be selective about what works best.  I mean some of the stuff does really suit the room this size.  Jeff was talking earlier, he played with Ravi Shankar and Ravi Shankar's sitar was just lost on the huge crowd, so we need to keep that in mind, so there will definitely be some exotic instruments on stage but they'll be the ones that have the most impact.
Touring wise, after Australia are there any plans?
Jeff – There's a possibility we'll be doing a couple of weeks in August in Canada, some festivals and such and after that we'll just have to see where we're at, how we feel and where it can go.
Was there ever the US appeal for you guys?
Jeff – Well, not for me.
Stuart – Well when people in LA heard we reformed they were like come and play The Troubadour, you'll sell it out for sure.  We did play outside of Buffalo New York and they were expecting a crowd of 4,000 and 20,000 turned up.  They're not political people; they're there to see Rock and Roll ha ha ha.
In eight years away, obviously music has changed a lot in this time, how do you fell you'll be able to slip back in, is it just that you are so different sounding to everything else around?
Stuart – Well there's that, but there's all of a sudden a lot of commonalities, all of a sudden you've got Jack White on the cover of every magazine in Australia this month, you've got The Black Keys playing The Entertainment Centre, bands are based on Blues music and that's what we mined from the very beginning.
Jeff – Yep, and also too what's happened now with the world getting smaller, through information access and what not, right, people know more about the world now than they did before, so the thing is that The Tea Party's music, with all of its world music influences, it's not so foreign to people now.  So I think even more so now than ever, The Tea Party's music is more relevant, and there is no band like us in Rock and Roll.  Bringing those influences in and doing it with such a seamless fusion.
Stuart – System Of A Down, I've seen them play with some of their traditional instruments and that's very cool, but we're picking and choosing from many different cultures.
And you were doing it many years before, before people were doing it…
Stuart – Make sure that goes in print there ha ha ha
So, what does the rest of 2012 hold for The Tea Party?
Jeff – We're just letting the process unfold organically, so we'll see, I know for sure, for certain that what's going to happen with the concerts here in Australia is that even more so than what we have right now is that there's going to be a bigger fire burning, the passion that is The Tea Party amongst the three of us and it will probably culminate with us deciding that this must go on, we have to find a way you know?  It's just logistics, I live here now in Australia and Jeff and Stuart are still in Canada, so there's that to come in play and we've got to figure things out.  We all have families and we want to remain close to our families but at the same time we want to keep true to our music, so, it's a delicate ballet.
Essential Information
From: Toronto, Canada
Band members: Jeff Burrows – Drums / Perscussion, Stuart Chatwood – Bass / Keyboards, Jeff Martin – Vocals / Guitars
Website: http://www.teaparty.com
CATCH THE TEA PARTY LIVE IN AUSTRALIA – JULY 2012
* Presented by Fasterlouder *
TICKETS ON SALE NOW
MELBOURNE – Palais Theatre – Saturday 14 July **SOLD OUT**
Ticketmaster.com.au or phone 136 100
MELBOURNE – The Hi-Fi – Sunday 15 July – on sale Monday 2 July.
www.Thehifi.com.au   www.moshtix.com.au or phone 1300THEHIFI – 1300 843 443
BRISBANE – The Tivoli – Tuesday 17 July **SOLD OUT**
Ticketek.com.au or phone 132 849
SYDNEY – Hordern Pavilion – Saturday 21 July
Ticketek.com.au or phone 132 849
ADELAIDE – Thebarton Theatre – Tuesday 24 July
Venuetix.com.au or phone 08 8225 8888
PERTH – Metro City – Thursday 26 July
Oztix.com.au and oztix Retail Outlets or phone 1300 762 545