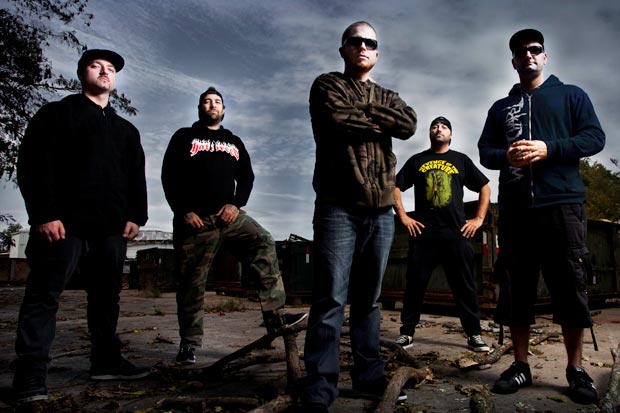 "I don't know… the record industry is really fucked up right now, and luckily we don't have to do a record, I mean we could feasibly tour forever and never have to do another record but the creative bug will bite you and that's when you've got to give in. For me there's no succumbing to it…"
From Bio: Relentless reliability is intrinsic to longevity in the music business—or any other business for that matter. No giving up is allowed. No promise can go unfulfilled. If people can depend on you, they'll believe in you and stick with you until death. Since forming in 1994, Grammy award-nominated hardcore and metal stalwarts Hatebreed have constantly crushed with every subsequent album. Their six full-length effort and first for Nuclear Blast, ''The Divinity of Purpose'', proudly upholds that tradition cast in almost two decades of blood, tears, and flames. It's everything fans have come to expect from the Connecticut-based quintet. Be prepared to witness their flame rise high once again…
Backstage at Warped Tour in Sydney we sat down with Jamey and Frank of Hatebreed for a chat about the tour, as well as new music and plans for the future…
Welcome back to Australia, you're a couple of shows into Warped Tour, how have they gone so far?
Jamey: Good… yesterday (Coffs Harbour) was a small audience, but what they lack in size, they made up for with energy and enthusiasm *laughs*
You'd just about be able to cram two of your complete albums into your set, how are you constructing the set lists for this tour?
Frank: Yeah right *laughs*
Jamey: Well the fans are really happy, actually at the signing yesterday this guy said it was a better set than when he saw us last time here, he said he loved the song selection, everybody's been asking for 'Ever Lasting Scar' and 'Become the Fuse' that maybe we should put in the set at this point, but we're doing five new…
Frank: Five or six, but fortunately like you said, our songs are so short and we're able to fit so many in there, they're getting a dose of stuff from every record…
Jamey: It's like a headline set…
Frank: It is, and one of the beautiful things that people don't know and that I try and let people know in interviews and stuff is that we don't have a set list. He just yells out whatever song and we've got to be ready to play it *laughs*, but it's fun for us, it keeps it fresh when we play different things every night, obviously for them it's magical, I wish some of my favourite bands would do that.
With only a couple of songs in your entire back catalogue over four minutes long, have you ever thought about fucking up the system and writing a five minute epic?
Jamey: Yeah we did, we did for self-titled and it kinda got a lukewarm response, so I feel at this point it's kinda a reciprocal power between us and the fans that if the fans are uninspired by it, why should we do it. Like yesterday this guy pulled me aside and said your lyrics have made such a difference in my life and I thought why the fuck would I do an instrumental, it's about the lyrics, people connect to the lyrics. Sure you can bang your head to the riffs and stuff, and I love writing riffs, but to write five minute long song of riffs I don't think it's gonna connect like it would if you just have a good lyric.
Have you had a chance to catch any of the other bands on Warped yet?
Jamey: I caught some songs of We Came As Romans, their big song goes over gangbusters here, that was good to see, they had a good response. At the Brisbane show we stayed and checked out two or three songs of Amity and they ripped it up, it's nice to play for their fans as their fans are just like fourteen and fifteen year old kids, they're hungry for music, they're enthusiastic and happy to be at Warped, a lot of them it's their first concert.
Frank: Yeah, and they're impressionable which is great for us.
Jamey: They were Twittering me and stuff, and instantly I saw the reaction in the front row when we started, I said 'don't make me go back there and give Amity a bad report' and they all started smiling… I was here on Soundwave with my other band Kingdom of Sorrow, we were playing before this band called All Time Low, who are a poppy very commercial really catchy bands, and they have a lot of teenage girl fans, but they were buying our merch and checking us out, and that's so cool, that would never happen in America, people are so kinda secluded to their scene, but here it's such a nice crossover, people just like music. It's not about belonging to one certain scene, you can like bands across genres.
What's your favourite thing about Australia?
Frank: I like the warm weather a lot, I like to be out in the sun, it's beautiful here, the people are friendly, they speak English, the shows are good, it's like a vacation vibe.
Jamey: This is the first and only place besides England where you'll say something and like a beautiful woman will say 'Say that again…' and they just think that's great. The girls are all pining over there for you dudes, that's how it is for us here. It's nice to get some positive attention… *laughs*
 'The Divinty of Purpose' has been out for almost a year now, have you been writing new material over the course of the year?
Jamey: I've been writing a bunch, this morning on the ride I was listening to Ghostface Killah the 'Fishscale' record and it's such an amazing record and it just inspired me, I turned it off and it just inspired me to write lyrics and I probably write a song and a half of lyrics. So, occasionally, I don't like to do it when it's forced, and that's maybe why it took me longer with 'The Divinity of Purpose', it took a long time to finalise the lyrics, and I just waited until the time was right. I think the only song I kinda cheated was probably 'Bitter Truth' but we were at the very end of the record and it been that song and another one and I felt this song was stronger that this other song, so I moved the lyrics from the other song to that song and it happened to fit and when I do that, I call that cheating because I didn't write it specifically for those riffs.
Now it was four years between records, you said it was a little bit longer getting it right, are we looking at possibly four years for another one?
Jamey: It might, I don't know… the record industry is really fucked up right now, and luckily we don't have to do a record, I mean we could feasibly tour forever and never have to do another record but the creative bug will bite you and that's when you've got to give in. For me there's no succumbing to it, sometimes I wish I could get rid of it, I'll wake up in the middle of the night and write shit, or I'll have to go down stairs at three in the morning and pick up the guitar and record it with my phone and it drives me crazy. Then I'm so thankful when I revisit the riff that I wrote at three in the morning, that I walked down two flights of steps to do it and I'm like 'FUCK, IT'S AWESOME!' and then when I write the line and a year later I'm in front of thousands of kids singing it back it's so worth it you know…
As 2013 draws to a close, what's been the stand out moment for Hatebreed this year?
Frank: I think just having a new record out and having everyone like it you know? And being able to tour, I mean we're really in the middle of a world tour to be honest and just to have a new album out and be able to play all over the world still and be a successful band after this long and be able to just have a career and a job and be relevant with everything that's going on in the music industry like he was saying, more than anything for me. We've gone to some places that we haven't been in a while and we're going to go back next year and hit some more places, which is another reason why it takes so long between records for us because we try to go everywhere we can per album cycle, we feel like every country should hear the new songs each time.
And it is the first time you've played the new songs here…
Jamey: Yeah man, any of the more metal audience that was upset that we were doing this tour and didn't want to come to this, it's like why? You should… our schedule is so hectic, and individually we have families, Frank has an eighteen year old, I have a fourteen year old, Chris has a two year old, and we've been trying to take two week breaks in between the runs to keep it fresh and not burn ourselves out, so it takes longer to do a world tour when you have the little breaks pencilled in and we've been trying to book things really far out so that the impact is there. I got thousands of tweets about this and I've told everybody it's a full headline set, you're getting songs from every record and we leave it all on the stage, this is a good schedule for us. I would much rather do this and play these songs and try to gain some new fans than come here a year and a half from now and still be on 'The Divinity of Purpose' record cycle. We did that with Machine Head, where self-titled was already out three years and their record was out two years and it just doesn't have the impact, we saw it, the shows were not what we thought they were going to be and that's no dig at Machine Head, it's just that they were already here, they already played, their record was two years old, our record was three years old. As far as stand out moments, just having this record drop and have it be really appreciated was good because a lot of people wrote us off after self-titled as it's hard when you lose a main member, but I think Wayne stepped into it good and now being able to build globally, headline all these festivals in Europe. Since Wayne's been back in the band we've played direct to KISS, direct to Slayer, direct to Rammstein, System, we never really did that prior, we did some stuff, bigger stuff in The States obviously, OZZfest main stage, Mayhem fest things like that, but we just did this arena tour with Five Finger Death Punch at the end of 2011, and that was a whole new audience for us, now 2013 we're seeing a whole all these new people because of those tours.
Frank: That's what it's all about for us, new people at this point, we're always going to have the diehards and that's why we're here, to play to the fresh faces and the young kids.
Christmas is around the corner, your Christmas wish is to go on tour with any band ever, who would it be?
Frank: Well we opened for KISS and I got to play on stage with Blue Oytser Cult, those are my favourite bands, and that was a dream come true for me. If the band ended tomorrow I'll have that. They toured with Motorhead before I was in the band, and fuck you (directed to Jamey) *laughs* because we don't know how much longer they're going to be doing it, there's a lot of bands they toured with before I was in the band, but who knows, you never know what festivals we're going to be on, especially in Europe, anybody can be on, and for me, when I joined the band in 2006 and you told me we were going to be a direct support for KISS I would've said, no, that's not going to happen but sure enough it did.  As night and day as our band is from them, it worked, and that's how it is over there in Europe, so I don't know… I don't know what bands to be honest… there's a lot of good newer bands out… We like 'Uncle Acid and the Deadbeats' they're out with Sabbath right now, there's just a lot of cool bands out doing it, fortunately we're a universal band, we can play with different genres, so who knows?
Jamey: We did the whole OZZfest with original Sabbath and that was a dream come true, I have pictures of me and Ozzy, pictures of me and Bill and at that time I interviewed Iommi and Geezer and they're just lovely, amazing people. Recently we've been trying to get on some Sabbath dates in Europe, and there's two shows announced in Russia that we're trying to get on in June, but we just saw they're doing Novarock, so we really hope we can do Novarock with them, and then we're already confirmed on a bunch of big festivals that we can't announce just yet, but it's gonna be nice to play with all these great legendary acts. I mean I like going there, one day we did Roskilde with Metallica.
Frank: Yeah we played with Iron Maiden, where was it? Sonisphere?
Jamey: Yeah, Sonisphere in Sweden, we played with Limp Bizkit, and to play to that audience, they had 20,000 people there, it was amazing. Just having that volume of audience just ready to rock is the best feeling.
What does 2014 have in store for you guys, sounds like a whole lot more touring?
Jamey: Yeah, I mean we knew that after this trip and the holidays we were going to have a little break, but we have Spain and Italy and some European markets and we're taking out Napalm Death on a bunch of shows and then we're going to Mexico, South America's happening, we're not sure of the timeframe, then we have Costa Rica, some Central America maybe…
Frank: Possibly back to the South Pacific rim, all the places that we haven't done…
Jamey: Oh yeah, there's talk of India, going to Dubai, there's been a viral thing going on now for South Africa, a lot of kids have been campaigning to get us there, so we're really trying to be more global on this record.
Sounds like you're booked up until 2017 at this point…
Jamey: *laughs* Yeah, after all that's said and done… last year going into it I said maybe we'll do sixty shows but we ended up doing maybe a hundred and something, a hundred and twenty or whatever… it's not the two hundred and fifty / three hundred shows of the past, but I think less is more, especially in the States, by doing less is more, when the record dropped we took out Shadows Fall and Dying Fetus and we had seven or eight sold out shows on a three week tour, so you don't really see that a lot anymore in The States, so that was cool.
Plus coming back here on these short runs must be cool…
Jamey: Well I want to come back for our twentieth anniversary and I want to do little clubs, and new Zealand, that's another place, a lot of kids were so bummed, as we have four days off, and so they're like 'why aren't you flying to New Zealand to do a shows?' and we thought we were going to be doing off day shows, and by the time we figured out we weren't doing off day shows it was too late to book a New Zealand show. So what I want to do, especially now they've got the facebook, they're campaigning to get us to New Zealand, they've got the facebook up to fifteen, sixteen hundred people, which is a lot of fuckin people, especially since the last time we played there was maybe two hundred people, so now, this scene has been blossoming, kids are getting into metal, kids are getting into hardcore, so now they want to bring us which is great, I thought how cool would it be if we did a twentieth anniversary tour, put on a bunch of killer local bands and did like an hour and a half set and do a little club, maybe four hundred capped. Sydney, Melbourne, Adelaide, Brisbane, Perth, New Zealand and then go to Dubai, go to India and then go home. So we're hoping…
Essential Information:
From: Connecticut, USA
Band members: Jamey Jasta – Vocals, Frank Novinec – Guitar, Chris Beattie – Bass, Wayne Lozinak – Guitar, Matt Byrne – Drums
Website: http://www.hatebreed.com
Latest release: The Divinity of Purpose (Nuclear Blast)
Catch Hatebreed on the remaining Vans Warped Tour dates:

Friday 6 December – Canberra, Exhibition Park
Saturday 7 December – Melbourne, Birrarung Marr
Sunday 8 December – Adelaide, Ellis Park
Website: http://www.vanswarpedtouraustralia.com/
Check out our review of the Sydney leg of Warped Tour HERE
Check out some photos from their Sydney set below and a heap more HERE