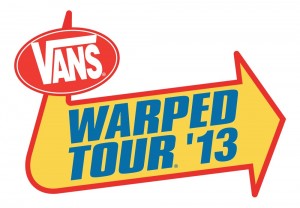 Vans Warped Tour has returned to Australia after twelve years away and those here have come in droves, some for the first time and some who are revisiting the brand once again, yet my plan of arriving early was thwarted by the thousands of punters who had the same idea as me on this balmy summer morning. The line to get in is longer than a piece of string and I'm tipping this will be an interesting entry…
Cheers are heard as the gates open and everyone floods in… So while I'm waiting to pick up my passes and amazed at how long the under 18's line is compared to the 18+ line, I can hear New Empire playing to those that have already made it in. They're sounding pretty good from where I am at this new venue, well, location for this 'new' festival. Ok I'm in now and stopped to catch the rest of New Empire and adding to their oddly small crowd, they should have many more here watching them as this is a quality band, as they play through a mix of old and new it is good to see those here enjoying it and those walking past stopping to hear a little, and a great start to my day.
Stopped off to check out a little of Man Overboard before Tonight Alive take the stage, and these pop punk rockers are warming the crowd up nicely with their dual vocals and catchy hooks, it's a shame I only got here for the last few songs though, and this is more than likely where the majority of the New Empire crowd was. The set up here today is quite simple, three stages, with only slight interference with each other which is always a bonus, it's actually quite reminiscent of Soundwave circa 2007, and who knows? Within a couple of years it may be of the same calibre as Soundwave as we know and love it today.
Bounding on stage and with a head of green hair, Jenna from Tonight Alive instantly has those here in the palm of her hand, 'The Fire' is a fitting start as they have set the place on just that proving that these guys are certainly an entertaining band to watch and perfectly suited for a festival environment. "Who came out to the Warped tour to have a fucking good time today?" Jenna asks as the cheers beckon as they throw in an oldie and crowd favourite 'Wasting Away' and they just keep delivering. They get it a little heavier with 'No Different' as they battle 'Hand of Mercy' over on stage two for who is the loudest and this track with its driving bass makes it a stand out. Track after track is written purely to be played in an environment like this as they finish the set with 'Lonely Girl' just proving how well Jenna can sing and this band can play. This was a tight set and just what the crowd needed to really get them going. How this band isn't bigger in Australia, I'll never know.
Reel Big Fish and their horntastic goodness are up next and if a band were to epitomize fun, this is them. What I love about this band is that they look nothing like a band, these guys are all dressed casually and just rock not giving a flying… Case and point, their interesting cover of 'Call Me Maybe' a song many of us may have tried to forget, but a ska punk style version and thankfully it didn't last too long as they horn it straight back to 'Sell Out'. I'm always partial to a song that says 'fuck' a lot and here we have a perfect example of that with a blues ending to boot… With a bit of square dancing and some death metal, they then get their biggest reception so far with a song about 'Beer' and rightfully so as its being sold in abundance today in this heat! It's time for their last song and thankfully it's the one I wanted to hear which is their cover of 'Take On Me' by A-Ha which was always done well and today is no different and my favourite part of the day so far?, the crowd trying to hit the high notes in the song, priceless. So for a band where song after song sounds exactly like the last song… (Their gag, not mine) they know how to entertain.
The Used have just taken the stage and the place has erupted. With Bert McCraken who is a front man with no regard for himself as he throws himself around they sound tight and are belting out their blend of frenzied rock tracks. They have easily the biggest draw of the day so far and I wish I could've stuck around. I had to duck backstage to chat to a couple of bands and could hear The Used killing it, but made it out just in time for New Found Glory which is awesome. These guys have it down, they know pop punk and they know it well. Playing the entire 'Sticks and Stones' album as a special request, the old school NFG fans here are loving every song. Chad is the man that does the talking and as far as banter goes, he has it down. 'Dressed to Kill' is getting the biggest lovin' so far and oh look a fight in our area, well that was unexpected. As far as NFG tracks goes, 'Hit or Miss' is as good as it gets. As they get everyone involved in a sing along they leave the stage with smiles as do many of those as I look around. That is a band who once Played Warped in Australia and having them back and them still being this good is an absolute testament to their band. Time for some Hatebreed!!
As I make my way over I get to see the first circle pit of the day that I've witnessed, these short and sharp tracks deliver their message and do it well. It's nice to hear some heavier tracks today and what better band to deliver those than Hatebreed. Oh wait, I think we just lost a pa. It's back but Jamey stopped mid set to make sure everyone was ok which is cool, but no sooner said than done the volume returns 'Live for This' has a sea of hands thrusting fists back towards the stage and ha ha now arms waving. That was cool, and was great to hear a truly heavy band out there today.
Those crazy swedes Millencolin are back in Australia and ripping up the main stage. Their fun blend of pop punk is again the perfect choice for today and as they mix the old and the new as right now they're belting out 'Fox' which went off amazingly. Skateboarding legend Steve Caballero is handed a bass guitar and this will be interesting, as they give 'Kemp' a run and it sounds great! Song after song kill it, and 'Penguins & Polarbears' of course wins their set by far, but as the acoustic comes out for 'The Ballad' it gets a massive sing along but then as the band return to the stage to electrify this one, the pit starts jumping. So good having them back…
Simple Plan. A band I absolutely love seeing live, I admit it and I'm not ashamed to do so! They're just fun, these songs are just catchy and that's what I want not only from a band, but being able to watch them deliver them in a live environment! They open with 'I'd Do Anything' which is the perfect opener for this set today and I can't see it slowing down. 'Can't Keep My Hands Off You' is up and these guys have the crowd in the palm of their hands and the soles of their feet as everyone jumps to amazingly, get this… 'Jump' but when they go old school with 'Addicted' there are smiles seen everywhere and this song just stands up but as they go back to their latest album 'Get Your Heart On' and belt out 'You Suck at Love' this is almost what the day has needed with this injection of pop rock and it's so good. They punk it up a little with 'Thank You' but as Jenna McDougall from Tonight Alive joins the band on stage for 'Jet Lag' it is the highlight of the set so far, in fact I'd go as far to say as it's my favourite song released in the last couple of years. After some witty banter about the weather and how cold it is in Canada they segway into 'Summer Paradise' but a medley of songs from their debut album sets the diehards on fire and then 'Loser of The Year' is a bit of fun as is 'Shut Up' which is made for the live environment 'Welcome to My Life' is the goods. Ooh an acoustic comes out for 'Perfect' and in terms of a power ballad it's about as close as we'll get tonight and I'm ok with that. That was a great set, and those here that may not have been Simple Plan fans before, should be just about… now.
It's time for The Offspring!! Boom! Take that! Let's open with 'All I Want' and it sounds just as good as you'd expect a band of this calibre. There are so many people here to see these guys tonight and Dexter Holland still sounds great as a front man 'Bad Habit' is fast and furious and I'm always a fan of the 'You stupid, dumb shit, goddamn, motherfucker' part, as is everyone else who yelled that loud enough to get the attention of people across the water. Oh man, an unexpected treat early on with 'Come Out and Play' is hands down the best received song of the whole day. A festival crowd in unison shouting 'you gotta keep 'em separated' is something pretty cool to be a part of. That's for sure. Oh and for the 9,000th time today we get to hear how amazing Sydney is as a city which is fine by me, as it is…
'Days Go By' is a ripping live track as they continue on through a few tracks but when 'You're Gonna Go Far, Kid' kicks in as does the crowd again. Another new one from 'Days Go By' with 'Slim Pickens Does the Right Thing and Rides the Bomb to Hell ' then 'Want You Bad' is the perfect next track and it's songs like this that make you realize how good these tracks are and this band is. 'Spare Me the Details' has everyone swaying which is quite funny to watch, but it's just one of those songs that does that to you. There is a guy in front of me playing a t-shirt like a guitar and it's amazing, he's rockin' out to 'Hit That' along with the rest of us right now. 'Why Don't You Get a Job?' is amazingly one of the best things I've heard all day and is the friendliest song I think, ever. Turning it back up nicely with '(Can't Get My) Head Around You' but in their words it's all hits from here and no lying… 'Pretty Fly (for a white guy)' is that hit and more!! That is the epitome of a song made for a festival. Then 'The Kids Aren't Alright' is super tight and I worry as we're getting to the end of the evening which makes me sad as this is one awesome set. Quote of the day is the guy next to me… "I used to always want long hair for this song… Now I've got it…" as he whips it around like a crazy man to 'Self Esteem' and watching everyone jump to this one is just amazing. I don't think the day could've ended on a better note and with a better band for this, the return of Vans Warped Tour to Australia.
Here's to 2014, and although I'm absolutely sunburnt to a crisp, I had a ball, it was a well-run, awesome day of live bands and killer music, hell I didn't even get to check out the skateboarding… there's always next year…
Check out our photo gallery featuring New Found Glory, The Used, The Amity Affliction, Parkway Drive, Simple Plan, The Offspring HERE
Check out our photo gallery featuring Man Overboard, Confession, Hellions, Reel Big Fish, Tonight Alive, Hatebreed, Millencolin HERE
Essential Information
Venue: Barangaroo – Sydney
Date: December 1, 2013
Website: http://www.vanswarpedtouraustralia.com/
Catch the Vans Warped Tour on these remaining dates:
Friday, 6th December – Canberra, Exhibition Park
Saturday, 7th December – Melbourne, Birrarung Marr
Sunday, 8th December – Adelaide, Ellis Park