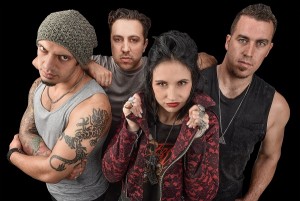 Orlando based management and publicity firm Stephanie Christie Management and Publicity has announced that they have signed Australian rockers Bellusira to their roster. The 4-piece female fronted band will be co-managed by veteran manager Stephanie Christie and veteran rocker Will Hunt (Evanescence/Device). Bellusira has become a staple of the Melbourne, Australia rock scene , but recently garnered the attention of Christie and Hunt when they released their music video for their single "Cachango" and it was featured on the popular musician's website Tunelab.
"The minute I saw that video, I recognized that there was something very special about the band, and more specifically their vocalist Crystal Ignite. Her energy and intensity are just mesmerizing. She's completely fearless. Being able to bring Will into the management mix brings such a unique and valuable perspective to this project. It's just a perfect fit all around," says Christie.
This will be Will Hunt's first foray into band management although he is certainly not a newcomer to the music business. As one of the most sought after touring drummers in the rock world, Hunt is the current drummer for both Evanescence and Device and has toured and recorded with a dozen more national acts including Black Label Society, Motley Crue, Staind, Vince Neil, Dark New Day, and Static-X.
"I'm extremely excited to announce my partnership with Stephanie Christie on a managerial level as we get ready to bring a female fronted powerhouse band from Australia called Bellusira to the masses! This band has got the goods and I'm thrilled to be involved with them. Exciting stuff indeed! Stay tuned," said Hunt.
Ironically, the band has never set foot in the U.S, but has dreamt of playing there since they first formed. Their members include vocalist Crystal Ignite, bassist Mark Dalbeth, guitarist Chris Zoupa and drummer James Mileto. They recently released their eleven-song debut album Connection and the subsequent music video for the opening track "Cachango". The album has been well received in Australia with glowing reviews and the band hopes to have that same impact on the U.S media. They are planning their first U.S tour now, which is set to kick off in early 2014.
Lead singer Crystal Ignite said, "We are absolutely elated to be managed by Stephanie and Will. It's an honour, not only to have been discovered all the way from Melbourne, Australia but also to be Will Hunt's first management project. With a team like this behind us, we can only imagine the exciting times ahead."
Catch Bellusira on tour this November at the following dates:
November 8 – Enigma Bar Adelaide, SA
November 22 – Tempo Brisbane, QLD
November 29 – Spectrum, Sydney, NSW
November 30th – The Corner Hotel, Melbourne VIC