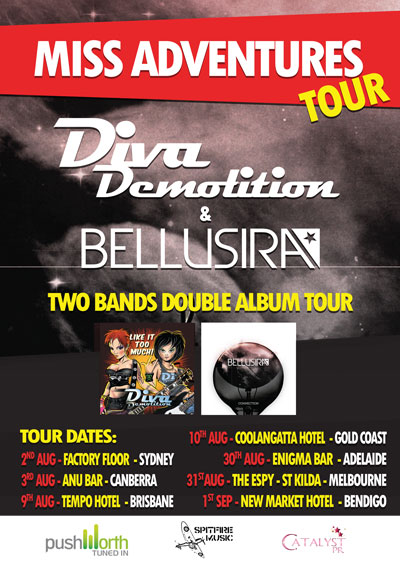 Tonight in Sydney, we're set for a night of Aussie rock and chick rock power reigning supreme as we have Diva Demolition and Bellusira taking the stage on the first night of their 'Miss Adventures' tour…
Now the last time I saw tonight's openers Bonney Read was when they won their heat of the Hard Rock Cafe battle of the bands I was incidentally judging in, so it's great to hear them play again and what I absolutely love about this band is their songs are full of hooks, they play on the stage like there's 20,000 people in the room and they have an absolute ball doing it. Vocally, singer Jess nails it, hell, I think she bought the whole hardware store out of nails… Picture P!nk and Janis Joplin merged into one and fronting a rock band, and you've pretty much got her vocal style. I really hope they do more as I feel it would be a waste to good music if it never happened for them. I kid you not when I say that with some guidance and some more experience these guys could do big things. Definitely one to look out for and listen out for even more!
Diva Demolition released their debut album today 'I Like It Too Much' and as they open the set with the title track, tonight as a three piece they set the tone for their set. After coming off tours with KISS, Mötley Crüe and Aerosmith they have been able to spread the word of the Divas across Australia and tonight on night one of the Miss Adventures tour after seeing them previously as a four piece, the sound they have tonight as a three piece works as they rock through 'Energy' and 'Higher' from the album and with their classic sound encompassing shades of Suzi Q and Joan Jett they easily play through the tracks. 'Blow Your Hair Back' has some attitude and is the most reminiscent of the Suzi Q days but I have to say that I do love 'Rock and Roll Dream' especially for the Bon Jovi reference and the fact that it's a song purely about what Diva Demolition are living and that to me is what rock and roll is all about. The set rocks up and down and at time absolutely shreds especially during 'Screw Loose' and 'Bitch' which was the standout of the night. Closing the set with 'Diva Disease' the Diva's tonight to me may have looked a little nervous and like they almost held back a bit I feel, but with time, I'm sure we're going to see these Divas blossom and watch out, you may all soon catch the disease…
Final band of the evening Bellusira hit the stage running and seriously, at full speed! Powerhouse is the first word that comes to mind here as not only is the singer Crystal an absolute dynamo full of energy and high kicks, but this band is outstanding. The tones, the mix, the playing and the tightness of the guys is perfect. They're here tonight as part of their album launch tour with 'Connection' out in the June just gone, so these songs are full of heart and passion and evident with 'By Your Side' that keeps it rolling and I can continue to say how impressed I am with this band but it'd just get repetitive as wow, Australia stand up and accept this band, support them and give them the love they deserve. Song after song from their debut album gets better and better as they go along. Songs like previous single 'Culprit' are heavy and catchy and worthy of being played live on stage and then a song like 'Closer' that is better than most songs being played, well, anywhere at the moment.
Even the ballad of the night 'Made Of' is a standout! Although the crowd here tonight isn't huge, those here are enjoying this set and rightfully so and they got a treat tonight.  Song after song from 'Connection' such as 'Warrior' kills it as does 'Wide Awake' which is one of my favourites from the album and it also produced the heaviest song of the night and I must say that the break down is amazing. Closing the set with the newest single 'Cachango' which is the only way they could've finished tonight, now this song should be a hit and with the perfect use of a cowbell, well ladies and gentlemen we have a winner.
So, Bellusira are a band that can and will go far, there's no denying that! Get this band into an arena. Stat. Given some exposure you're looking at the next big thing out of Australia.
Aussie rock is alive and well and tonight the girls out the front showed us how it's done!
Essential Information
Bands: Bellusira and Diva Demolition
Venue: The Factory Floor – Sydney
Date: August 2, 2013
Supports: Bonney Read
Website: https://www.facebook.com/bellusira and www.divademolition.com
Catch the rest of the Miss Adventures tour at the following dates:
Saturday August 3 – ANU Bar, Acton ACT
Friday August 9 – Tempo Hotel, Brisbane QLD
Saturday August 10 – Coolangatta Hotel, Coolangatta GC
Friday August 30 – Enigma Bar, Adelaide SA
Saturday August 31 – Esplanade Hotel, St Kilda VIC
Sunday September 1 – New Market Hotel, Bendigo VIC