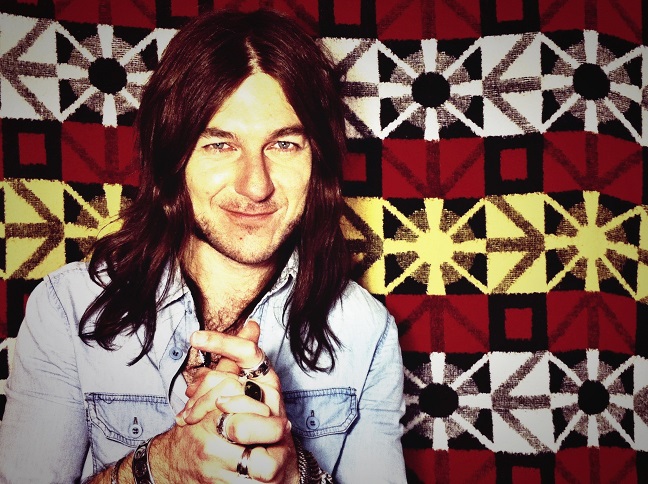 No stranger to the Australian music scene, you may have seen Simon Meli perform before without even knowing it. Now that he's been on TV he may be a lot easier to recognize, but his talent and his voice has been killing it for years around the live traps both supporting huge international artists as well as playing his own music with previous bands and his current, that being The Widowbirds who released their debut album 'Shenandoah' in 2011 and are geared up and ready to fly again, bad pun I know, but I liked it…
We've spoken to Simon before as part of the Led Zeppelin show 'Whole Lotta Love' but more recently we had a great chat with Simon about his time on TV but more importantly about his music and his band The Widowbirds as they prepare to hit a stage near you this July and August and also with new music on the way. Definitely an artist to keep an ear out for and he's without doubt one of the Best Things You've Never Heard.
To start us off, for those that aren't aware of The Widowbirds, how did the band come together and how long have you been around?
OK well The Widowbirds have been around for two and half, probably getting on to three years now, and we came about from a songwriting project with my long term friend Tony Kvesic. So I was living in the Blue Mountains in Sydney at the time and we both said we've got some ideas so let's track them, and we ended up tracking a whole record and the band was built around the record at that time. The romantic way of starting a band would be to call some mates, see who plays what and get in the garage, slam away for a few years and you may have a band at the end of it, see what comes out, but in this case, Tony and myself had played together for a number of years with who would end up being the drummer of The Widowbirds Shane O'Neill and we had known of each other and how we'd write and perform, but in the case of The Widowbirds, it was a fresh start for what had been many years of trial and error.
So what's the best way to sum up the band and the band's sound?
The Widowbirds is built on love, soul, rock and roll, and I mean that in all the literal senses, from the way we write to the way we perform and the sound would be something that would marry the boogie of people like The Black Crowes and a lot of the Stax artists like Sam and Dave and it would marry them with early Led Zeppelin, Stevie Wright and influences from AC/DC and The Easybeats in some ways. It's built on a 70's almost classic rock sound, where you only need a guitar, bass, drums and vocals up the middle but we add Hammond organ and a few more soulful elements to the sound.
There is that very classic rock and roll sound to your voice, influence wise, did you grow up what the Zeppelin's and the likes to get into that sort of stuff?
Of course I did, I also grew up with people like Tina Turner when she was a duet with her husband Ike. I grew up listening to Aretha Franklin and even Deep Purple and stuff, all of my dad's record collection was what is made me to be the singer that I am today.
I do hear a bit of white boy soul in there too…
Oh man and I'm totally proud of it too, I don't think a lot of guys sing with the soul thing I like to try and fly the flag for, in this day and age we're just turning out to be a more pop market than there is plastic in the world. I'm proud to take that and fly the flag.
Having previous bands before, what is it about The Widowbirds that works?
I think it's having cut our teeth on so many stages and touring extensively in shit holes and dives which I still love, right up to touring the whole country with Paul Weller or with Tony Joe White or Bon Jovi in other bands and having learned what it's like to be a working musician. It's morphed our song writing into talking about that, into talking about things that we love and talking about things we appreciate and when you have an invested knowledge and vested emotion attached to the song writing, I think the performances come out a little more credible and appreciated by a wider audience.
You're heading out with the band for a number of shows, so can you describe a typical live show of yours and what people can expect if they come out and see you play?
A typical live show for The Widowbirds or for Simon Meli and The Widowbirds is going to be something that has all light and all dark mixed up. There's going to be moments when it's just voice and an acoustic guitar, probably to something that should've been put on stage at the Isle of Wight with Otis Redding and say Jimi Hendrix, with complete sort of power, the mission to convert people to enjoy the soul element of music, not just the genre. It's human beings in stage trying to keep other human beings happy, and that's what The Widowbirds like doing most of all. When we're on stage we like to commit to the audience and we very rarely leave an audience without a smile or a bead of sweat across their brow from having a dance and enjoy the night with us, rather than the traditional 'we are the band you are the audience' we don't like to have that segregation much at a Widowbirds show, we like to enjoy the night together.
Obviously with your exposure from The Voice, when you go out there as a singer, and not with your band, how was that experience of not having the comfort of what you're used to?
Look, I mean, when we're talking about going out there and being on a reality TV program where TV is first and the subject matter is music is something that I'm not really proud of for the purpose of the TV show, however, I was at a time in my life where I thought a challenge like that would only give me more experience and I could bring back to Earth when I come back off that reality program and I become the front man that I love being. I have been a little blessed in the past where I have been invited to sing with different musicians or different bands or to be a part of a Led Zeppelin concert that was paying homage to them around the country, and working with them on different stages and different platforms from an acoustic little corner gig or to TV as we saw. I think it arms you and prepares you for the unexpected, and the bottom line is the glue that keeps it all together is the passion for singing, the passion for entertaining, so I want scared or was I bewildered with the amount of exposure that was there, I just wanted to relish in the fact that it's a new stage that I haven't sung on before.
Was there any hesitation before going on in terms of that the band may not have liked it?
Look the first series of The Voice I was scouted and I declined the invitation to be a part of because of my beliefs and they're still my beliefs in that I don't feel music should be measured. Then when I was scouted for the second series, I thought about it and I thought about where I was with the band, their future is in my hands where I may be able to better it, so I went to the boys who I've been friends, almost brothers we've been together that long and I said 'guys this is what I feel I need to do to not only fulfill a bit more of a marketing campaign behind my name, but also what I'm associated with which is The Widowbirds' and they were totally in awe of that philosophy and it was that kind of support that got me out the other side and I'm back with The Widowbirds like I never left and about to tour as hard as ever and with a new record being written as we speak.
That was my next question, so let's get off The Voice and say music wise, with your debut album out now for a couple of years, are you working on something new we can expect to hear soon?
I reckon you're going to hear a single about spring or summer this year, we've been toying around with some sounds that are a growth for the band. After touring the Shenandoah record which is a more organic and folk woven rock album, whereas now we're moving into more of the electrified version of the band that people will see on stage.
You've mentioned been involved with a few projects over the years, including the Whole Lotta Love shows, how much fun are those to be a part of?
Oh man, it's like the only time I get to be playing and be my version of Robert Plant in front of a band who sound eerily like Led Zeppelin, but it's done with string sections, we have percussion players, we have our own piano and Hammond player and to go out there and smash it on a stage like the State Theatre having five years ago come from The Basement is just an amazing ride to be a part of. It'll change your perspective because it's not a tribute show, it's a bunch of guys and girls who are really doing their hardest and darndest to really keep alive the style and the band that is so integral in rock and roll music today.
Working with people like Steve Balbi and Jeff Martin must be a bit of a buzz as well?
Oh man, the tour we did with Steve Balbi who is like my big brother and my mentor, I have a very close relationship with Steve, but having done that tour two years ago in 2011 with Steve Balbi and Jeff Martin was just un-f-ing believable. The power that came out of each different personality was what made that show the best one we've had.
I have to ask as I saw you open for Bon Jovi back in 2008 with your previous band 'Ooh La La', what was that experience like?
There you go… that was one of my many dreams that have come true which was supporting someone like Bon Jovi at a venue like Acer Arena for a couple of nights. There was no fear there except for almost a teenage pubescent joy, that's what it felt like to just jump out on stage like that and wail in front of what we had which was 38,000 people or so. It really did change my life and perspective on how far I could take my own band. When you're given an opportunity like that you think 'wow, this is something achievable' and we did it on our own merit and it's now just given me fuel for the next ten years. To experience things like that and to be with people like Sambora and Giovani Bongiovani is a privilege and from there we've managed to have a few more contacts and successes which has not only seen us master our craft on other stages, but better our sounds and better our recordings.
Did you watch the guys play and did you pick up on anything that you thought I should do that?
The only thing I was picking up was my jaw off the floor, because I was in the VIP section right at the front, before even the barriers I was almost touching Sambora's foot while he was stomping in front of us, but I was just trying to take it all in, especially on the first night that we just came off the stage that these legends are now walking on. That's something to really digest.
Yeah we pretty much grew up in the era where that kind of music was king…
and you know what? That's what myself and The Widowbirds are about, it's almost unrefined style of music that can never be refined to be felt or appreciated, like it's spontaneous, rock and roll is dangerous, rock and roll is whatever the moment is on the night on stage and I think fans like yourself and I who look to bands like Bon Jovi or for me Aerosmith more so or even more so Led Zeppelin, I think what we're attracted to is the unpredictability and the danger of rock and roll.
What does the remainder of 2013 have in store for you?
Well besides this introductory tour to my new fans is we'll come out with the single in spring or summer, and that will be followed up with another run, but we're planning for our return to Europe, we've got a lot of background work to do, but there will be a lot of shows where The Widowbirds will be seen out in the traps, but I'll be doing some joint work with some other people like Mitchell Anderson or Michael Stangel from the program.
Well best of luck with everything Simon, and I'll see you out at the show.
Thank you for your time. You're a legend.
Essential Information
From: Sydney, Australia
Sounds like: Rock and Roll
Band members:  Simon Meli – Vocals/Guitar, Tony Kvesic – Guitar/Vocals, Shane Steel O'Neill – Drums Percussion, Simon Wiltshire – Bass/Vocals, Lachy Doley – Organs.
Website: http://www.simonmeli.com.au and http://www.thewidowbirds.com
Check Simon Meli & The Widowbirds out on their 'Moment In The Sun Tour' at the following dates:
Thursday 18th July – THE VANGUARD SOLD OUT – NSW
www.thevanguard.com.au
42 King St, Newtown
Tickets $16 +bf available from http://www.thevanguard.com.au/shows/2013/07/18/simon-meli/11571 &
Box office (02) 9557 9409
Doors 7.30pm
Friday 19th July – ROOTY HILL RSL – NSW
www.rootyhillrsl.com.au
55 Sherbrooke St, Rooty Hill
Tickets $5 members/$12 visitors available from http://rootyhillrsl.com.au/simon-meli & (02) 9625 5500
Doors 8pm
Saturday 20th July – PIGSTY IN JULY FESTIVAL – NSW
Tickets and Info: http://pigstyinjuly.com.au/
Sunday 21st July – BEACHES HOTEL – NSW
272 Lawrence Hargrave Dr, Thirroul
Free entry – 5:30-8:30pm
Friday 26th July – JIVE BAR – SA
www.jivevenue.com
181 Hindley St, Adelaide
Tickets $12 +bf available from www.jivevenue.com & www.moshtix.com.au or 1300 438 849
Doors 8pm
Sunday 28th July – NORTHCOTE SOCIAL CLUB – VIC
www.northcotesocialclub.com
301 High St, Northcote
Tickets $13 + bf available from https://corner.ticketscout.com.au/gigs/1481-simon-meli or 1300 724 867
Matinee Show
Doors 2pm
Friday 2nd August – SOLBAR – QLD
www.solbar.com.au
19 Ocean St, Maroochydore
Tickets $12 +bf available from www.oztix.com.au or at venue Ph: 07 5443 9550
Doors 8:30pm
Saturday 3rd August – BALLINA RSL CLUB –  NSW
www.ballinarsl.com.au
240 River St, Ballina
Free entry
Sunday 4th August – X AND Y BAR – QLD
www.xandybar.com.au
648 Ann St, Fortitude Valley
Tickets $10 +bf available from www.oztix.com.au
Thursday 8th August – THE BRASS MONKEY – NSW    
www.brassmonkey.com.au
115a Cronulla St, Cronulla
Tickets $17+ bf available from www.oztix.com.au & www.brassmonkey.com.au
Doors 7pm
Friday 9th August – CAMBRIDGE HOTEL – NSW
www.yourcambridge.com
789 Hunter St, Newcastle West
Tickets $12 +bf available from http://www.bigtix.com.au/products/599-simon-meli.aspx#.UaV7xTndmfQ
Doors 8pm
Saturday 10th August – COAST HOTEL – NSW
www.coasthotelbudgewoi.com.au
169 Budgewoi Rd, Budgewoi
Free entry
Thursday 22nd August – THE VANGUARD – 2nd show – NSW
www.thevanguard.com.au
42 King St, Newtown
Tickets $17 +bf available from www.thevanguard.com.au & Box office (02) 9557 9409
Doors 7.30pm
https://www.facebook.com/Simon.Meli.Singer
http://instagram.com/simonmeli