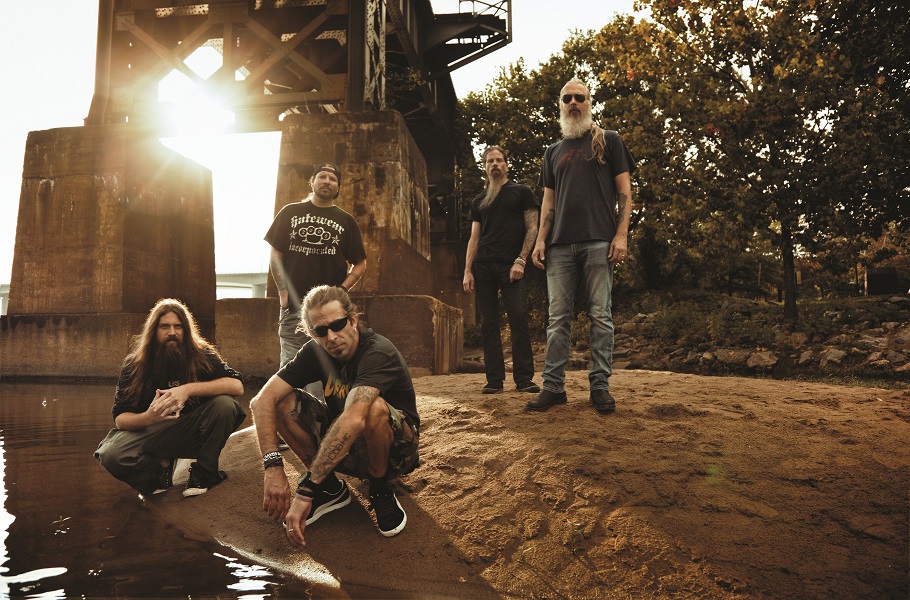 "We're very excited to come back and we certainly appreciate all the support and loyalty we've got from the metal fans down there, and I hope that everyone's as excited as we are as it's really pretty special that we're coming and playing shows that are Lamb of God and Meshuggah, something that we've been hoping to do for quite a while, so we get to do it in Australia and I hope that everybody realises just how cool that is."
From tour press release: There are metal bands and then there is Lamb of God. Hitting with the force of an invading apocalyptic army, Lamb of God are back to inject Australia with a crippling dose of pure metal. Not much more to add to that really…
So if you're a Lamb of God fan, you all know the story of recent events, you all know what happened, so don't expect to read about that here, this great chat with Lamb of God guitarist Mark Morton is all about the upcoming Australian tour with Meshuggah, new music and how the last twenty or so years has helped shape him and the band.
It's been a good eighteen months since your last Australian tour for Soundwave, how pumped are you to be coming back in September?
Oh very excited, you know we love coming to Australia, it's safe to say collectively it's one of our favourite places to tour in the world, and not just saying that, it's a stock answer, but we really feel that way about Australia. For me, probably second only to the US, I prefer touring the US more than anywhere just because it's home, but I'd say Australia a close second and I'm always excited to get down there and play shows. Particularly this time it's cool to be coming back and playing these shows with Meshuggah which is something we've been hoping to do for quite a while now and very excited that it's finally come together.
I was going to ask that, have you toured with those guys before?
We've not, we've played some festivals here and there with them, we're friendly with the guys but we've never done a full-fledged tour with them, Australia is a short run, but it is a proper tour but we're stoked for it.
So what can we expect this time around at your headlining shows?
Well you know, we've got a little more time, so we get to represent a little more of the material, stretch it out a bit and maybe play some stuff you wouldn't have heard us play down there yet. I can't remember the last time we actually did a headline tour of Australia or some shows but it's been a little while, there's been some new material since then I think and we'll be able to put some of that on the stage.
You guys have been to Australia numerous times, have you got a great memory of a trip you can share with us?
Well I don't know if it's one specific memory of an incident, but certainly our time down there with Metallica stands out, that will go down in my career as one of my favourite tours I've done in my career for sure, probably certainly top five. The way they tour and as big as they are, they were doing multiple shows in each city so we would be in town like stationary for sometimes like three, four, maybe five days, so it gave us a rare opportunity to be in one place and to move around a little bit in the city and check things out and just mingle a little bit. On a tour like say the one we have coming up we're travelling so much, it's very common for us to fly in the day of the show, play the show and then fly out the next morning, so it really doesn't give us a whole lot of time to do anything but the show. So that tour stands out to me, I remember getting some time to go out and just be a normal person hanging out with the guys from Metallica and just cruise around the city so that was a lot of fun.
'Resolution' has also been out for eighteen months, have you been working on new material that we could expect to hear soon?
Well I don't know how soon we can expect to hear them but yeah I'm pretty much always collecting new what I call sort of raw material for songs, I'm always documenting riff ideas and scribbling down lyrics and there's little slips of paper scattered all around my house with different lines on them, different sorts of things, so my wife knows not to throw any of that stuff away. I usually over the course of a touring cycle will be collecting ideas and documenting things that later I'll usually try and organise into presentable ideas and the band will pick them up and take them to work from there and I think Will our other guitar player operates pretty much the same way so that when we do finish touring we'll take a little break and then get together and start opening up some of these ideas and see what everybody thinks.
Now we spoke to John last year before you came for Soundwave and we was saying that with each album you try and set out to do something different and not too 'samey', have you got an idea of what you think you want the new material to sound like or are you nowhere near that yet?
You know I've got some options, I mean there's thing's going around in my head but I don't want to speak so soon, you know it's still too early but yeah, John's right, I think it kind of happens naturally, but I think we definitely try as best we can not to repeat ourselves, you know it's heavy metal so it's all going to be in the genre, but we're not going to put out a hip-hop record next or anything like that, but I do think we try and explore new ideas and try see how far we can stretch ourselves and what we can get away with in the context of this project. So in that sense, yeah I am starting to think about possible directions and different sorts of character within songs that we can use as a fresh approach.
Like 'King Me' on the last record, that was completely different…
Yeah, that's a good example of us doing something different and mixing it up a little bit and was certainly well received.
Are you hitting any markets on this tour that you haven't yet toured before?
Next we're going to Europe for about three weeks, we're doing some festivals we haven't played for sure, we're doing the Wacken festival for the first time in Germany which is a big very established festival but just for some reason it's never lined up where we've made that one. We're headlining Bloodstock this year which is a pretty big deal, so there's some new there. In terms of headlining shows and new towns, I'm not sure *laughs* I kind of look at tours from when I leave and when I come home and I generally know what continent I'm going to but in terms of the schedule, there are people that are very, very organised and skilled at telling me where to be and how to be there and I usually follow their instructions and that's what I do.
On the other side of that, are there any you still want to?
Yeah I mean, we've had a lot of requested to get down to South Africa and we've heard a lot about our peers going down there and playing some great shows, so I'd like to think that we'll get down there before too long. We've really hit a lot of places, we've been to India a couple of times now which is pretty amazing, and we've only played Bangalore there, so I'd like to check out some different cities in India because it's a pretty amazing place. But we've been pretty fortunate; we've got to see some pretty amazing parts of the world that's for sure. We've only toured South America once, and it took us a while to get there actually, a lot of bands go down there but for some reason we just never made it down there until just within the last year or two but had a great experience and just amazing fans down there and beautiful cities so I really look forward to getting back there as well.
It's been around twenty years now that you've been a band, what is it that you still enjoy about playing live?
I really just like playing guitar man, I really do, still after all this time, I love playing guitar, that's my favourite part about playing live is that I get to strap on a guitar and make people happy and that's a pretty great job.
Since 1990 what do you think has been the biggest challenge musically for yourself?
The biggest challenge musically… well, I think just trying to develop a style as a guitar player and as a song writer, I'm real proud that I've had a fair amount of success in doing that, I think that over the years I've developed an identifiable style and that's not an easy thing to do and it's something that I try to be conscious of to keep my playing fresh and to keep developing both as a player and a song writer, that's something that's pretty important to me.
Is there anything you're able to do now that you feel you weren't able to do when the band started that's been able to help propel Lamb of God to where you are?
Yeah I think that as we've gone along we've all just paid attention to how things work in this industry, we try and stay very involved obviously on the creative said but also on the business side, because sometimes you can get backed into a corner and that makes things hard to carry on. So, we've all stayed pretty involved on the inner workings of the band in a business sense and I think we've developed as players as well, so we've all stayed very engaged over the course of the last eighteen or nineteen years or so and learned a lot along the way that hopefully we're still applying to the decisions that we make and the music that we come up with.
I chatted to Dez (Fafara) recently, so wanted to ask you about 'Born of the Storm' are there plans to do more with that project?
Not really, it's been a good few years since we realty worked on any of that stuff, we tossed around a few ideas here and there but you know we don't have any plans to do much with it right now, that was just honestly Dez and I kinda messing around with ideas and just writing songs and sending them back and forth and little bits just for fun, we didn't really have any ambitions to tour with it or even necessarily release it, it was really just pure for fun. A lot of the time as I was just eluding to a minute ago, a lot of time the creative side can really get overshadowed at points in time by business and deadlines and schedules and interviews and all that kind of thing so it's kind of refreshing every once and a while that you don't even know what it's for or what you're going to do with it and there's a freedom in that and I really think that was the beauty of 'Born of the Storm', it was really just purely for fun and I think it's best it stay that way.
What does the remainder of the year have in store for the band, is it all touring?
Yeah pretty much, I mean not every single day, but there's a lot of touring from now actually into next year, a few things we haven't announced so I can't really talk about, safe to say we're going to be pretty busy into the beginning of 2014, so right now we're in a few weeks going to head over to Europe for a little bit and then I think after that is the pacific rim tour which will include Australia.
Lastly, so you have a message for your loyal Australian fans?
Just that we're very excited to come back and we certainly appreciate all the support and loyalty we've got from the metal fans down there, and I hope that everyone's as excited as we are as it's really pretty special that we're coming and playing shows that are Lamb of God and Meshuggah, something that we've been hoping to do for quite a while, so we get to do it in Australia and I hope that everybody realises just how cool that is.
Essential Information
From: Richmond, VA, USA
Band members:  Randy Blythe – vocals, Mark Morton – guitar, Will Adler – guitar, John Campbell – bass, Chris Adler – drums
Website:  http://www.lamb-of-god.com
Latest Release: Resolution (check out our review here)
Catch Lamb of God and Meshuggah on tour in Australia this September at the following dates:
FRIDAY 20 SEPTEMBER
BRISBANE, THE TIVOLI – 18+
www.ticketek.com.au
SATURDAY 21 SEPTEMBER                 
SYDNEY, UNSW ROUNDHOUSE – Lic A/A
www.ticketek.com.au
SUNDAY 22 SEPTEMBER          
MELBOURNE, FESTIVAL HALL – Licensed and Unlicensed areas available
www.ticketmaster.com.au
TUESDAY 24 SEPTEMBER        
ADELAIDE, THEBARTON THEATRE – Lic A/A
www.venuetix.com.au
THURSDAY 26 SEPTEMBER                 
PERTH, METRO CITY – 18+
www.oztix.com.au
Presented by Soundwave Touring.