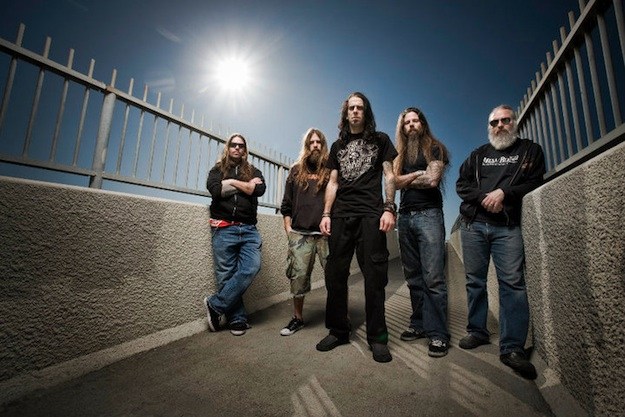 "Soundwave is a great festival and the line up this year is huge and you're going to see a lot of bands and you're going to see Lamb Of God up there trying to take the stage every night."
Lamb Of God are as Metal as Metal can be, with over fifteen years as a band and six albums of sheer brutality, they are set to release their seventh and heaviest album yet 'Resolution' on January 20 in Australia through Roadrunner Records (24th in The USA) their first in three years and you're all in for a treat.  The last time they were here in Australia was with Metallica on a huge run of shows and they're ready to come back and play this new album for not only us, but all their fans around the world on the extensive, lengthy tour they have planned.
We were lucky enough to have a chat to Lamb Of God bass player John Campbell who was "hanging out and ready to party…" he told us all about the new album, touring, and their upcoming appearance at Soundwave in February.
Congratulations on 'Resolution' it's such a killer album.  Was this always going to be the album you set out to make?
Thank you very much.  Well we don't really have an album envisioned going into it, the album kind of comes together as we put it together.  What we're trying to do is write the heaviest most ass whooping record that we can, growing all as players and that's really what our build is going into this record.
Is there a meaning behind the name 'Resolution'?
Well sure, there's a meaning to everything.  In getting asked this question I like to talk about the record cover being the best visual representation of it and to me that's resolution can be either negative or positive but there's definitely a tonne of resolution going on in that burning hunk of metal in the mid ground of a barren wasteland.
It's a pretty cool cover actually, it's simple and effective…
Yeah absolutely, what I love about it is the back side of it, I don't know if you've seen it, or did your promo copy include the back of the record?
No, just the front.
The back of the record is an eyeball reflecting the scene, so it instantly personalises the scene, whereas looking at it from just the front there's no personality to it, you're not as a viewer included in the image but once you flip it over on the back it's repeated just as a reflection in an eyeball, totally cool, Ken Adams did an amazing job with the artwork.
Resolution being your 7th album, and with some diversity over your time as a band, do you strive to make each album somewhat different as your career powers on?
We strive to stretch beyond what we did before, we don't want to put out the same thing again, that kind of gets to the core of why we're a band is to put out great music that we're interested in that's we've already done something, we never set out to create a brand as much as just write heavy, brutal music.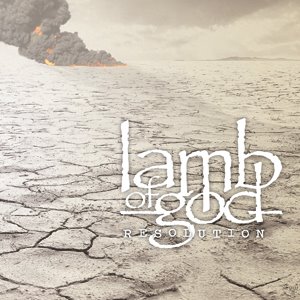 In the three years between albums and while on tour, were you constantly working through the song writing process or was that something that was saved specifically for the album as a whole when off the road?
Well this time around, the writing actually began early on the road with Mark Morton and his lap top and he was writing on the road, but generally speaking up until that point we had either been a touring or writing.  Mark slipped into writing mode early and did some amazing work on some demos and we had some material to get on to straight away.  Willy started writing when we got off the road and demoed his ass off between the time we got off the road and back into the rehearsal space.  Both of those guys brought in demos of seventeen or eighteen songs initially and it was a bit of a departure in the writing process this time but once we got into the practise space it was the same kind of deal where we learn the songs and beat them into the ground and twist them around until they're where they need to be.
What was behind the decision of getting producer Josh Wilbur in early prior to actually starting the recording of Resolution?
Well this was the third project we had worked on that he was involved in, in some way.  He had engineered on 'Sacrament' and he produced 'Wrath' and we had a really good relationship with this guy and we really liked his creativity, his thoughts and opinions on things and he very much wanted to be part of the process from early on and being that Mark already had these demos to start off, we were productive once we got in the rehearsal space and it was go, nose to the grind stone for three months.  There was no fiddling around waiting to have songs, we weren't waiting for creative juices to flow or anything, it was on.  And Josh Wilbur wanted to be a part of and was a great part of that.
One song that stands out for me is 'King Me' that closes the album, it's epic, I mean, Opera singers, strings, keys, when a song like this comes together the way it has, what's the reaction like from the band?
Well to be honest, that song when it first came, the song didn't have the singing or the orchestration on it when we got done with our bit of the recording and that's something that Josh wanted, we talked about doing it, the first time I heard it, it ha, hit me a little funny, I was a little married to the demo, the flavour that it had there.  But I forced my mind open, it's not one of my favourite songs, it's to the point of us trying new stuff, stretch out and not doing the same thing over and over again, there are plenty of brutal metal songs that go along with that… it's still brutal, it's got more dynamic, it's got more depth.
Yeah when I heard it the first time, after having my ass kicked, I thought 'Well this is interesting…'
Ha ha it sounds like you may have reacted to it the way I did at first and haven't had a chance to enjoy that song, but maybe I'm presuming too much.
Does that then give you instant ideas for future songs or do you think we've done it once, we'll just go back to doing what we know how to do?
I think that's just, I don't want to say another trick in our bag because it's not that, it's just as artists it just broadens our pallet; sure we might do something like that again.  We're always going to have something that's not expected on our record.
You could do a Dubstep album like Korn did or something for a bit of the unexpected?
Ha ha, yeah no, that's not happening ha ha
Do you have a favourite track from the album?
I wouldn't say I have a favourite track but there are some intense moments that I really love on the record.  The opening of 'Ghost Walking' with the acoustic guitar coming in, Mark sets up the into with count it in playing the acoustic and when the band comes in, that hit right there, is for me an intense moment that I just absolutely love on the record, one of my favourite moments on the record.
Now, you're headed back to Australia for Soundwave in February, a festival you're now quite familiar with, what can the fans expect this time around?
Yeah absolutely, well we're going to be playing our new stuff, I think we're a little bit later in the night.  It might actually be dark when we play and it's going to be an amazing time  Soundwave is a great festival and the line up this year is huge and you're going to see a lot of bands and you're going to see Lamb Of God up there trying to take the stage every night.
You're sharing the bill with a lot of bands you've toured with before but I dare say many you haven't are there any that you're looking forward to seeing?
I have a lame answer to that question and it's no, not really.  I don't follow music, I don't listen to a lot of the bands we tour with, the most current music, it's not really my thing.  No, I definitely enjoy live music and will walk around and check out other bands just peaking my head around and hoping for something to strike me.  I'm very much looking forward to catching up with my friends in the other bands that I haven't seen this year that we haven't been on the road and catch up with some old, old friends that I haven't seen in a long time.
Do you have a memory of one of your trips to Australia that stands out that you can share with us?
Absolutely, when we were there with Metallica, we were able to spend a little more time in each city, even had days off in each city.  I rented a motorcycle in Brisbane and took a ride up in to the mountains and then out to the coast and then toured around the city for a while.  It was probably one of the best times I had on that tour.  Touring with Metallica forwarded us the opportunity to do that as most of the time when we play a show the next morning we're awake and flying to the next city, so there's not a whole lot or sightseeing time.
You've been a band for over 15 years now, what is it that keeps you all going?
Ha ha ha ha oh Lord, I have no idea.  I do have an idea, we've been successful at something we're very passionate about and we're on stage playing a show that's what we live for and we're lucky enough that we get to do what we love, even though the sacrifices you make and the stresses and drudgery in the times between the times you're on stage, those times can be difficult.  It's really weird, we're doing what we love doing and I think it would be hard for any of us to walk away from this.
How long are you going out on the road in support of Resolution?
We got a two year plan in the works.  Heading out in January and ending at the end of 2013.
So you're almost kicking off the tour here in Australia…
Absolutely, we've got a short stint in the States the week the record comes out and then we're headed to South East Asia for a little bit and then on to Soundwave.
Have you played any of the new tracks live yet at all?
No, we haven't played a show since we finished the record, our first show will be January 22nd here in our home town of Richmond Virginia.
That'll be a big show.
It's gonna be a ridiculous guest list ha ha
What are your thoughts on where Metal is now?
Well, I guess I can answer that somewhat egotistically.  I feel so strongly about this record we're about to put out, I feel like the state of Metal is incredibly strong.
Lastly, have you got a message for your Australian fans?
Yeah, we're heading your way for Soundwave festival, we're incredibly excited to be back in our favourite country to tour in outside our own and we're looking forward to a great time.
Essential Information
From: Richmond VA, USA
Band members: Randy Blythe – vocals, Mark Morton – guitar, Will Adler – guitar, John Campbell – bass, Chris Adler – drums
Latest release: Resolution (January 20 2012 Australia, January 24 USA – Roadrunner Records)
Website: http://www.lamb-of-god.com/
You can catch Lamb Of God at the Soundwave Festival in 2012
SATURDAY 25 FEBRUARY – BRISBANE, RNA SHOWGROUNDS
SUNDAY 26 – FEBRUARY SYDNEY, SHOWGROUND
FRIDAY 2 – MARCH MELBOURNE, SHOWGROUNDS
SATURDAY 3 – MARCH ADELAIDE, BONYTHON PARK
MONDAY 5 – MARCH PERTH, CLAREMONT SHOWGROUNDS
Check out the details of the Lamb Of God Sidewaves here…