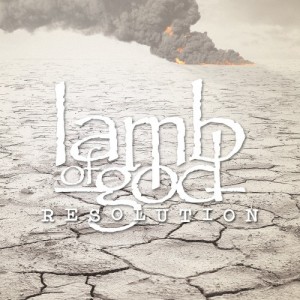 In 25 words or less: Heavy. Heavy. Heavy. Awesome.
Lamb Of God are back in a big way. This new album Resolution is so good that it's hard to put into words. This is the heavy album I know I've been waiting for and although I got to hear it in November it was refreshing to hear it again in its entirety upon release. From the opener 'Straight For The Sun' Setting the tone of the album with a huge growl and there was no stopping it. The intro to 'Desolation' is as good as the song itself. This will be hard to top as the best on the album it's pure heavy rock at its best. 'Ghost Walking', 1st single is for lack of a better word, epic. The arrangements on 'Resolution' are pristine and this song is major proof of that, it is so well produced and each layer as clear as the next and with Josh Wilbur again as producer at the helm there's no disputing why it's so good.
I'm only three tracks in and I feel like I want to start my own circle pit as the album continues to get more intense than a camp site which is a good thing. 'Guilty' and 'The Undertow' keep up tonights theme of heavy and do it well, 'The Number Six' has its melodic riff, and instrumental 'Barbarosa' was a great intro into 'Invictus' yet another track I can't or won't fault.
Track after track proves to me that Lamb Of God can get an audience fired up, I'm really taking this all in and listening to these songs musically and enjoying every riff, kick drum and more.
My favourite track from 'Restolution' though lies at the end of the album in 'King Me' an operatic, orchestral based piece of heavy metal genius. It's almost spoken versus are the prelude to an explosion of metal. This is amazing. Different, yes, but it works.
It's debut at number 3 on the Australian ARIA charts and number 1 on the Billboard charts proves that metal is still alive and thankfully so. With an appearance looming for the Soundwave festival and a chance to showcase these new tracks, I expect nothing more than mayhem during their set and rightfully so. Was this the best album to listen to before going to bed? Probably not as I'm more than pumped up and ready to kick the shit out of something.
Kick ass album, plain and simple.
Check out our interview with John Campbell of Lamb Of God here…
Essential Information
From: Richmond VA, USA
For fans of: METAL!!!
Release date: 20 January 2012
Record label: Roadrunner Records Australia
Producer: Josh Wilbur
Website: http://www.lamb-of-god.com
Track listing:
Straight for the Sun
Desolation
Ghost Walking
Guilty
The Undertow
The Number Six
Barbarosa
Invictus
Cheated
Insurrection
Terminally Unique
To the End
Visitation
King Me