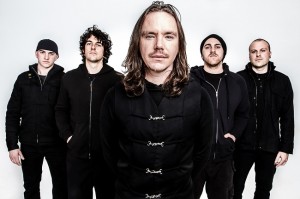 Melbourne genre-hoppers TWELVE FOOT NINJA have had a pretty good run of late. Debuting at #4 on the AIR Album charts, cracking 100,000 views of their video for 'Coming For You', and now they've managed to snare a handful of exceptional live acts to join them on their SILENT MACHINE Tour.
Joining them at The Cambridge Hotel Newcastle (Thu 10 Jan) and The Annandale Hotel Sydney (Fri 11th Jan) will be the epic post-rock instrumental outfit DUMBSAINT, along with exciting up & coming alt-rockers TEAL.
Melbourne's favourite Prog-Metal outfit CIRCLES will emerge from the studio to join TFN at the Corner Hotel (Fri 18th Jan) and Ferntree Gully (Sat 19th Jan). Expect some mind-blowing surprise guests at The Corner show, while locals THE DIECASTS and JEKHYL open the Ferntree Gully show.
In their first headline visit to WA, Twelve Foot Ninja are teaming up with the 'fierce disco groove' sounds of I, SAID THE SPARROW at Prince of Wales Bunbury (Thu 24 Jan), Amplifier Perth (Fri 25 Jan) and Mojos Fremantle (Sat 26 Jan).
Adelaide's THE KILLGIRLS will be bringing their explosive live electro-rock show to TFN's Enigma Bar Adelaide show on Fri 1 Feb.
Locals AMAGON, FIFTH DAY OF ICE & IRE will fire up the crowd in Townsville at The Venue (Thu 7 Feb), as Twelve Foot Ninja return to their Nth QLD home away from home.
The phenomenal OSAKA PUNCH join TFN at both the Tempo Hotel Brisbane (Fri 8 Feb) and Miami Shark Bar Gold Coast (Sat 9 Feb). The Tempo will get a double dose of Brisbane's finest, with the addition of psych-grunge rockers GREENTHIEF.
Check out our interview with Twelve Foot Ninja right here…
Check out our review of Silent Machine right here…
TOUR DATES
 Tickets for all shows are on sale now from twelvefootninja.com
Thu 10 Jan – Cambridge Hotel – Newcastle w/ Dumbsaint + Teal
Fri 11 Jan – Annandale Hotel – Sydney w/ Dumbsaint + Teal
Fri 18 Jan – Corner Hotel – Melbourne w/ Circles + very special surprise guests 
Sat 19 Jan – Ferntree Gully Hotel – Ferntree Gully w/ Circles + The Diecasts + Jekhyl
Thu 24 Jan – Prince of Wales – Bunbury w/ I, Said The Sparrow + guests
Fri 25 Jan – Amplifier – Perth w/ I, Said The Sparrow + guests
Sat 26 Jan – Mojos – Fremantle w/ I, Said The Sparrow + guests
Fri 1 Feb – Enigma Bar – Adelaide w/ The Killgirls + guests
Thu 7 Feb – The Venue – Townsville 
w/ Amagon + Fifth Day of Ice + Ire
Fri 8 Feb – Tempo Hotel – Brisbane w/ Osaka Punch + Greenthief
Sat 9 Feb – Miami Shark Bar – Gold Coast w/ Osaka Punch + From Within
Sun 10 Mar – Breath of Life Festival – Launceston