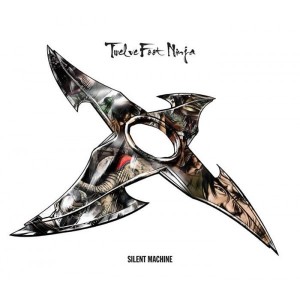 In 25 words or less: "Expect Twelve Foot Ninja's Silent Machine to be one of the most talked about albums over the coming months in Australian music."
Melbourne's Twelve Foot Ninja are not a band to do things by halves.  In the lead up to the release of this, their debut album Silent Machine, the band have embarked on a campaign they refer Project 12 – where 1 digital track, along with a digital comic has been released, each week, up until their album release date of November 2nd, that being TODAY.  Combine that with the fact we are talking of a band that has literally no boundaries when it comes to genre, and important to note that's within just the one song!  Metal, rock, world music, electronica, funk, latin, alternative rock, progressive and dub, they cover it all and then some.  You can put that down to guitarist Stevic MacKay who we recently chatted with who matter of factly states "I've got this disorder where I can't write a song in the one style, but that's basically what started the Twelve Foot Ninja concept. "
You know what the crazy thing is, as much as such a combination of such diverse styles shouldn't work, the genius with Twelve Foot Ninja is that it totally works.  Quite brilliantly, it's all incorporated into songs that never venture into much more than around 4 minutes long.  At the heart of every song is an incessant addictiveness, the melodies, choruses and hooks may seep into your senses, moreso than bludgeon you, but there's plenty of Stevic MacKay guitar riffs and crushing rhythms which will do just that.  But don't worry, there will be some ambient music, quaint atmospherics or soothing soul moments not far behind to let you ensure your faculties are in order.  Latest single Coming For You is as good a song as any on the album to demonstrate what the band is all about both musically and visually, via the rather hilarious video clip which can be seen below.
On the back of two previous EP releases and a reputation for a killer live show, Silent Machine will bring Twelve Foot Ninja to prominence on a far grander scale.  I mean, it's only so long that this twelve foot musical beast can go unnoticed, and for this beast, their time has come.  Expect Silent Machine to be one of the most talked about albums over the coming months in Australian music.  Hell, with the likes of bands such as Periphery so publicly espousing their love for Twelve Foot Ninja, Silent Machine is bound to take the band global…
11 ninja stars of out 12 ninja stars! (We don't normally bother with ratings on our reviews – but couldn't resist the opportunity on this occasion!!)
Check out our interview with Stevic MacKay right here…
Essential Information
From: Melbourne, Australia
Sounds like: Quite possibly nothing you've ever heard before…but the band might tell you Heavy Fusion.
Release date: 2nd November 2012
Record label: Volkanik Music
Website: www.twelvefootninja.com
Tour dates:
TICKETS ON SALE FRIDAY 9th NOVEMBER at www.twelvefootninja.com
Thu 10 Jan – Cambridge Hotel – Newcastle
Fri 11 Jan – Annandale Hotel – Sydney
Fri 18 Jan – Corner Hotel – Melbourne
Sat 19 Jan – Ferntree Gully Hotel – Ferntree Gully
Thu 24 Jan – Prince of Wales – Bunbury
Fri 25 Jan – Amplifier – Perth
Sat 26 Jan – Mojos – Fremantle
Fri 1 Feb – Enigma Bar – Adelaide
Thu 7 Feb – The Venue – Townsville
Fri 8 Feb – Tempo Hotel – Brisbane
Sat 9 Feb – Miami Shark Bar – Gold Coast