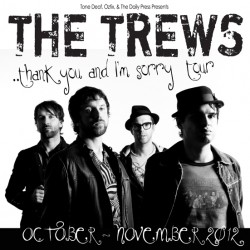 In Summary: "If you've never seen The Trews before I implore you to do so at your earliest convenience as this is one of the best rock bands I've seen play in a long, long time."
The small crowd on a Thursday night in Newtown have gathered to see Canadian rockers The Trews on this their fourth visit to Australia in the last couple of years. Armed with a new Extended EP called '…Thank You and I'm Sorry' which has new tracks and some great reworking of older songs including a cover of Paul Kelly's leaps and bounds… We're hopefully in for a showcase of old and new material tonight from the guys.
Elliot the Bull kicked off the night in style, these guys are good. Imagine a mix of Gaslight Anthem, Kings of Leon and Mumford & sons, this is what you get. Great, well played songs and with that an attitude of playing in front of thousands rather than the few here to see them.
Up next, Feeding Edgar and they are impressive, delivering a set of hook laden rock and one song just hit a key change, so extra points there. Ok hello new favourite Australian band. You win. These songs are catchy, played well and the band looks the part. This is a tight band who are now on my list to see again. You should check these guys out ASAP. With them announcing an album coming on February 1st, keep an eye out for Feeding Edgar. Trust me.
"Hi everybody we're the Trews…" singer Colin MacDonald says before opening with their Paul Kelly cover of 'Leaps and Bounds' which is rocked up to the 9's it is the perfect start for what will be a pretty awesome night for those that are here. 'The Power of Positive Drinking' is the first single lifted from the EEP and it's easy to see why, this is a perfect rock song for a live environment. 'Not Ready To Go' showcases the vocal talent of not only Colin on lead vocals but the perfectly matched harmonies of brother John-Angus, bass player Jack and drummer Sean. I truly think that's part of what makes these songs work so well, this is one cohesive unit. 'So She's Leaving' has an almost Led Zep feel to it in parts and rocked hard. The cowbell gets a good run during 'The World I Know' from last album 'Hope & Ruin' which was a masterpiece from last year, I just love the sound this four piece can make on stage it gives the recorded songs the passion they deserve.
Title track from 'Hope & Ruin' is up next and my favourite song of these guys, perfectly played and just such a well written song. 'Herm-Aphrodite (she was a guy)' from the new EP is up next and lyrically is our generations 'Lola' complete with introduction not suitable for this time slot. It gets broken down into almost a blues feel mid song but the tempo jumps back up I have a feeling this song is pretty much cemented as a future part of every Trews set moving forward.  'Tired of Waiting' is funky and seriously, how is a song like this not played all over the radio? It's sacrilege. Once again, the three part harmonies nail it for this song. 'Oblivion' from the new EEP is one of my stand outs on it and great it was great to hear the way they played it tonight.
'Not Yours To Love' once again from the new EEP slows it down a little and lets the guys show musical. With a bitchin Led Zeppelin intro into 'Poor Ol' Broken Hearted Me' a song that is now 6 years old but has been reinvented for the new EEP, and what a great version it is. Some awesome rock moves from John-Angus on the guitar were a highlight of the night and just show the passion these four guys put in to their show; the jam session outro to the track also kicked some ass. These guys can play!
'Hold Me in Your Arms' rocked hard and the set is wrapped up with the EEP closer '…And We Are The Trews' which put seven of the eight tracks from '…Thank You and I'm Sorry' in the set tonight, what's great is the new material fit in perfectly with the older tracks and made for a great blend.
Those here tonight got to witness a live set from what I think many bands wish they could be. The Trews always deliver and they once again did just that tonight. I'm glad I was here to see it I'll tell you that. If you've never seen The Trews before I implore you to do so at your earliest convenience as this is one of the best rock bands I've seen play in a long, long time.
Check out our interview with The Trews front man Colin MacDonald done just before this show here…
Essential Information
Venue: Notes at Newtown – Sydney
Date: October 25 2012
Supports: Elliot The Bull & Feeding Edgar
Website: www.thetrewsmusic.com
Set List:
Leaps and Bounds
The Power of Positive Drinking
Not Ready To Go
So She's Leaving
The World I Know
Hope & Ruin
Herm-Aphrodite (she was a guy)
Tired of Waiting
Oblivion
Not Yours To Love
Poor Ol' Broken Hearted Me
Hold Me In Your Arms
…And We Are The Trews
Catch The Trews on their remaining Australian dates:
You can WIN tickets to these shows by clicking here!
Thursday 1st November 2012: Ding Dong – Melbourne (VIC)
Tickets: www.dingdonglounge.com.au – Ph: (03) 9521 7447
Friday 2nd November 2012: The Loft – Warrnambool (VIC)
www.oztix.com.au – Ph: (03) 5561 0995
Saturday 3rd November 2012: Jive – Adelaide (SA)
Tickets: http://www.oztix.com.au or www.jivevenue.com – Ph: (08) 8211 6683
Monday 5th November 2012: Hallam Hotel – Melbourne (VIC) with SHANNON NOLL
www.hallamhotel.com.au – Ph: (03) 8786 0200