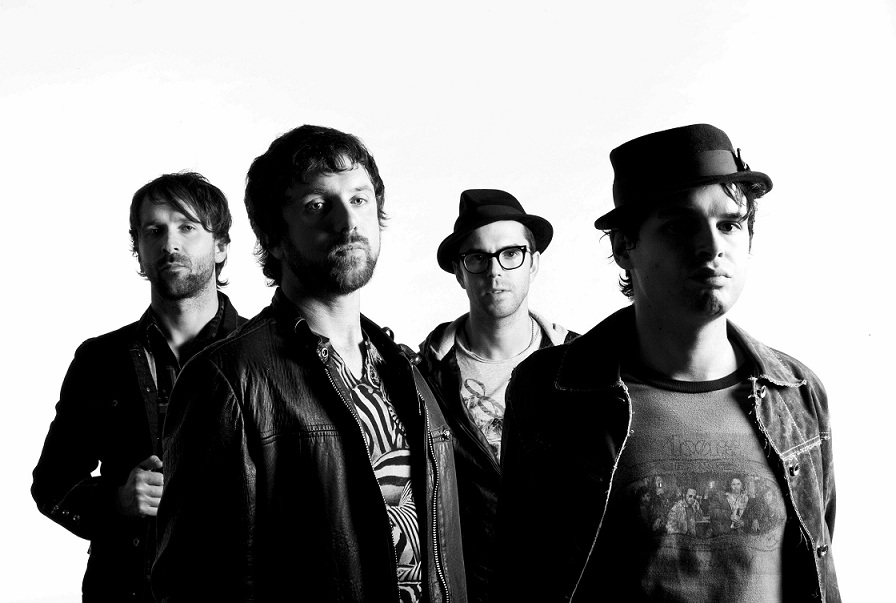 "It's funny, you can't fly further away from Canada than coming here, but it just doesn't feel like we're far away, there is a certain kinship between Canadians and Australians I find."
From Tour Press Release: Since October 2011 The Trews have managed to build a solid fan base with 150 shows across the U.S, the U.K and Australia. They have achieved a staggering 13 top ten singles in the Canadian charts including two number 1's, with a massive 12 weeks inside the Top 10 on the Canadian Active rock chart for "Misery Loves Company". They won an Independent Music Award (US) for "Hold Me In Your Arms"(released April 2011) and took out first prize in AAA/Alternative Best Hard/Rock/Metal Song at IAMA (International Acoustic Music Awards) 2010 for "Sing Your Heart Out".
It's great to see a band like this getting some recognition, when we last spoke with The Trews front man Colin MacDonald in 2011, their amazing last album 'Hope & Ruin' had only recently been released now we have once again sat down with Colin, this time before sound check at their show at Notes to talk about the new EEP '…Thank You and I'm Sorry', the band's love of Australia and Australian music and covering a Paul Kelly classic.
It's becoming a bit of a regular occurrence having The Trews in Australia which is great, we'll happily adopt you, but what is it about our lovely country that keeps you coming back for more?
We really like it, we have a lot of friends and connections that live here, we have a manager that lives here, his name is Geoff Trio, he lives in Cronulla and he is just always looking for opportunities for us to come back and tour.  We've been touring a lot in Canada over the last ten years, we've had a pretty good career there, so we're always trying to branch out and get some other territories going, and Australia is showing a bit of promise and we have like an agent here and a manager, so gigs come up, we're doing the Sydney Blues & Roots this weekend and it's always a good reason and I don't think we've really caught on here by any means but we've got like a good small following and the opportunities keep arising, so we keep coming down because we want to keep playing, we want to keep spreading the word about our band, we love the weather here, love the people and it's nice.  It's funny, you can't fly further away from Canada than coming here, but it just doesn't feel like we're far away, there is a certain kinship between Canadians and Australians I find.  All those reasons are the reasons we'll keep coming back.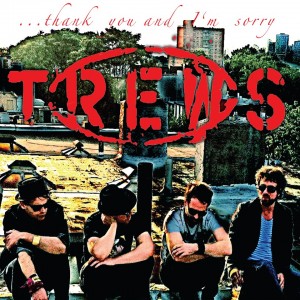 Ok, so I have to ask about the EP title, tell us the meaning behind the name '…Thank You and I'm Sorry"
It was kind of a joke title, it was funny but the guy who produced it, well John-Angus and Gordie Johnson co-produced the record, but Gordie is a longtime friend and collaborator and the day that we started making record Gordie showed up at Jack's place and Jack's got a two year old son and in the back of Jack's car he's got a car seat.  Gordie went to take the car seat out to make room for John-Angus and he caught his hand or hurt his back, he hurt himself and then got the car seat out and John-Angus said "Thank you and I'm sorry" and we thought that was a funny title and it's kind of a Canadian thing too as people thing that Canadians are always really polite and saying thank you and I'm sorry, we just thought it'd be a great title for the album.
You've included a cover of a Paul Kelly classic in 'Leaps and Bounds' what was the idea behind covering this iconic Australian track?
We just always loved it you know?  We wanted to do one cover on the record for our International and Canadian fans as we never really actually recorded a cover, and we always loved that song and we only heard it a year ago when we toured here in 2011 and we all feel in love with Paul's work and we thought it'd be really cool.  In Canada Paul's not very well known and we thought it'd be really cool to spread that great song around, so we gave it more of a rock treatment, kinda like the way Slade would do it or something, but I'm a huge fan, I think he's brilliant, I wanted to show our fans that song and it's also neat for the Australian fans, I don't know how the Aussie's are going to take to it, it's going to be hard.  I love the song, it's great.  I hope Paul likes it.
You've also got Shannon Noll in there to sing on one of your tracks 'Poor Ol' Broken Hearted Me' it sounds great, how did this idea come about?
Well once again, we've been coming down so often now and meeting so many different people on the scene, every different part of the scene with songwriters, maybe Shannon's a bit more pop rock kind of vibe, but we do love that tune and he wanted to sing on it so we thought why not. Our manager has a recording studio at his house and we recorded it one day and Shannon came in and did a vocal take, I thought he did a great job on it, really sounds great, so, yeah, all the friends we've been making we've been here four times in two years, so we're hanging out with people and meeting people and collaborations are starting to happen.
I need to ask about Herm-Aphrodite, what inspired this generations 'Lola'?
Good one. It was a story that happened to our Keyboard player.  That song was a round forever with a totally different lyric called 'Tearin' it Down' and we just never worked, it was a good songs and good melody and it just wasn't happening.  We were in Austin Texas a couple of years ago working with Gordie and we were talking about this story about our keyboard player Jeff Heisholt who plays with us in Canada, we were on tour in San Francisco and were walking around town one night and a transvestite came up to him and asked if… anyway… propositioned him (laughs) and we were just talking about the story and that's where the idea of 'She was a guy' came from, we thought it'd be a funny tongue in cheek kind of song.  Hope & Ruin was a really serious album and we all love that album a lot but we wanted to have a bit of fun with this EP, make some good bar rock and roll, funny lyrics.
So, you've just released an eight track extended EP, which is borderline album length, why release an EP now rather than a full album?
Yeah… well, good point. That version of 'Poor Ol' Broken Hearted Me' with Shannon and Rich Robinson isn't on the Canadian one, the EP in Canada is seven songs which is still long for an EP.  I mean we were going to make it five songs, we got in the studio and it took us four days to record and we just thought it caught fire and thought let's just release the whole thing.  So yeah, we're one or two songs shy of a full length album but we're calling it an EEP, Extended EP.  There you go.
Obviously you've been in writing mode, so when do you think we can expect an album?
I mean hopefully, we're hoping for next year.  We spent September off as John-Angus got married and went to Spain for a Honeymoon so I did a lot of writing in Toronto, so we're hoping to have a record out really soon. In the new age you don't have to go away like you used to, if you've got songs you just put them out, it's the age of constant information.
Your live show is always on fire, definitely something see, what can we expect this time around though?
Yeah I guess it's always going to be a bit different, I'm hoping it's getting better, and I think it's more of the same kind of ruckus , it's a lot of fun and the new material's going over really well, so yeah it's more of the same but getting better I'd say.  Good rock show.
On this tour I believe you've been getting set list suggestions from fans heading to the shows, has this been a fun exercise in changing it up a little?
Yeah well in Canada we're doing an acoustic tour right now, so in the second set the fans write the entire set from Twitter, as everyone in the audience who has a smart phone, which is everybody now can send in their requests and we don't even know what we're going to play next, it all comes on a screen on the stage with all the requests via Twitter, so that basically just makes it up on the spot and it's whatever the fans want to hear, so we get the fans to write the entire second set.
You're also heading out to play the Sydney Blues & Roots festival this weekend, are there any Aussie bands you're hoping to check out?
Yeah I'm really happy we're playing with The Angels, I really like that band and I really like The Screaming Jets when they were happening and the singer of The Screaming jets is fronting The Angels.  We really love a lot of the Aussie bands, we lobe Paul Kelly obviously, we love the rock bands like The Angels, also really like Powderfinger, we got turned on to The Screaming Jets last time we were here by friends of ours and we thought they were a really good band.  Australia has a lot of great domestic acts that don't really crack, it's like Canada, we have a lot of great domestic acts that have a hard time cracking outside too.  We're more than happy to be playing with a lot of these bands, I think the best of the Aussie stuff, like Midnight Oil, well, Midnight Oil's big everywhere, but there's just this kind of toughness in a really great melodic sense, there's a great marriage with these bands and that's what we like about all the big Aussie bands. Cold Chisel, love them a lot, Jimmy Barnes is amazing, I bought that record 'East' when I was here and that's another band that I'd never heard of and they're incredible, like 'Standing On The Outside' all the songs, it's my kind of rock and roll.  Tough, but melodic, that's what I like.
Best of luck and I guess we'll see you again in a few months when you'll more than likely be back.
Thanks man, enjoy the show.
Essential Information:
From: Canada
Band Members: Colin MacDonald – Vocals / Guitar, John-Angus MacDonald – Guitar, Jack Syperek – Bass, Sean Dalton – Drums
Website: http://www.thetrewsmusic.com/
Latest Release: '…Thank You and I'm Sorry' – EEP (Bumstead Productions / MGM)
Check out our review of their Notes at Newtown show on October 25 here…
Catch The Trews on their remaining Australian dates:
You can WIN tickets to these shows by clicking here!
Thursday 1st November 2012: Ding Dong – Melbourne (VIC)
Tickets: www.dingdonglounge.com.au – Ph: (03) 9521 7447
Friday 2nd November 2012: The Loft – Warrnambool (VIC)
www.oztix.com.au – Ph: (03) 5561 0995
Saturday 3rd November 2012: Jive – Adelaide (SA)
Tickets: http://www.oztix.com.au or www.jivevenue.com – Ph: (08) 8211 6683
Monday 5th November 2012: Hallam Hotel – Melbourne (VIC) with SHANNON NOLL
www.hallamhotel.com.au – Ph: (03) 8786 0200