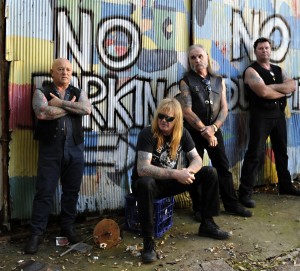 In the category of ´cult bands` ROSE TATTOO has been at the top of the pile for years. The band can take a punch and are full of vitality; they put every kick in the face behind them and still have the energy to carry on and deliver both live and on record. Their latest album, 'Blood Brothers', is a tribute to the band members Peter Wells and Ian Rilen who unfortunately recently lost their lives. But it's also a manifestation of Rock´n`Roll of the strongest form; powerful, unrelenting and wildly uncompromising. ROSE TATTOO will be bringing their balls-out live show to Sydney and Melbourne.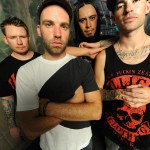 I AM GIANT are certainly a band living up to their name and will be bringing their pure unadulterated rock to the Brisbane, Adelaide and Perth shows. Their new album, 'On the Horrifying Truth', is fuelled by a youthful idealism and has an unquenchable fire in its soul.
Recent Rock n Roll Hall of Fame inductee and one of the greatest exponents of the electric guitar, SLASH, returns this August for an unmissable tour in support of his new album 'Apocalyptic Love'.
On his last visit SLASH sold out all of his Australian shows in under 10 minutes. Those shows were moved up to much larger venues and promptly sold out again.
So this time around, he will come not only armed with the most gifted rock vocalist of this generation, Mr. Myles Kennedy and the band of Conspirators, but with an arena production to deliver his fabled show; just as the rock gods intended.
SLASH & Co are set to perform an all killer career spanning set from early Guns to Velvet Revolver and 2 amazing solo albums, the latest of which, Apocalyptic Love, has garnered praise from fan forums to broadsheet newspapers and all points in between. "Like some kind of rock 'n' roll kaleidoscope, the album evinces the legendary guitarist at his best from all angles. There are soft and subdued moments. There's danger. There's mayhem. There's blues. There's shred." – Artistdirect
Like the new album, and the debut before it, the perfect rock marriage of Gibson and Marshall comes to life in SLASH's live show.  "In front of a wall of Marshall amps Slash in top hat, leather pants and sleeveless shirt played his guitar like a man possessed racing from one side of the stage to the other" Triple M.
Check out our Slash interview right here…
Check out our review of Apocalyptic Love right here…
SUNDAY 26 AUGUST MELBOURNE, HISENSE ARENA – Lic A/A
www.ticketek.com.au w/ ROSE TATTOO 
TUESDAY 28 AUGUST ADELAIDE, THEBARTON THEATRE – Lic A/A
www.oztix.com.au / www.venuetix.com.au w/ I AM GIANT
THURSDAY 30 AUGUST PERTH, METRO CITY – 18+ – Sold Out!
www.oztix.com.auw/ I AM GIANT
 Presented by Triple M, Music Max, 96FM and Soundwave Touring