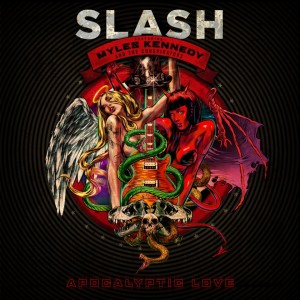 In summary: "It's exciting to me to hear new music from a new band, regardless of who is in it and how they came together, this feels like a new band to me and one I hope that will continue to make albums down the road."
From the opening riff of the title track 'Apocalyptic Love' you hear that tone, you know that sound and of course it's Slash, but when the unmistakable vocals of Myles Kennedy kick in, it's like peanut butter and jelly, like salt and pepper, like well, two other things that go together perfectly.  You see where I'm going with this?  I'm stoked, not sure about you, but I am, that this album is solely one band now don't get me wrong, I liked the first Slash record but to be able to hear this album and the cohesive band aspect of it makes it for a much greater listening experience for me.  Straight out of the gates this album is rockin'.  The title track and it's swagger move straight into the fast paced, intense 'One Last Thrill' which I need to hear Myles sing live because if he can hit all those lyrics live, he will be more of a rock star than he already is, wow, it's kick ass.
'Standing In the Sun' is great for six reasons, but I'll only tell you two, as I don't know why I typed six, but anyway, not only is it a catchy little ditty with a great chorus but you can hear the layers on this one, and the rhythm guitars of Myles that compliment Slash's leads as well as the driving rhythm section of Brent Fitz and Todd Kerns.  It's a fat sounding track and being only three in, it's my favourite of the three, let's see what can top it.  Up next is the first single you may have / should have heard, 'You're a Lie' and when I heard this for the first time I was hooked, musically I love this track with the underlying guitar parts and the huge chorus (oh in case you haven't guessed, I love a good chorus) but this one was the obvious and perfect choice for first single and fits the album, rather than a single surrounded by fodder.  Not the case at all here.
I can hear 'No More Heroes' being shouted back to the stage at a gig, it has that vibe in all its fist pumping goodness.  I can't fault this album yet and as I said before, the fact this is a band is making me enjoy this so much more.  It's exciting to hear a new band in essence so here's to more of it. 'Halo' gives us shades of the Slash of old with that sleazy riff kicking the song off, a riff that is continued under the chorus, I love that by the way.  Another big rock track there, who am I kidding?  They're everywhere!  'We Will Roam' slows it down a tint tiny bit, don't get me wrong, it isn't a ballad but it's the slowest song on the album yet, and I can actually hear this being a single and all over the radio, so fingers crossed as it's a stand out so far, I dig this one, especially a double guitar solo, you can't beat that, especially one that is an outro for the last 30 seconds showcasing the man's talent.  Man I wish I could play guitar that good.
Acoustic intro?  What is this?  Oh wait, there it is, phew, I thought we were going to have a ballad, I had my lighter next to me and it was almost lit up!  But in fact it's the six minute 'Anastasia' we're hit with and vocally on this one Myles and his harmonies are killer, the riff on this one sounds like a sped up Godfather theme and it's awesome, the six minutes allows Slash to have his freedom here and showcase a couple of great solos both of completely different feel which is something very cool.  What I love about that track is it didn't feel like six minutes as I was so in to it.  'Not For Me' starts us off slow and keeps that theme throughout the verses but builds into a monster, combining the best parts of the Slash, Myles, and The Conspirators.  Another song that needs to be played live and I could see that one stretched out into an epic on stage, a must for the set.
'Bad Rain' has me grooving along from the opening note, it's got so much swagger and in fact, it's just become my favourite on the album, this is a ripper, how can I explain it, it's not the traditional huge rock number, it's just smooth…  then we get 'Hard & Fast' not only in song title but in song itself, it makes me wonder if they will even use the words Hard or Fast in the song as it sounds like it's just named after exactly what it is!  Oh wait, yep, they just did, well it fits ha ha.  What a contrast to the last song this is, I love it but I feel like I need to type faster, I can't keep up!  There's your show opener people, mark my words, you heard it here first!  Start a gig with that and see what happens.  Yeah, you'll be in for one hell of a show, that's what'll happen.
Here's a ballad, finally… now don't get me wrong, I LOVE a ballad, was just waiting to see where it would pop up.  Here it is with 'Far And Away' and Myles takes this one hands down, his vocals are suited for not only the big rockers but he knows how to bring it down and sing the slow ones too and he's so good at it.  The song builds into some 'power' towards the end and Slash gets his time to say to Myles, 'Hey Myles, stop it, this is my song' and he shows us why with a nifty little solo thrown in there purely for that measure.  Last song on the album 'Shots Fired' does not mess around AT ALL, wow, what a perfect way to round the album out, an intense 3:48 and once again, chorus that requires gang vocals, great solo and well it's just a great package of a rock song.
Did I say it was over?  What's that? Deluxe edition bonus tracks?  Oh don't mind if I do!  Is that a talk box?!  Yes!  'Carolina' is amazing, how did this not make it on the album itself?  What a bitchin' 70's feel and groove on this one, wow, if you don't get this song on your album people, you need to search this one out, it's well worthy of a listen or twelve.  OK, I'm spoiled, another bonus track and unfortunately the last one… 'Crazy Life' sounds like it could be an anthem for many, well see, it has cowbell in it, thanks Fitzy, completely required and warranted.  Again, Slash, this should be on the album, amazing solo on this one too, if these are the bonus tracks I'd love to know what else didn't make the album, surely there is more gold out there?
I personally loved this album, it's exciting to me to hear new music from a new band, regardless of who is in it and how they came together, this feels like a new band to me and one I hope that will continue to make albums down the road.  Next step, hearing these live… can not wait.
Check out our chat with Slash right here!
Essential Information
From: USA
For fans of: R & F'N R!
Release date: 18 May 2012
Record label: Sony Music Australia
Producer: Eric Valentine
Website: www.slashonline.com and www.slashonline.com.au
Track listing:
Apocalyptic Love
One Last Thrill
Standing in the Sun
You're a Lie
No More Heroes
Halo
We Will Roam
Anastasia
Not for Me
Bad Rain
Hard & Fast
Far and Away
Shots Fired
Carolina (Deluxe Edition bonus track)
Crazy Life (Deluxe Edition bonus track)