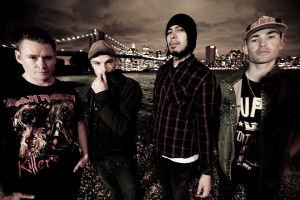 From Bio:  Live the band are a force to be reckoned with, as countless audiences around the world can attest. From headlining sold-out NZ tours, Big Day Out Auckland and Sydney, and Homegrown, to Tiger Translate parties in Vietnam, Camden Barfly, Levi's Hong Kong, Quiksilver World Pro Bali, Big Night In Singapore, Viper Room LA, Mercury Lounge New York, British Surf Champs and supporting Taking Back Sunday in the UK, I Am Giant have cut their teeth and tested their mettle on some of the world's hottest stages.
On The Horrifying Truth, I Am Giant have bound together what they describe as "a collection of stories, thoughts, observations and exploration" into one cohesive and hard-hitting explosion of sound and melody. From first song 'Purple Heart' to closer 'After The War', the sharp lyrical themes draw the listener into the band's own experience of a growing awareness of mortality and the slow loss of innocence. And yet, I Am Giant have produced an album fuelled by a youthful idealism, not despite but because of the hard learned lessons that are a reality of modern life. The Horrifying Truth is pure, unadulterated rock, with its heart on its sleeve and an unquenchable fire in its soul.
The London-based quartet is comprised of English vocalist Ed Martin, sticks-man Shelton Woolright (formerly of multi-platinum selling band Blindspott), bassist Paul Matthews (formerly of Auckland outfits Stylus and Tadpole) and veteran guitar-slinger Aja Timu, the last to join the IAG line-up. 'And We'll Defy' is the first single from I Am Giant's much anticipated debut. Bassist Paul Matthews explains "'And We'll Defy' is a song about the human need to believe in and belong to something that can define and guide us and about how vulnerable and easily led we can become as a consequence."
The album also includes all three of I Am Giant's hit singles from their 2010 City Limits EP – 'City Limits', 'Neon Sunrise' and 'Living The Crash' – all of which hit the top two spots on The Rock FM's national airplay charts, and have had combined sales in excess of 15,000, not to mention videos featuring world surfing champion Kelly Slater, champion skater Tony Hawke and some of the world's best extreme athletes.
We had a chat with I Am Giant bass player Paul Matthews and happily deemed them one of our Best Things You've Never Heard
Let's start with the basics first – what brought the band together and what is the inspiration behind the band name?
I guess it was the combination of the fantasy imagery we got from 'Giant' and wanting a name that would have some impact and reciprocate the size of the music we were aiming to write.
You have twenty seconds in an elevator to try and convince someone to listen to your music without resorting to bribery or violence, what do you tell them?
If it was a lady I'd leave the job to Shelton.. and if its a dude.. I'd do a quick profile.. ie 87 year old deaf man I'd leave alone this time round.. Anybody else… Taking into consideration the percentage chance that they would be a fan of rock music… I'd say "Mate! Check out my band!" and just show them one of our music vids on my Iphone.. Thats what I'd do…
One would like to think that the music would do the talking! If the music doesn't connect with them… I don't think it'll matter what bullshit I spin or what fragrance of lynx im wearing.
Can you introduce each member of your band and give us a rock 'n' roll fact or myth about each of them?
Ed Martin is the Vocalist.. FACT: we auditioned 160 guys and he was the best.. he's an amazing singer.
Shelton Woolright is the drummer FACT: He has over 20 Tattoos including his hometown Massey on the inside of his lip.
Aja Timu is the guitarist MYTH: He isn't Dave Grohl despite looking A LOT like him.
I play Bass MYTH: I was a stunt double for David Hasselhoff on baywatch and did backing vocals on his smash Hit "Current of Love".
With your debut album released two months ago, how has the overall reaction been to it so far?
So far it's been great. And as its spreading we're slowly getting more and more people from all over the world contacting us on Facebook and by email to say they they're digging it… and tell us what their favourite moments on the record are. We've had emails from All over Europe, Bangladesh, Russia, Columbia to name a few.. even Papua New Guinea.
In terms of getting out there and making people aware of our record and our band.. it's still early days for I Am Giant.
The album itself is a monster with such a diverse sound and feel, did you have that as a set goal when putting it together or did it naturally happen as the recording / songs progressed?
A little of both… we wrote a lot of songs.. and experimented… and then along with our Producer/Engineer Forrester Savell we chose the ones that we thought would fit well and make a great sounding record.. we even held off some really great tracks that we thought would be more suited to our next record. We were conscious of making an interesting, alternative album that was a journey, with different emotions and textures but still sounded like a cohesive record.. Again Forrester was integral in making it sound cohesive.
You're already working on songs for album number two and from what I've heard it sounds awesome, what can people expect from the new material?
I'd say simply an elaboration on the sound we have already established and if we get it right… goosebumps from every song. Thats what we aim to do. If we get goosebumps.. than the song is happening. We do have a load of ideas for the next record already and as you've heard even got some demos ready..but we have a lot more writing to do. We'll keep experimenting, continue to grow as musicians and artists and keep trying to improve and write the best possible songs.
In terms of your song writing, what do you consider to be the most important ingredients that make up an I Am Giant song?
Lyrics about concepts that we've talked about at length, that tell stories and reflect our own thoughts, feelings and discoveries. Great melodies, and groove.
Both lyrically and musically, what or who inspires/influences your music the most?
Its our combined collection of experiences as musicians and in life… and combined tastes in music… Between us the list of influential artists is so so long… !! and they range from the 70's to Present day so.. It would just be an assortment of great songs and great bands…
Both yourself and Shelton take on a producer role with the band, what is it that you enjoy about being behind the desk compared to actually playing the music?
Shelton and I have a production company which we started in the UK back in 2007, before we even formed I Am Giant.
For us its all just a means to create music and the more involved we can be the better. I love playing too.. but nowadays I just combine the whole process into one big musical creation.. I actually prefer when I'm playing bass and guitar to operate the protools myself.
It cuts out the need to communicate when I'd like to stop and start the playback etc.
I went straight from school to Audio engineering school so engineering has always just been integral with creating music for me. These days a lot of people are proficient at recording thanks to advancements and availability of home recording on computers etc.. at the very least they can record and develop their own demos.
The technical side of recording.. after doing it for a while its something you get passionate about too.. trying to get great sounds.. and new sounds…finding out what combination of guitars, amps, mics, consoles you like etc.
From a producers point of view its always easier to hear what someone else could improve on other than yourself, so its great to have another perspective that you trust. Shelton has a great ear and can make great decisions about what the track needs or is missing, and like myself, he's a very picky guy so.. it pushes the quality up I feel.
Now for those that haven't yet seen you perform before, what can people expect from one of your live shows?
A lot of energy… from all four of us… raw, live rock energy… No backing tracks or sequencers … just good, tight, live renditions of our record where we push and pull tempos as it suits.. and plenty of backing vocals…
You were just here in Australia playing shows supporting your new album, how were the shows here?
The Australian shows were brilliant.. everyone who saw us was super supportive and complimentary.. The bands we played with, Dead Letter Circus, Trial Kennedy and Jericco were awesome and introduced us to their audiences.. so we had a great time and we can't wait to come back.
Being based in London, what is the scene for your music like there compared to other territories?
London is massive… theres so much music, and so many different styles here that you will always find an audience if you get yourself out there… but it is a big town and it takes time.
We'd belong in the same Alt Rock genre as bands like the Foo Fighters and Muse who fill stadiums here, and our shows have been gradually getting bigger and bigger.
Lastly, here's a chance to gaze into your crystal ball. In the next year, I Am Giant will have:
1. Released the Horrifying Truth in a number of other territories around the globe.
2. Played shit loads of shows all over the globe.
3. Written enough songs to put together a killer second record.
Essential Information
From: London
Sounds like: Alternative Rock
Band members: Ed Martin – Vocals, Paul Matthews – Bass, Shelton Woolright – Drums, Aja Timu- Guitar
Website: http://www.iamgiant.com
Latest release: The Horrifying Truth (2011, Sony Music)