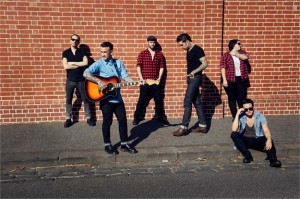 KING CANNONS are flying high right now, just returning from sell out shows on their exclusive album launch tour across the East Coast. 
"This is what rock n roll is all about." TIME OFF – July 2012
The new single is the title track from their debut album and is the defining moment of KING CANNONS formative years.  KING CANNONS debut album "The Brightest Light" was released in June in Australia, New Zealand, Germany, Austria, Switzerland and The Netherlands with some strong chart placements including a #12 debut in New Zealand.
"KING CANNONS are one shake rock, two parts retro soul and 100 per cent proof that they are the real deal."
The West Australian June 2012
August, September see's KING CANNONS bring their stunning live show to an extensive run of gigs with an incredible line up.  The main support in VIC, SA, NSW & QLD is UK lads, ALL THE YOUNG bringing their anthemic rock show to our shores for the first time.  Think Oasis meet's The Jam and you are on track for what to expect for the live show from one of the hottest new rock bands in the UK.  Melbourne roots rockers THE HELLO MORNING will be opening support in VIC, SA and NSW.  Kiwi punkers TRANSISTORS kick off on the Gold Coast and Byron, CANNONS old mates THE STRUMS share the stage with them on the Sunshine Coast.
KING CANNONS "THE BRIGHTEST LIGHT" TOUR
DATES AND TICKET INFO
Friday 24th August – Sol Bar, MAROOCHYDORE, QLD **
www.oztix.com.au / 1300 762 545 / Available at the venue
Saturday 25th August – GYMPIE MUSTER MUSIC FESTIVAL, GYMPIE, QLD **
www.muster.com.au
Wednesday 29th August 2012 – The Loft, WARRNAMBOOL, VIC
www.oztix.com.au / 1300 762 545 / Capricorn Records (03) 5562 2803
Thursday 30th August 2012 – Jive Bar, ADELAIDE, SA
www.mosthix.com.au / 1300 GET TIX
Friday 31st August 2012 – The Bended Elbow, GEELONG, VIC
www.spinninghalf.com.au  / www.oztix.com.au / 1300 762 545
Saturday 1st September 2012 – The Corner, MELBOURNE, VIC
www.cornerhotel.com / (03) 9427 9198
Wednesday 5th September 2012 – The Patch, WOLLONGONG, NSW
www.oztix.com.au / 1300 762 545
Thursday 6th September 2012 – Transit Bar, CANBERRA, ACT
www.mosthix.com.au / 1300 GET TIX
Friday 7th September 2012 – The Annandale, SYDNEY, NSW
www.annandalehotel.com / 02 9550 1078
Saturday 8th September 2012 – Hotel Great Northern, NEWCASTLE, NSW
www.oztix.com.au / 1300 762 545
Wednesday 12th September 2012 – BIG SOUND, BRISBANE, QLD
Thursday 13th September 2012, BIG SOUND, BRISBANE, QLD
www.oztix.com.au / 1300 762 545
Friday 14th September 2012 – Miami Shark Bar, GOLD COAST, QLD
www.oztix.com.au / 1300 762 545
Saturday 15th September – The Northern, BYRON BAY, NSW
www.oztix.com.au / 1300 762 545 / Available at the venue 
** All The Young Not Appearing
KING CANNONS | 'THE BRIGHTEST LIGHT' | ALBUM OUT NOW
Read our interview with Luke Yeoward here…
Read our review of 'The Brightest Light' here…
www.theinsoundfromwayout.com
http://www.kingcannons.com/
www.kingcannons.tumblr.com
www.twitter.com/kingcannons
http://www.youtube.com/kingcannonstv
www.alltheyoung.co.uk
www.thehellomorning.com.au
www.transistors.bandcamp.com
www.thestrums.net.au
www.footstompmusic.com