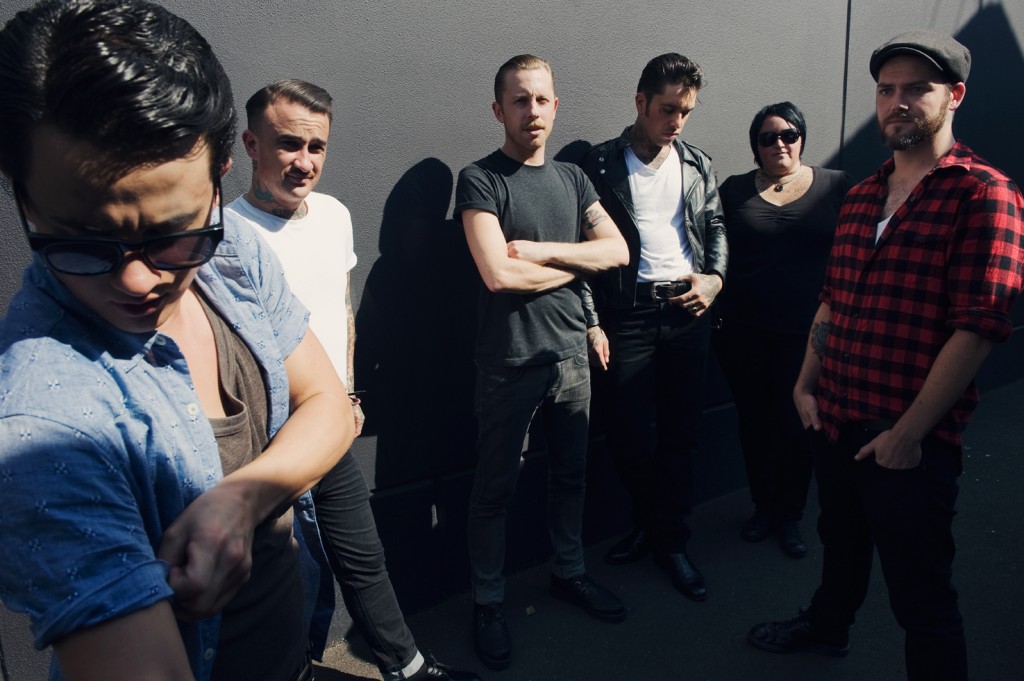 "We've been busting our ass the whole time, but when you want to do something properly and there's a bunch of other people, like a major record label involved, they've got things they have to work around as well in order for it to be timed right, so there you go, long story short, well as short as I can make it anyway…"
We love it when our 'Best Things You've Never Heard' go on to release full length albums and even more so when they are on a mission to take on the world, and with King Cannons' debut album 'The Brightest Light' released this week they are sure to do just that.  This is a band with more passion that a fruit, more heart than a Care Bear and a live show that would blow even the sturdiest of barns away.  Essentially this is a band that is one to check out immediately.
We caught up once again with King Cannons front man Luke Yeoward to talk all about the new album, touring and what the future holds for the Cannons.
Almost two years since the release of your EP comes the debut album, what took so long?
Yeah tell me about it, well, when did we start writing?  2011, January 1st, the start of the year, started writing, that took a while to get a new bunch of songs together because we didn't want to scrape together the best of the back catalogue like we did with the EP which wasn't even that great in my mind anyway.  So got that together, then had to demo those songs and then whittle down the songs and then go in and record the songs and we did the first session  with Tom Larkin at 'Sing Sing' and that was like a two week period, and had a bit of trouble with our old drummer then, so after that we had to get rid of him, and then we had to find a new drummer, and I wrote some more songs and the album got a little bit of an injection of life with these new songs which happened to be 'The Brightest Light' title track, 'Too Young' the latest single and another song called 'Too Hot To Handle' which I wrote with Tij from a band called Boy In A Box.  Then we went back in to the studio in early February, recorded those songs, got the album mixed, went through all the sausage factory of music that it goes through to make a real record and got release date and June 22nd is the release date, so we're finally here.  We've been busting our ass the whole time, but when you want to do something properly and there's a bunch of other people, like a major record label involved, they've got things they have to work around as well in order for it to be timed right, so there you go, long story short, well as short as I can make it anyway…
The album is diverse, as is the band itself, but how did you decide on the tracks that would make the final cut?
It was pretty much that the songs that move you the most, the songs that I felt like I had the biggest connection with and the lyrics were strong and made sense next to the song before it and the song after it, and also stuff that has formality and most of, well 75% of the songs in my eyes are very pop structured songs which is great because I love pop music.  All of the lyrics are very heart on the sleeve, soul on the sleeve, this is my story up until now therefore this is going to be the theme for our very first record so that people know our background and where we're from and what's going on in my life and our lives up until now.  That's the general theme across the record.
The Brightest Light I feel is the best song that Bruce Springsteen never wrote, complete with Harmonica solo, amazing!  Why did this song in particular score naming rights of the album?
Thanks mate.  Well like I said, that song covers the overall theme of the album and it sounded better than calling the album 'Charlie O' ha ha ha ha.  The Brightest Light really is you know?  It's that thing, it's talking about teenage years as a punk rocker growing up and remembering as an adult that you're still free in the world and that you can embrace that freedom and still celebrate life even when things get kind of dark or things are looking a little bit shit, there's always a flip side and there's always a reason to rise above and I think 'The Brightest Light' says those things and that's how it earned it's spot.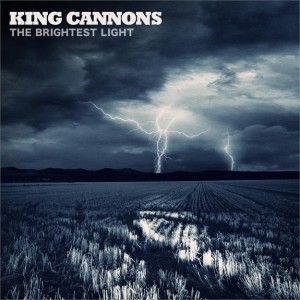 You did mention it before, but was there a conscious decision to not include older material on the debut album?
No, the label wanted to put 'Take The Rock' on the album but to me that's repackaging old material and reselling it to people and that's wrong to me.  Whenever I get in to a new band I always look through their back catalogue and if I want to find songs I'll buy their old releases you know.  Our CD with 'Take The Rock' on it is still in the shops, it only came out a couple of years ago, if people want that song that's where they'll find it.  That's what will make that EP special, the album is a new thing and we wanted to make it new and make sure that we're always stepping forward and we're not repackaging the same old stuff and pass it off as something new.
You had Tom Larkin from Shihad produce the album, what did he bring out of the band that you may have not thought to do previously?
The ability to really rock up our rhythm section and to get our drums sounding good, cause we record live, it's pretty important to make sure everything is really tight when you're not using a click track and you're not playing to a grid and you're not layering tracks, you're just fuckin' six people recording together in a room you've got to make sure everybody's pulling their weight.  Tom's had plenty of experience behind a drum kit and also behind a mixing desk so he managed to get out of us what was required and especially in the drum front and I thank God he was there for that because I'd hate to think what it would be like if he wasn't ha ha.
For anyone who has seen your live shows knows of the passion and heart put into each performance, was this something you specifically tried to get across in the recordings?
Yeah man for sure, I only had a couple of specifications for this record when we went in to recording because I didn't really know what it was going to be about or what the sound was going to be or any of that sort of stuff, it was just learn as you go sort of thing as we'd never made a full length record before or had that amount of time in the studio.  I said it was going to be honest, it was going to be straightforward and it's going to be real, and a part of that is trying to capture that thing that we do live that people love and we love and what we're good at doing in to the studio.  It's a hard thing to do, but like I said, back to that old fashioned style of recording is the foundation of it, if you can do that, then basically that's it.
You're hitting the road in Australia for the album launch, what can we expect to see at the shows this time around?
Well we've got Tom Larkin as a special guest playing drums which is going to be hilarious and awesome.  Also, we've got a bunch of songs that we've never played before off the album which is good, we'll be playing the album in its entirety, maybe a few special treats here and there of some random songs as we like to mix it up a bit every time we tour ha ha, and a really energized live show as per usual as we haven't played in Australia for a while and we're all really excited about doing some gigs.  We've been working on a set list and it's sounding really good and we're all really amped.
Now, you've just returned from a European tour, how did the shows go over there?
Awesome dude, we were playing to 1,500 – 2,000 people, sold out every night because the band we were touring with are doing pretty well over there and we were just playing in front of these crowds that were just so keen, so keen, and they received our music really well, and I'm pretty sure we gained a bunch of new fans and the people there were just really, really nice and the hospitality was nice, the venues were nice and the production was good.  We were driving around in a fuckin' night liner bus you know, with bunk beds and stuff as opposed to a Ford Falcon station wagon ha ha, it was pretty cool dude, yeah.  In Australia you struggle to get a dozen beers out of a venue, if you rock up in Germany they give you Breakfast, Lunch, Dinner and a shower, so Australia step it up alright…
You have the album being released in a few territories over there, any plans to take it to all of them?
Yep, multiple plans, it's just a timing thing.  Rome wasn't built in a day, and our music being released over the world isn't happening overnight either, we've got plenty of plans for it, at the moment we've EMI releasing our record all across Europe, Australia and New Zealand simultaneously on June 22nd so I think for a first album having that major record release across that many territories is a pretty good achievement.
What are the plans for the rest of the year?
Well, we've got the album launch shows coming up, and we'll probably do a couple of shows back in New Zealand, maybe at the Auckland Power Station I think which would be pretty cool.  We'll get down to Christchurch New Zealand which needs some lovin' down there with all the hardships they've had over the last little while with the earthquakes and stuff.  Then we'll be doing a big bunch of touring in Australia later in the year after the album's been out for a bit, get out to the smaller towns and way up north and way across and down and all that jazz and I think we might end up back in Europe before the year is out hopefully.  Yeah so a lot of touring and just spreading the word that we've got a record out and here we are and we're not going anywhere…
Essential Information
From: Melbourne, Australia
Band members: Luke Yeoward, Jonno Smith, Dan McKay, Rob Ting, Mike Ting, Lanae Eruera
Website: http://www.kingcannons.com
Latest release: The Brightest Light (June 22 – Capitol / EMI Music Australia)
Check out our review of 'The Brightest Light' here…
KING CANNONS – "THE BRIGHTEST LIGHT" ALBUM LAUNCH TOUR
With Special Guests MAJOR TOM & THE ATOMS
On-Sale now

THURSDAY 21 JUNE – MELBOURNE ALBUM LAUNCH – THE TOFF IN TOWN
Tickets: $12.00 + BF
Physical Album Bundle Tickets: $21.60 + BF (Collected on night of show)
www.moshtix.com.au or 1300 GET TIX
THURSDAY 28 JUNE – SYDNEY ALBUM LAUNCH – OXFORD ART FACTORY
Tickets: $12.00 + BF
Physical Album Bundle Tickets: $21.40 + BF (To be received via post before 22nd June)
www.moshtix.com.au or 1300 GET TIX
FRIDAY 29 JUNE – BRISBANE ALBUM LAUNCH – THE OLD MUSEUM
Tickets: $12.00 + BF
Physical Album Bundle Tickets: $21.50 + BF (To be received via post before 22nd June)
www.oztix.com.au or 1300 762 545
www.oldmuseum.org or 07 3257 4089
SATURDAY 30 JUNE – RIVER SESSIONS FESTIVAL – MACKAY, QLD
Tickets: www.riversessions.com.au
(Major Tom & The Atoms Not Appearing)