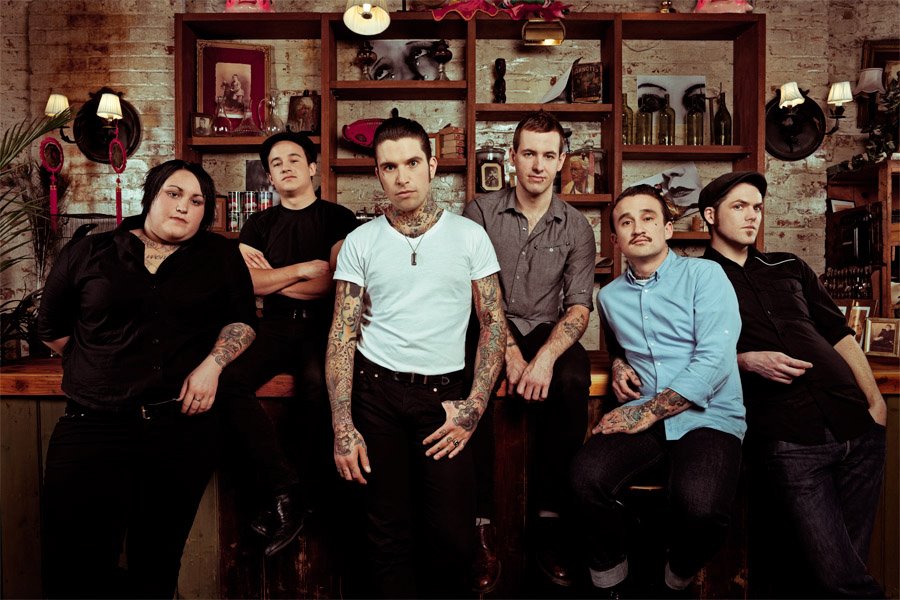 "I just think that people are really hanging out for something that you can tap your feet to and relate to and get some kind of tingly feeling from, that's what I love about music and there's very little in new music that's doing that for me at the moment so I'm trying to rectify that situation."
From Bio: The KING CANNONS road has been long and winding, veering through remote parts of rural NZ and the UK all the way to their current HQ: Melbourne, Australia.
It's a simple ethos that hasn't changed since day one. Soul food. Six good friends coming together to create music crafted from their many different individual influences and inspirations.  The result is ferocious. A constantly evolving rock n roll sound that is unmistakable.  From Springsteen to The Clash, Chuck Berry to the ease of a Jamaican Sunday, KING CANNONS play with ferocity and passion, committed to bringing their characteristic vibe to each and every stage.
It's music for everyone who shares in that sentiment. It's immediate and impacting, always on point, and exactly what you need to get moving.
We chatted to singer Luke Yeoward about the band, their unique sound, touring and their influences and inspirations…
So for starters, how would YOU describe your music to someone that hasn't had the pleasure of hearing King Cannons before?
This is always tough but I'm getting used to answering this question in the best way I can.  It's like Springsteen meets Strummer with a little bit of soul and a little bit of Jamaican music in there for good measure.  That's my elevator pitch on the band.
See the way I look at it is that no one in Australia really sounds like King Cannons at the moment, how hard was it to come up with this sound?
We didn't really think about it, that's the funny thing.  So not that hard but I don't want to sound like a prick by saying that either, I guess I've been playing music since I was 10 or 11, I started my first band when I was 13 so music and me playing it and writing it has been a constantly evolving thing and this is just where we're at now and this is what comes naturally to us and it just so happens that it works ha ha
Now you mentioned the Springsteen's and the Strummer's before but who would you site as personally your major influences?
Yeah well those pretty much are, but as far as modern music goes, well at least music from the last 30 years, those guys are definitely up there with inspirational figures for me as front men, but it's also really broad as well because I really love everybody from Willie Nelson to Chuck Berry and Bo Diddley to modern guys like Aloe Blacc and Cee Lo Green and all those kinds of crazy stuff, I just like music and I like learning things from it and different people and different walks of life you know.
You recently finished a tour with The Living End.  How were those shows?
Fantastic man, you couldn't have really asked for a better support slot for us, unless it was AC/DC or something.  I tell you what, it was pretty special, it was great to play for their fans and all that sort of stuff, they're great guys and really professional unit and just great to be working with them for a short time you know.
Did you pick up any pointers from them?
Yeah, of course Chris is a fantastic guitarist, and everybody else in the band are fantastic in their own right, all it made us think was that wow we really need to practise a lot more ha ha.  There's technical things that we learnt as well, like the way their road crew operates and their stage is all set up, but that's boring to most people but it's good for us as a band trying to make a career out of music to learn about all that kind of stuff.  It was good to be around.
When a word like 'passion' is thrown around when talking about a King Cannons live show, just what is it that playing live that you enjoy?
I don't know. It's a good loud racket with a bunch of people alive in the one spot at the same time you know, it's like doing something that can only be taken in at that very one point in time, it's a magic thing.  Live music is a magic thing.  I believe in everything that I sing about so I can't wait to kind of get it out to people and hopefully get that back from the people in the crowd, that same kind of passion, it's like an ever feeding cycle if its going well you know.
Your album has been noted as having an early 2012 release, do you have a firm release date yet for it?
No specific date.  February is the month, whether it's early Feb or late Feb it's still undisclosed, I don't know myself ha ha
After having only the one EP, were the songs on the album ones you've had floating around for a while or were they written specifically for the album?
There's only one song that we've had floating around for about a year and a half that's made it on to the album.  All the other songs that are on the album I wrote at the start of this year and right up to recording pretty much.  So it's all a brand new batch of songs and we wanted to do that as we've grown so much as a band over the last few years of being together and we've got a back catalogue of between 40 and 60 songs and some of them sound pretty redundant compared to the new stuff we were coming up with, so we just wanted to make the album as fresh and as relevant to this point in time that we could you know?  So we decided to not think about 'oh this has been around for such amount of time that we really need to release it' it's more like this is new and this is what we're feeling right now we'd put it out at this point in time you know.
A song like 'Take The Rock' which is how I heard you first is such a catchy little track, any chance we can expect to hear that or any of the EP tracks on the album?
No, I was very adamant about that.  I think that 'Take The Rock' had it's place for the EP and I didn't want to repackage that for fans, for some reason I think that if people want 'Take The Rock' the EP is the place for that and the album is the album.  I didn't want to repackage the same material and try and get it out to people, I didn't feel right about it.
The songs on your EP go from all out rock to a reggae feel at one point, can we expect this kind of diversity on the album also?
Yeah but in a more mature and refined way.  To me the EP is what it is, the EP works as a best of our back catalogue, that's the way I've always viewed the EP more like let's get these songs together because they're the best of the songs we've had for the last couple of years.  The album is a step towards something a bit more mature and a bit more heartfelt and a little bit more depth in the song writing, and it's more personal than a lot of the stuff, with the exception of 'Teenage Dreams' on the EP, the album is going to have a lot of story telling songs and a lot of personal stuff about me and my life and experiences, so that's what you can kind of expect for the record.
How did the recording process for the album compare to that of your EP?
For starters when we did the EP, we didn't have any producers or anything like that and it was kind of done over a couple of days and the album was done over a couple of weeks and we had a producer and an engineer and all that kind of stuff.  To be honest, we were pretty green when we were making the EP and I think as musicians, even in the last year we've improved ten fold.  With Tom Larkin being the drummer from Shihad, he really worked our drummer Josh hard in the studio and really brought the best out of him and all of us, so it's a lot different, it's a lot more full on and I think the result is better because of I, it was good to go through.  Its like a hardening up process making your first album, it's like can you handle this and if you can handle it you get to make a record, you know what I mean?
I was going to ask about Tom Larkin, what did he bring to the table during recording that you hadn't thought of?
Well it was definitely drum stuff you know, we needed a lot of work in the rhythm side of things and Tom really brought that to our attention, really helped mock up all that sort of stuff, even though our music's simple, it's always really hard to capture the magic of a simple song.  Especially because we all record live, so we all set up in a room and all six of us record at the same time, we don't do drums and then bass and then guitars and then vocals, everything gets laid down at the same time for the bed of the track and the magic has to be there you know.  So Tom was great at being behind the controls and just being there listening and giving us moral support and really making sure the vibe was good  and all that kind of stuff and overall he's just a good dude, that's why we got him on board because we can talk to him like a regular person, he's not pretentious or anything like that, he's just very straight forward and I appreciate the straight up quality, like if something's crap it's 'oh this is fucking crap' so that's what you want.
You're heading out for some more touring starting later this month what can people expect from your headlining shows?
A longer set than what we were doing on The Living End thing, but definitely the same level of intensity and just more songs.  We're going to be obviously showcasing all the songs from the album, so that's really peoples only chance to see us before the album drops and get a little bit of a taste as to what's going to be on there.  That and we've got a double A side 7" along with that and some real cool support bands, The Strums and Jackson Firebird, but we're just in the rehearsal studio at the moment working on the set list, it's all sounding pretty good so it should just be a fun time.
Now I haven't had a chance to see you before, but I've heard that your show draws from the E Street Band and the likes, did you look to anyone in regards to performing or does it just come out that way when you're up there on stage?
Yeah we kind of just put everything in and it comes out that way, I mean we've been obviously fans if music our whole lives and we've seen a lot of groups live and we've also now with the internet you've got YouTube and you can watch everything on DVD so you can watch all these great old performers like Bo Diddley and Chuck Berry and all this brilliant old footage from all these old blues guys and how they used to deliver things.  I think we kind of take the way they used to do things and put it out through us, I think a lot of that is missing from a lot of modern music, there's a lot of stuff that's all kind of weird for the sake of weird and arty for the sake of arty and I think they've missed the memo of kind of what Rock and Roll should be ha ha.  I just think that people are really hanging out for something that you can tap your feet to and relate to and get some kind of tingly feeling from, that's what I love about music and there's very little in new music that's doing that for me at the moment so I'm trying to rectify that situation.
What was the decision behind giving away your new single 'Stand Right Up' for free on your website?
Well we just finished recording the album when we were about to head out to The Living End tour and we just wanted to have something to coincide with that and we were doing a thing where if people sign up to our mailing list and we give them a track so we can keep them informed of what we're doing and really bring them in to the family sort of thing and just kind of really make the most of playing to all these new people and really making sure they're going to come back to the show next time.  That's all we need to make a career out of what we're doing.
Is there a story behind the song?
No, not really.  Lanae recorded a bongo rhythm and sent it to me and I had a guitar jam a couple of days before with a guy named Benny from Benny and the Fly By Nighters, a Melbourne rhythm and blues act and I watched some Otis Redding footage and I woke up and smashed out that song in the morning and within the next kind of few weeks we were recording it for the album.  It was just one of those weird instantaneous dancy, catchy you know, call to arms kind of numbers and I was like 'fucking hell this is insane how quickly this has come together, it's got to go on the record' so it as the first one out there.
Are you hitting the festival circuit this summer?
There's a whole bunch of stuff that's up in the air at the moment, but we're confirmed to do Festival of the Sun in Port Macquarie and Peats Ridge which is New Years, but there's still some things in the air.  I'm not really sure, I haven't spoken to the guy that books us for a while so I must get on to him and ask him ha ha.
Has there been any international prospects for the band?
Yeah definitely but I need to make sure we've got our home territory covered first you know?  I've had a lot of experience with putting the cart before the horse when it comes to trying to leap overseas before you're really worth anything and as soon as you go over to bigger territories they'll just eat you alive you know, so I really want to make we've got a really good solid foundation here in Australia and the album's out and we're doing some good shows over here before we branch out overseas.
You're also a bit of tattoo enthusiast; do you have much room left?
No not much room.  I was a tattoo enthusiast, I'm not so enthused about them now, pretty sick of them ha ha ha but there's not much I can do about that now.  I can't get rid of them which is a bit of a pain the ass, so I've just learned to live with them and that's about it really ha ha
Well it's part of the look, it's part of the band really
Yeah and I guess it is now and it's funny because some people have that as a really strong talking point about us and for me I don't even see the tattoos but I guess to un tattooed people it would come across as 'fuckin' hell these guys have got a lot of tattoos' but for me it's completely normal.
Just lastly, is there any message to those that haven't seen you before, why should they come to a King Cannons show?
I hopefully think it will help brighten things up a little bit, I think people just need to have a dance and have a good time and just find some stuff that they can relate to and I hope that we can kind of bring that to people with King Cannons and the band's we're touring with.  I definitely want to make sure that people come and see us on this tour because the limited edition 7" of 'Stand Right Up' and 'Shot To Kill' is only going to be available at those shows and I really don't want people to miss out on that.
Catch King Cannons at the following tour dates on the 'Shot To Kill' tour
27th October: National Hotel, Geelong VIC
28th October: The Loft, Warnambool VIC
29th October: East Brunswick Hotel, Melbourne VIC
3rd November: The Great Northern Hotel, Newcastle NSW
4th November: Oxford Arts Factory, Sydney NSW
5th November: Transit Bar, Canberra ACT
10th November: Sol Bar, Maroochydore, QLD
11th November: Beach Hotel, Byron Bay NSW
12th November: Old Museum, Brisbane QLD
Essential Information
From: Melbourne, Australia
Sounds like: Rock
Band members: Luke Yeoward, Jonno Smith, Josh Matthews, Rob Ting, Mike Ting, Lanae Eruera
Website: www.kingcannons.com
Latest release: Stand Right Up (single) (2011 – EMI Music / Capitol) availble for free via www.kingcannons.com
Check them out if you like: The Clash, Bruce Springsteen, Chuck Berry and more…