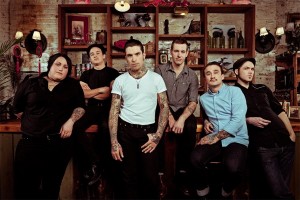 Friday night in Sydney and The Oxford Art Factory was ready to rock and if it wasn't ready it was very soon going to have to be ready as this onslaught of great Australian rock was about to engulf it.
The Strums kicked of the night to a slowly filling room and got the crowd going with their catchy rock tunes, no breaks just song after song in their 30 minute set. Their single 'Two & 2 is 3' is a prefect introduction to the band, so check it out when you get a chance.  They ended their set with a cover of 'You Really Got Me' which was well done version and showed just how much passion this new band has. A great band to look out for in the future.
Jackson Firebird. How do I explain what I'm seeing? A duo featuring one guy on guitar / vocals and the other beating the shit out of a box and tray like there is no tomorrow. Amazing. Thankfully for his own sake he moved to a drum kit and proceeded to beat that within an inch of its life. This is blues rock at its best, heavy rockin' sound with great vocals and just a great vibe. Unbelievable. To me this is what Spiderbait should've sounded like. This band has talent and they should go far. They've just scored many a new fan this evening.
The odd crowd gathered here tonight sees a mix of rockers in all shapes and sizes who are here to take in the magical blend that is King Cannons. So I can enjoy every second of what I've been told is a show not to miss, well I won't, so I'll be back after the show. Ok so I'm back and all I can say is WOW. I just witnessed a band who absolutely love what they do, a band that truly look to self proclaimed influences like Bruce Springsteen & the E Street band to put on their show, quite frankly this 6 piece band on stage absolutely owned every single person in the room tonight.
The bands 50 minute set took us through some old favourites from their EP like 'Take The Rock' being thrown in very early got the crowd rockin' but what surprised me is the new material. It came across like they'd been playing these songs for years, they fit seamlessly into the set and the crowd lapped them all up eagerly awaiting the release of the bands debut album (which is due in February) and you can count me as one of those eager beavers! A brilliant rocked up cover of Fleetwood Mac's 'Go Your Own Way' was a stand out as I watched each member of King Cannons with their own stage presence, this really isn't a one man show, it really is much like The E Street Band as I mentioned before where you can watch any band member at any time and their individualaties. New songs like the current single 'Stand Right Up' which is as infecteous as all get up and destined to be a Summer anthem and the tour's namesake 'Shot To Kill' are King Cannons at their best, such passion is portrayed in their music and it shows on record but live, a completely different kettle of fish, this is where the songs shine.
Finishing off the night with 'Teenage Dreams' (their song from their EP, not to ever be confused with Katy Perry's Teenage Dream) and a rowdy crowd sing along, the band left the stage happy in knowing that they most certainly did their job tonight and wowed the concert goers, as I hear people still singing the chorus to the final song on the way out and a number of expressions of 'How good was that?!' being heard between friends, that makes me happy that people felt the same way I did.  My only downfall was in my height of seeing one of the coolest rock shows I've seen in a while is that I forgot to buy merch.  Oh well, there will be a next time…
King Cannons are truly a pleasure to watch live and given the chance you should head out and see this band, and this tour when it hits your city. I'm tempted to jump on a flight to follow them to their next stop, THAT'S how much I enjoyed tonight.
Essential Information
Venue: Oxford Art Factory – Sydney
Date: November 4 2011
Supports: The Strums and Jackson Firebird
Website: www.kingcannons.com
Set List:
Call For Help
Cool Change
Surviving
Take The Rock
Stand Right Up
Gasoline
Smoked Out City
Charlie O
On Our Own
Ride Again
131 Bop
The Brightest Light
Shot To Kill
Teenage Dreams
Catch King Cannons on their remaining 'Shot To Kill' tour dates
5th November: Transit Bar, Canberra ACT
10th November: Sol Bar, Maroochydore, QLD
11th November: Beach Hotel, Byron Bay NSW
12th November: Old Museum, Brisbane QLD
Check out our recent interview with King Cannons here…