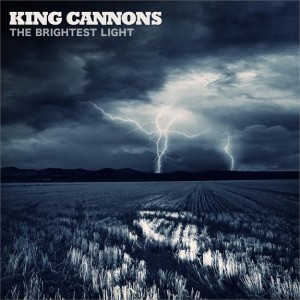 In 25 words or less:  'The Brightest Light' is fresh, it's new, it's diverse, it's rockin' and King Cannons may just be your new favourite band.
I've been excited about this pending release from the second I heard 'Take The Rock' from King Cannons' debut EP back in 2010… yeah, that long I personally have been waiting for this debut album and now it's finally here and I couldn't be happier if I was twins!
'Stand Right Up' is a song that has been around for a little while so it is the most well-known of the album and one of the best, it's a great start to the album and gives you an idea of what you're in for, this is a classic rock style sounding album that was recorded live and you can most definitely feel that coming through in the songs.  Newest single 'Too Young' is a stand out for sure and gives you that heart that King Cannons put into their music, but it's title track 'The Brightest Light' that takes the cake for me, this is in my opinion the best song that Bruce Springsteen never wrote, it has that prefect feel for a song with its smooth verses and blaring chorus, it delivers both musically and lyrically, and with a harmonica solo in it, well, you just can't go wrong.  This is one I can't wait to see played live, I can imagine it will be a winner.
'Too Hot To Handle' is a perfect sing along rocker complete with perfect clap along section, 'Call For Help' is so well produced (thanks to Shihad's Tom Larkin at the helm), musically there are so many elements in here and the percussion is pristine, taking this song to what it needs to be.  It's more of a middle of the road rocker that starts the balance of the album, where we've had these previous tracks belted out at us, we slow it down a little and it works so well.  This song reminds me of a Tom Petty vibe at times and that's a good thing.  'Shot To Kill' also a song that's been around for a bit brings back that Springsteen vibe and it's probably the catchiest song on the album, this is a winner.  What King Cannons do which I love as I mentioned is balance, as we've just gone from high energy choruses in 'Shot To Kill' and 'Ride Again' then to the almost mellow reggae styled 'Charlie O' which shows the diversity of this band, normally I'd shy away from a song like this but I found myself swaying along with it, I guess it just grabs you.  'The Cool Change' and 'On Our Own' are great album tracks both as rockers and then we're hit with 'Everyman's Tale' which is such a well written song, stripped away are the raucous guitars and driving melodies to give us this acoustic track.  So simple, yet so effective.  'The Last Post' is a rocker and far from the bugle piece we all know but instead a perfect way to round out this great album.
There's just something about this band that oozes cool, there's a sound that is vintage yet modern that takes the best elements of legends such as Bruce Springsteen and Joe Strummer and delivers with so much passion and soul.  Essentially this is a band that truly loves what they do and it shows.  Where it shows the most though is in their live act, if you've had the privilege of seeing King Cannons live you'll know what I mean, in my opinion they're one of, if not the best live band in Australia at the moment and these songs will be a perfect addition into their already amazing live show.
I loved this album and hopefully you will too, check out the tracks below to get a feel for the Cannons, they may just be your new favourite band…
Check out our interview with King Cannons front man Luke Yeoward here…
Essential Information
From: Melbourne, Australia
For fans of: Roots / Rock
Release date: 22 June 2012
Record label: Capitol / EMI Music Australia
Producer: Tom Larkin
Website: http://www.kingcannons.com
Track listing:
Stand Right Up
Too Young
The Brightest Light
Too Hot To Handle
Call For Help
Shot To Kill
Ride Again
Charlie O
The Cool Change
On Our Own
Everyman's Tale
The Last Post