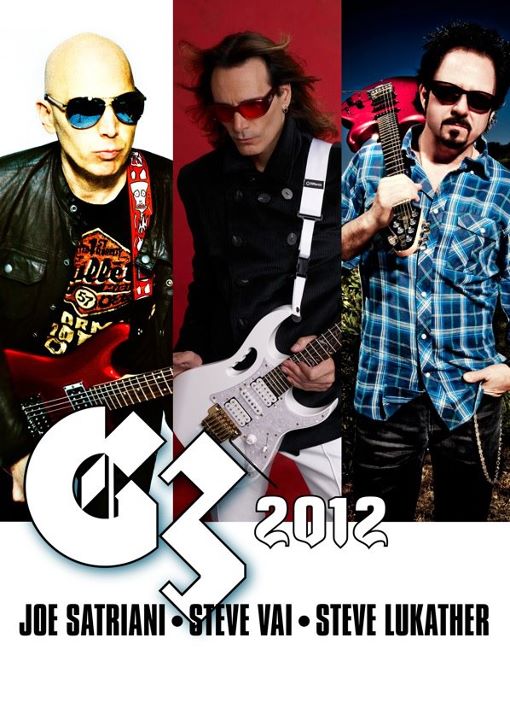 G3, for the uninitiated is the essentially the brainchild of Joe Satriani.  Since it's inception in 1996, the G3 lineup has been bringing to life and stages around the world, a trio of guitar playing combinations many probably only imagined possible in their wildest dreams.  With Satriani and Vai being "G1" and "G2" for the majority of G3 performances over the years, past guitarists to round out the lineup have included the likes of Eric Johnson, John Petrucci, Paul Gilbert, Eric Johnson, Yngwie Malmsteen, Steve Morse, Kenny Wayne Shepherd and here in Australia in 2012, we have Steve Lukather.
With the setting for tonight's guitar shred extravaganza the grand old Palais Theatre, not too surprisingly, given the decorum expected of patrons at many past concerts at the venue, we were greeted with the announcement that dancing in the aisles and standing up in your seat would not be tolerated. Nothing about no dancing on the ceiling though,…sorry couldn't resist that one, but Steve Lukather did play on that Lionel Richie album.  Given the nature of tonight's performance, it obviously was no surprise to see a heavily male dominated crowd…that was as much a certainty as it was hearing a guitar solo tonight!
Having more than just a casual awareness of his solo material, Steve Lukather was certainly the performer I was most intrigued to see this evening.  Hearing some of the pre-show banter, there was an air of anticipation as to whether any Toto material would be aired tonight, but not surprisingly, we were treated to a bunch of cuts from Luke's solo albums, mostly his most recent, All's Well That Ends Well.  Through no fault of his own, disappointingly the sound throughout Luke's set was pretty muddy and muddled, with the powerhouse drumming from Eric Valentine largely dominating the mix.  Vocally, Luke's style perfectly compliments the bluesy and brooding rock of his songs, with the opening Hero With A 1000 Eyes and the hard rocking ode to celebrity infatuation, Flash In The Pan being the highlights.  Coming across with a warm and highly appreciative stage presence, Lukather delivered a classy and assured display, validating exactly why he has been in such demand over the years for over 2,000 session recordings, not to mention guitarist in 30 million selling Toto!
From the moment he walked on stage, Steve Vai held the audience in the palm of his hands.  Much to my delight, with a setlist largely comprising his most popular material, I was able to "sing along" to virtually every note, from opener The Audience Is Listening, through to Tender Surrender and the epic closer For The Love Of God.  The fact that a 45 minute instrumental set could seemingly vanish into thin air is testimony of Vai's ability to craft actual songs.  But maybe it's just the sheer bewilderment one is faced with for much of a Steve Vai performance at his ability to do what it is he does so damn effortlessly.  With a myriad of facial expressions to accompany every hit of the whammy bar, or bended note, or the sounds he is able to extract from that instrument.  For the love of bass, there was lots of thumping action during his set – at times too loud, whilst Mike Keneally provided lots of cameo performances on keys and trading guitar licks.  With this set being merely a teaser or sorts, hopefully we will one day again soon be treated to a full blown Steve Vai tour.
G3 is Satriani's baby so to speak, and as headline act he delivered a simply flawless performance.  The opening trio of Ice 9, Flying In A Blue Dream and Satch Boogie well and truly get the set off to a flyer.  Not necessarily having the captivating stage presence of Steve Vai, when it comes to watching Satriani live, bald dome and sunglasses aside, it's all about simply watching in awe at his abilities to navigate a fretboard.  Some rarer tracks such as Secret Prayer off the Crystal Planet album made an appearance and Always With Me, Always With You and Surfing With The Alien closed out the set, two of the greatest "soundtrack" style pieces that have ever graced my ears.
We were promised lots of crazy shredding during the G3 jam that closes out the show and that's what Satriani, Vai and Lukather delivered.  Vai did vocals on the Frank Zappa track My Guitar Wants To Kill Your Mamma, Lukather hit us with Little Wing and Satriani closed out with Rockin' In The Free World.  Whilst each are more than competent vocally, this was not about vocals, it was all about the guitar, and lots of slashing guitar at that.  The jam gave the three yet more opportunity to mesmerise the packed house with more guitar wonderment.  Really, there's not much more I can say with words that will adequate match the abilities of three of the most talented musicians you are likely to ever see…
Check out our interview with Joe Satriani…
Check out our interview with Steve Lukather…
Essential Information
Date: 31 March 2012
Venue: The Palais Theatre, Melbourne
Supports: None
Encores: None
Website: