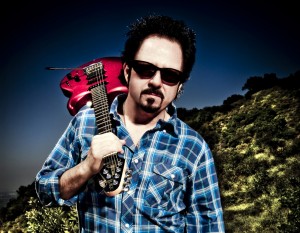 Steve Lukather, well where does one even attempt to start to introduce a guitarist who has spent over 35 years in one of the worlds biggest bands, Toto, with over 35 million album sales, who contributed his guitar talents to over 2,000 studio recordings which incidentally are some of the biggest records of all time, I mean, everybody has heard of Thriller, right? and who has also released 8 highly acclaimed solo albums, with the most recent being the 2010 release All's Well That End's Well.
2012 is shaping up to be a massive year for "Luke" as he is commonly referred, in April he will be out in Australia as part of the G3 lineup, along with Joe Satriani and Steve Vai.  He will then be returning to the USA to do a run of dates as part of Ringo Starr's All Star Band, European dates with Toto, there are new songs to be written for a 2013 solo release, there's a book to be thinking about….then there is planning for 2013's 35th Anniversary World Tour for Toto.  Yes, Steve Lukather is currently one busy man, but not so busy that he couldn't spend some time chatting to us about all the above and more, much more…
Hey Steve, thanks for chatting today!  So in a few weeks, you will be heading to Australia for a series of G3 performances, so tell me, what was your initial reaction to being invited onto the G3 lineup by Joe Satriani?
Well let me just preface this by saying that Joe, Steve and I have been really, really good friends for a really long time.  I'm a huge fan, we've played together at various times and Joe asked me to sit in years ago and Steve and I won a Grammy together back in 2001 and I'm just a huge fan of these guys.  You know, I'm not the obvious call, but when I got the call I was like, really?  I felt there maybe was a whole bunch of other guys who perhaps should be doing this tour, but you know, Joe said that he really wanted me to do this and I guess he asked Steve too.  We are such good buds and I'm sort of a different player so maybe it will make it a little bit more interesting, I don't know.  I'm only going to do these two weeks and I think other guys will maybe hop on and do the rest of the world, but that's not for me to say.  I'm deeply honoured and I get to show a different side of myself.  I've kind of been reinventing myself these last few years so it gives me a chance to come out and show that.  Particularly having the opportunity to do that in Australia!
So you have your band coming out with you to perform at the G3 shows, is that right?
Yes I'm bringing my own band out, with Eric Valentine on drums and Steve Weingart and keyboards and Renee Jones on bass.  Actually Eric is going to play with Vai as well.  Mike Keneally is going to play with Joe and Steve and we are all going to play together at the end, so it's one big happy family of friends!  That vibe is going to come across to the people, there will be a lot of laughter and support and as I said I'm such a huge fan of all those guys and all the musicians in the band, so it will be a lot of fun.
And what of the setlist that you are likely to be performing, what have you got lined up for us, a bunch of songs from your latest solo release All's Well That Ends Well?
I'll be doing a bunch of stuff off my solo records and I've certainly got a bunch of that to choose from.  I'll sing a bit and play some other stuff, so it won't just all be instrumental music, so I'll be showing a different side to maybe what those guys would.  At the end we will all just jam together in what will be a free for all.  Joe makes the call on all this, I'm just along for the ride, whatever those guys want to do, I'm cool with!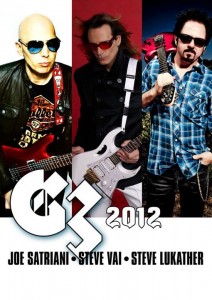 At this stage is this G3 lineup only likely to see performances in Australia?
Well I've got a full year lined up as it is.  I was honoured when Joe asked me and it hit me at a perfect time and I was kind of like let me go do this down in Australia, then the rest of the year I'm overwhelmed with work.  It's one of those things that has always been on my bucket list so to speak and here I am, it's nearly here!  I'm excited, but also a little bit nervous, but in a good way!  I'm hoping people will dig what flavour I bring to the overall picture so to speak.
So not only have you got G3 coming up, but you've also been invited to play as part of the Ringo Starr all star band, that must have been a major honour for you and one of great significance given it all started for you with The Beatles?
Yeah man, that comes full circle for me, given it all started with The Beatles and that's why I play the music in the first place and to end up here all these years later, I'm really, really excited.  I had a chance to work with Paul and George over the years, but this to go on tour with Ringo it's more than just doing a session or hanging out one night.  This is really exciting for me, it's a great band, a bunch of old friends and a few new ones, and it's going to be huge fun!
You've already started getting stuck into your new solo album, and you're still touring on the back of your most recent release.  So how is that all coming together so far, have you started actually recording tracks, or is it very much early days of writing?
Yes we've been all over the place and now we get to bring it down under!  It's the first time I've brought by solo stuff down there, it's quite a but different to Toto, it's not poppy, it's got a lot more meat and taters on it you know.  As for the new album, yeah I'm just tracking right now.  I've done about eight things, I've got a bunch of words to write, but it's coming along really well, it will be out next year.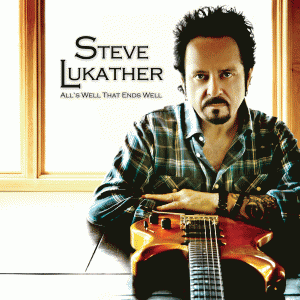 As far as the writing sessions for the new material, compared to when you would have been writing for that last album, I guess there's been a lot happen in your own life in the last couple of years?
Yeah I was in a pretty dark place that last time.  But that happens, you write about what you're going through in life.  That was a really tough time in my life.  I lost my mom, I lost my marriage, I had a baby, it sounds like a bad soap opera you know and I went through a lot of darkness and I've come out of that and now everything seems to be in repair as it were.  I'm enjoying my life, I'm really focussed, I'm really healthy, I quit partying and drinking and smoking and all that crazy shit and I'm feeling better than ever.  I'm really into playing and music and life and just enjoying all the opportunities and how lucky I am.  I'm just really trying to enjoy every moment of this right now as a lot of my friends – I've either lost a few, some are sick and I'm just going, I'm healthy, I really need to enjoy this. 35 years of my life I've put into this and it's been an amazing journey and I really still feel like there's a lot that still needs to be done and I'm in the moment and ready to take it all on.  Challenges are always good for the soul!
Just speaking of song writing, if you look at the way you write a song now, compared to the early days, in what ways do you think your writing style has changed?
Well you know, I like to think its gotten better and certainly more mature.  Certainly from a lyrical standpoint it absolutely is.  But you know, I'm not trying to write hit pop songs, so as an artist it opens up a lot of territory, both harmonically speaking and also just song form, I can do more interesting and artsy kind of things.  I'm going to take that last record, that next step forwards with the new one and I'm really pleased with how things have been going.  I'm not afraid to take chances now, and I'm not trying to compete with Paich (David Paich, Toto keyboards) to write the single or whatever.  You know those were great, great times and it led me to where I am now, but at the same time I have a freedom now without A&R people telling you the type of song you have to write, so there's a freedom to what I do now and it's a wonderful feeling to have that freedom.
But new songs is not all you've been writing, you've also set out on the mammoth task to write a book.  So I guess here in 2012, why did you feel that now was the right time to get started on a book?
Well I only have a few more months to write it before the end of the world, don't I…. (laughs).  You know I figured it was time as people have been after me.  I did this thing for the Grammy Museum, I was invited and they had a guitar great week and they invited me down for it. Have you ever seen a show called The Actors Studio? well it was kind of like that, where they start asking a whole bunch of random questions about your life.  Well this guy Scott who was one of the heads of the Grammy Museum, he did a lot of homework and asked me, can you do this thing in front of an audience and it was like 250 people packed into this small theatre and this guy Scott asked me all these questions and I started telling all these stories about my life in the studios working on things like the Thriller album and working with Paul McCartney and Miles Davis and what it was like working on this, or working with that person.  You know my agents were there too and they were like, you just have to write a book, I had people cracking up in the aisles with funny stories and talking about how some of these records were made.  You know, I've had a chance to have my hand in some pretty big records over the years you know and I have stories to tell about some of this stuff you know.  I don't want to write about some boring sex, drugs, rock 'n' roll story about the rise and fall and rise again.  It's just a boring story, nobody cares about how many girls I screwed or how much blow I did back in the 80's.  I may pepper it with a few things that are funny and outrageous and which some people can't believe actually happened, but I don't want to throw my friends under the bus or dig up old wounds you know.  I have enough really great stories about how these records were made and exactly how we did some of the things we did and the creative processes of who came up with what parts and some really funny stories about some of the people who are really legendary characters, without delving into the dark and nasty side of it all, because I don't have to do that you know.  Name me an artist, I've got a million stories…  So I've got my buddy Lonn Friend who was the Editor of Rip Magazine and who I went to high school with, he's a real writer, so we've been getting together and I've been telling him these crazy stories and now were just trying to focus it and doing some sample chapters right now and I've got a lot of interest in it, so we'll see!
I know you've only just started the process, but compared to writing or recording a song, how is writing a book (laughs)?
Well you know it's really going to be hard to condense 35 years of my life and 2,000 records with every major star you could think of over the last 40 years into a couple of hundred pages….  And that doesn't even touch into the Toto story which is a whole different bag of tricks, that has to be in there too, but I could do just a whole book on that.  I'm really going to do my life and times in the studios you know and if that goes well, who knows, one thing at a time!
So as far as guitars are concerned, what's happening in that space at the moment, anything you wanted to specifically mention with regards to, any new signature models on the horizon or the like?
Well I've got a new Music Man Signature L3 that's coming out.  I've been doing this for the last 20 years and it's been very successful.  A lot of really cool people play the guitars, I mean Joe Walsh has been playing my guitar.  It was so funny, he sent me a photo of him playing the guitar, flipping me off, for my birthday and he's one of my childhood heroes!  The first time we worked together was on Don Henley's first solo album, I think I was 23 when I did that.  I started in the studios when I was like 18 and 19 years old so it's kind of weird to think of all this time that's gone by….
And especially here in 2012 when you consider how it's coming full circle for you now, with invites from people such as Ringo Starr etc.
Well yeah, and being in the studio with Jeff Beck.  I mean I produced a whole album on him that never came out which is a shame, but that's a whole another story.  I've been in the room with Clapton, jammed on stage with Eddie Van Halen who's one of my oldest friends, I've played with Miles Davis, Joni Mitchell asked me to join her band, Elton asked me to join his band, I've got all these great stories about my life, I might as well share them before I get senile!
Now next year, 2013 is the big 35th anniversary coming up for Toto isn't it, I'm sure you've already started planning for that?
Yes, we've got a big world tour and I hope we're coming Down Under with that as well.  You'll be able to dig this version of the band, as you've seen the other one and I think this is a little truer to the original.  The tour is going to be a big deal, it's going to be filmed and we' talking about doing all kinds of crazy stuff, there's just so many things on the table!
Well from what we've just talked about today, that's 2012 and 2013 pretty much wrapped up already!
Oh yeah, I'm pretty much spoken for till 2015!  Which is a wonderful position to be in at my age and everything going on in the world and me not really being some superstar guy, I'm pretty well off, I'm grooving and really happy.  Now if I can meet a nice girl, it would be perfect (laughs)….
Essential Information
From: USA
Website: www.stevelukather.net
Latest release: All's Well That Ends Well (2011)
Don't miss the axeman's night of nights! G3 performing at:
Wellington, Michael Fowler Centre – Saturday March 24
Auckland, Logan Campbell Centre – Sunday March 25
Canberra, Royal Theatre – Tuesday March 27
Newcastle, Panthers – Wednesday March 29
Sydney,  Hordern Pavilion – Friday March 30 – reserved seating
Melbourne, Palais Theatre – Saturday March 31
Melbourne, Palais Theatre – Sunday April 1 * Just announced.
Adelaide, Festival Theatre – Tuesday April 3
Brisbane, Convention Centre -Thursday April 5
Byron Bay, Bluesfest – Monday April 9
Three guitar heroes! Three bands! The infamous G3 Jam – all packed into ONE hot show!
Prepare to witness some of the most electrifyingly brilliant displays of guitar mastery ever seen when the most anticipated international live guitar event arrives in March 2012!
G3 bring their combined guitar pyrotechnics to Australia & New Zealand in what will be dazzling two-and-a-half-hour-long shows of guitar wizardry and musical daring.
G3 guitar gods Joe Satriani and Steve Vai will be joined on tour by the renowned Steve Lukather.
Fans will be treated to individual sets by each guitarist with their own bands before joining Satriani and his band on stage for an all-star jam session.
Since its inception and instant success in 1996, an incarnation of G3 has toured almost annually. Featuring three selected guitarists of this generation, G3 have performed sold out shows in the US, Europe, South America, Japan and here in Australia.
Founded by Joe Satriani, G3 has featured many celebrated guitarists including: Steve Vai, Kenny Wayne Shepherd, Yngwie Malmsteen, Robert Fripp, Adrian Legg and Eric Johnson.
This year's line up threatens to over-shadow all of them.  Please note that the lineup will also be performing as part of the Byron Bay Bluesfest, all the details for that can be found by clicking right here….
Joe Satriani is universally hailed as one of the most technically accomplished and respected guitar players in the history of rock music. Since his 1987 breakthrough album, 'Surfing With The Alien' – the first instrumental guitar album to break into the US top 40 and still considered one of the most influential instrumental guitar albums to date – Satriani quickly established his reputation as one of rock's most important guitarists and has continually been voted the best guitarist in leading guitar magazine readers' polls. Satriani has gone on to sell more than 10 million albums worldwide, garner 14 Grammy nominations, develop his own guitar line with Ibanez, and continues to push the envelope of modern rock guitar playing.  He recently released his 14th studio album, 'Black Swans And Wormhole Wizards' and heads supergroup Chickenfoot.
Steve Vai, a Grammy award-winning guitar virtuoso with career sales of more than 15 million albums worldwide, his sheer breathtaking guitar wizardry is acclaimed in the rock world and beyond.  In 1990 with the release of his 3rd and ground-breaking solo album 'Passion and Warfare', Vai solidified his standing as one of the greatest guitarists of all time.  While Vai clearly had what was needed to make indelible impressions during his stays with Frank Zappa, David Lee Roth and Whitesnake, plus numerous collaborations and guest appearances, it's as a solo artist that he's made his most unique and compelling contributions.  His latest live album and DVD project, 'Where the Wild Things Are', is a major achievement from a musical alchemist of the highest order.
Steve Lukather is a five-time Grammy award winning guitarist and a founding member of Toto.  Over an extensive career spanning more than 35 years, with Toto Lukather has sold more than 30 million albums worldwide. He has also played on more than 1,500 records, in all styles of music, from Michael Jackson's 'Thriller' to Miles Davis, Earth Wind and Fire, Cheap Trick, Paul McCartney, George Harrison, Don Henley, Alice Cooper, Elton John, Eric Clapton, Quincy Jones and many more.  Lukather has released eight solo albums including his latest 'All's Well that Ends Well'.