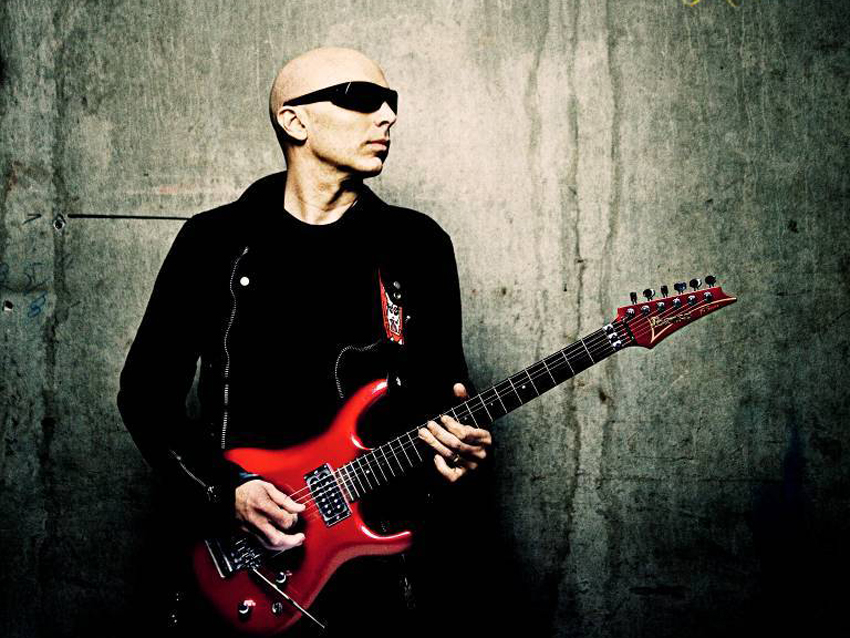 "On the G3 we have to do a lot things together, so on a typical show day I'm gonna be hanging out with the two Steve's and we'll be doing a lot of meet and greet, we'll be doing a sound check and we'll hang out for maybe eight hours together and it culminates with a jam.  So we're always hanging out talking guitars and music, goofing around and so it's great camaraderie."
Joe Satriani is universally hailed as one of the most technically accomplished and respected guitar players in the history of rock music. Since his 1987 breakthrough album, 'Surfing With The Alien' – the first instrumental guitar album to break into the US top 40 and still considered one of the most influential instrumental guitar albums to date – Satriani quickly established his reputation as one of rock's most important guitarists and has continually been voted the best guitarist in leading guitar magazine readers' polls. Satriani has gone on to sell more than 10 million albums worldwide, garner 14 Grammy nominations, develop his own guitar line with Ibanez, and continues to push the envelope of modern rock guitar playing.  He recently released his 14th studio album, 'Black Swans And Wormhole Wizards' and heads supergroup Chickenfoot.  He is also just about to release his new 3D Blu-ray and DVD 'Satchurated' which was shot live in Montreal.
Joe is currently in Australia for the G3 shows, this time with Steve Vai and Steve Lukather and is sure to take these shows to another level and we were lucky enough to be able to talk to Joe today about G3, who he's always wanted to play with, his legacy of a 25 year old album, the stories behind the 3D concert film 'Satchurated' and much, much more.
Being founder and part of the G3 concerts for a number of years, what is it that you enjoy about them that keeps you coming back for more?
Oh the camaraderie, the artistic exchange and the reaction from the audience you know, I guess those are three important points. The camaraderie is great because you often go on tour and you've got opening bands and middle bands and stuff like that, but you're often like separate caravans, just sort of travelling together, you sometime arrive and depart shows separately. On the G3 we have to do a lot things together, so on a typical show day I'm gonna be hanging out with the two Steve's and we'll be doing a lot of meet and greet, we'll be doing a sound check and we'll hang out for maybe eight hours together and it culminates with a jam.  So we're always hanging out talking guitars and music, goofing around and so it's great camaraderie and then we get to musically I think sort of push each other to excel because it's just exciting to stand next to two other guys that play like crazy and you want to do your best.  So there's that and I do believe the audience gets an extra thrill out of seeing three players that they really like playing together because it doesn't happen, it just doesn't happen in any other place.  Maybe at a benefit show here or there, but there isn't any other show like it, where the fans can come out and see guitar players that are different from each other but they enjoy listening to at different times in their life and then all of a sudden there they are, together, mixing it up playing great rock songs of the last sixty years, it's just a very unique experience.
Now for those, such as myself that have never been to a G3 gig before can you give us a run down on what people can expect at a show?
We settled on a formula that really worked, that really made the fans happy.  Each band gets to do an equal timed set, so in this case, Steve Lukather starts the show, he does a 45 minute set of whatever he wants to do and then Steve Vai comes out with his band then he does a 45 minute set of whatever he wants to do, I come out with my guys and I do the same thing, so we're all given the same amount of time to put on a show that's just about us, our music and our fans.  Then right after my last song I invite the other two guitarists out to join my band and then we start the G3 jam and depending on the venue, we always do at least three songs, sometime we can do a little bit more.  We kind of mix it up and trade solos and each of us take turns singing and it's a lot of fun.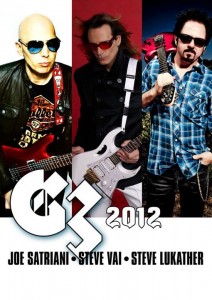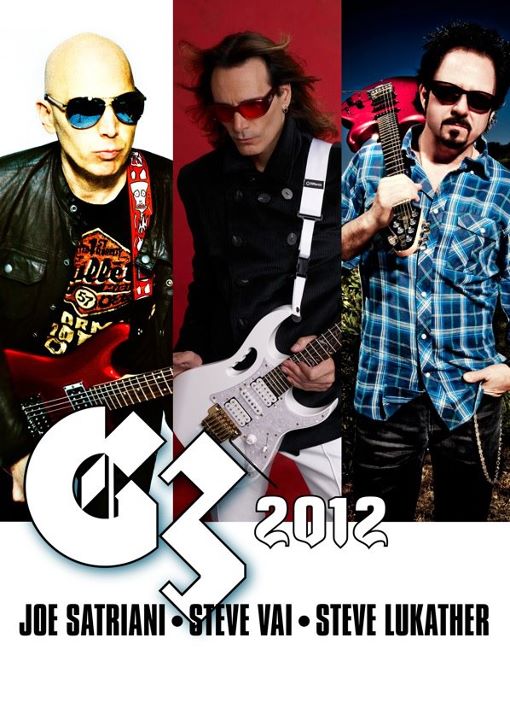 This the first time you've toured with Steve Lukather, why was he the choice for this time around?
Oh we got lucky there, Steve has jumped on stage with me and my band and also at different G3's in the US, a lot, since we started this, it's been way back in '96, so he's sort of part of the family but we've never had him out as an official G3 performer and it just so happened that this year I wanted to try and do three separate G3's and it can be difficult to find participants, as you've gotta reach out and pull them out of their solo schedule, or if they play with a band you've got to see if they can step out of their band and give you six weeks or three weeks here and there in different continents or territories around the world.  So it just so happened when I asked Steve last Summer cause we wound up on a festival in France last July I said "What are you doing in March and would you be able to come Down Under with us?" He had this little window of opportunity right before heading to Asia and I signed him up then and there.  We got really lucky because he adds a really different kind of music to the show that I don't think we've had before, it's very different to say Yngwie or Eric Johnson or Paul Gilbert or John Petrucci, you know he's got his own thing going and that's what really make the G3 show work is the difference between each player.
Is there anyone you've ever wanted to get on the bill but haven't been successful in getting yet?
Oh of course yeah ha ha, I started out, I think I called Eddie Van Halen every year for six years ha ha ha, until I finally got it through my head that I don't think he wants to come out with us you know?  That's cool, not everybody like's having a little solo spot, I mean Eddie certainly doesn't need it because Van Halen is his solo band so to speak, but I'm a big fan of Eddie's and I know the fans would go nuts to see him play next to two other guys because he's never done it.  People only see him playing with his brother and now his son, so it would be a unique thing but I've sort of given up on that one.  We did the same things with Jeff Beck, we called him every year and we came close, he almost did it one year, it was going to be Billy Gibbons, Jeff Beck and myself and then at the last minute I think Jeff felt he wanted to do something else.  I always respected their decisions because it really is, artistically they have to feel good about it, they have to feel like it's the right time for them to go out and to not only play their set and to play with these other people that they may not know.  So we in our group we have a little bit of an advantage that we know each other quite well, of course Steve Vai and myself we got back as kids together, going to the same high school, so we've known each other for a long time and we're comfortable with just about any playing arrangement that we wind up in together.
You know someone like Jimmy Page or Jeff Beck, you ask them and they don't know who we are really and they just might not feel comfortable, but I haven't given up ha ha.  We've had some great walk ons, we've had Billy Gibbons come out and play with us in Houston Texas, we've had Brian May come out two or three times in London and join us, he's always fantastic, he's got to be the best human being on the planet and the people love him every time he steps out on stage and he plays amazing so we've had some great times like that where those guys we've tried to get as regular G3 participants have come out as special guests on selected nights.  We've been trying to get Tommy Emmanuel for ages but the guy's like booked two years in advance, so there you go ha ha. I think he's the best acoustic guitar player there ever was you know?  It's just scheduling.
I see you've got Steve Morse going out in Europe?
Yeah, that's going to be great, Steve and I have played together a lot and it's funny it's always been with Deep Purple or when a G3 has rolled through Orlando Florida, he lives outside of there and hes come on as a guest, that's another situation where we've had him on stage a lot, maybe ten times we've stood next to each other and played but he's never been out with his solo band, so we're very excited.  Especially having him out there in South America with John Petrucci because I know John is a big Steve Morse fan and I was just trading some emails with John this morning, he's extremely excited about it and we'll have Steve, both Steve's once again, Steve Vai and Steve Morse out in Europe, so a lot of Steve's on this G3 season.
Is it your mission to get every guitar player named Steve to play on the G3 bill?
Ha ha I think that's a good idea, you know, Steve Stevens, who else can I get?  That would be a good contest, come up with as many shredding Steve's as you can.
I recently saw your 3D movie 'Satchurated' which was a different
experience visually. What was your decision behind creating that?
You know, this was kind of a serendipitous moment where I was on tour, not really thinking about making a concert film or even a video for DVD and out of the blue the directors called me and said, hey we have some mutual friends like Steve Vai and so and so and we would really like to make a 3D movie of this concert tour, we think we can do a concert film of Joe Satriani that's never been done before quite this way and we want to make it for theatrical release.  Of course I was kind of surprised and then we started to look at some of their other DVD's and I was really blown away at the quality and attention to detail.  It turns out these two guys, they're brothers, they are musicians themselves, so they're meticulous at capturing not only the music and the energy of the band but making all the parts work together and you wouldn't believe how long it takes to get music and pictures to line up, it's unbelievable ha ha.
You think it'd be the easiest thing in the world but you can spend twelve months trying to get every not to synch up with every finger thing because the cameras whether they're 2D or 3D, digital or analogue are very funny and they like to move around a bit. I think this was the first time where we felt that there was not one single problem that we encountered in that light bit I think the most important thing is that they brought a sensibility to 3D that I'd never seen before, which was to truly make the 3D a vehicle to bring people in to the concert, not to goof around with it you know.  As a matter of fact they told me to not be pointing the guitar at the cameras all the time ha ha you know doing all that stuff that's reserved for teenage horror flicks or something like that or amusement park things.  So we really tried to create a 3D effect that would bring not only the theatre goer, but people with home theatres and even putting on glasses and you know just watching on a small 3D television a really unique experience.
Then I mean to add to that, the DVD that will come out in about a month, we have a Blu-ray coming out as well as a regular DVD, both packages have the same amount of information, they have the full two and half hour concert, they have two additional songs filmed during sound check, and they have this 45 minute epic documentary about making the last solo record 'Black Swans and Wormhole Wizards.' The Blu-ray of course you can watch in 3D or you can watch a 2 dimensional version of the 3D camera edit, and then the regular DVD was shot on a whole different set of cameras, and that can be seen and listened to in 2D and you can listen to it in 5.1 or stereo.  It was a huge project, and the directors, the Lamoureux brothers and Sony and myself all as partners worked really hard to bring something to the fans that they would really love.
It was great to see, and I was actually trying to brush the hands out of the way at one point ha ha
Ha ha ha yeah sometimes it couldn't be avoided, it is a concert and the camera guys are right in there with everybody else and it was a smaller venue than what we were playing on during that tour.  We were doing slightly larger places with stages that were more broad so we had shows where we were moving around a lot and all of a sudden we realised we could only film this one night, it just happened to be in their home town and the venue itself was kind of cramped on stage, but the room itself afforded great camera angles, so the instructions to us was don't move around too much ha ha, so we had these small areas where we had to perform in, but I think in the end it made the concert unique, rather than us just running around and overacting, which can sometimes be weird.  When I've seen other shows where the entertainers are really overdoing it for the people in the back of the room, the camera doesn't pick that up, the camera's right there in front of the performer and you can get the feeling if you're watching it at home that when the performer's doing that, that they're acting for somebody and they don't know where they are, are they behind you or something?  So with some subtle direction from our directors, I think they got a kind of an intimate performance that transmits to the theatre and the home viewing situation much better.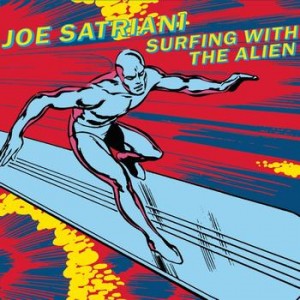 Now, I don't want to make you feel old, but 'Surfing With The Alien' is now 25 years old. Looking back, how important was that as an album for you?
Ha ha ha, oh that was such a wonderful success, besides the obvious, whenever an artist sells a couple of million albums, that's a good thing all the way around, for art and for commerce, but it was the fact that it was that record, because you think about your favourite artist that has say put out twenty records, some of the record are put out in earnest, some in desperation, some are compilations dreamed up by record companies and some artists actually get famous for the wrong song and it ruins their career.  I'm sure you know, there's a long line of one hit wonders and it's always the fear of someone that you get famous for the wrong song right? In my case, I became well known and successful because of what I would consider the perfect album.
It was the album that was made purely out of love, it was a statement that I thought represented my personality pretty well, because when I went into the studio to do that, I told the guys at Relativity Records, a small label in New York, that I wanted to make a guitar record that would celebrate all of guitar.  I didn't want to make some heavy metal shredding record which is what they wanted me to do cause I said that's not who I am, so I'm just going to a record that's very eclectic, it's got a mix of things, it's Chuck Berry to Hendrix to whatever you know, so I took a risk.  When that was the record that sort of introduced me to the world I thought this is perfect because that's exactly who I am and I could do this forever and it's just like walking down the street for me, I don't have to put on an act you know what I mean ha ha ha.  So it was really great and a great story that unfolded from that, as that record came out I'd never actually toured as a solo artist before.  In January of 1988 I'm starting this tour for my very first time trying to figure out how you play guitar instrumentals in front of an audience without any singing, I wasn't sure how to do it.  Three weeks into the tour, I got picked up by Mick Jagger to be his lead guitarist and a few months later I'm here in Australia for my very first time and what better way than to be introduced to a country than to be on tour with Mick Jagger and have a record going platinum at the same time so, ha ha ha it was the perfect storm of goodness you know?
Are you going to bust out 'Always With Me, Always With You' at these shows?
Yes.  Absolutely.  I went to the fans as I usually do at Satriani.com and I said, hey I'm coming out on this G3 tour, you know I'm going to have to play a couple of the hits that people want me to play like 'Always With Me, Always With You' and 'Satch Boogie' and things like that, but what other songs haven't I played that you'd really like me to play?  We got some great feedback and that really informed the set list and I think we've got a really cool set list that the fans should be proud of, cause they kind of made it up for us.
I wanted to ask about Chickenfoot and when are you going to bring the band down to see us in Australia?
Oh, you know, I thought it was going to be now ha ha, I tried really hard, but Sammy, he knows how to have a good time and it doesn't always involve hard work ha ha, so when I said 'come on let's go, we have to go to Australia, I want to go to Asia, I want to take it to South America' I could see him thinking it might conflict with his having a good time schedule.  So the first order of business with Chickenfoot is to do this six week North American tour that starts at the beginning of May and I'm confident that I'll make him have such a good time that he'll agree to come down here within the next nine or twelve months, but that's my mission in life, to bring Chickenfoot down here.
Playing guitar now for over 40 years, is there anything left to learn that you don't already know?
Yeah, there's tonnes of stuff, it's never ending, it's actually hard to stop working on it because I love it and I do feel driven and I could spend eight hours every day just trying to learn how to play let's say, what's outside the kind of music I was exposed to growing up.  I think that all of us in the end are kind of specialists you know?  You think about it, you think about your favourite artists, keyboard players, guitarists, singers, and they don't become famous for doing everything, they become famous for excelling at a few things, so that means that most artists are thinking, let's say in my case, I listen to some ripping bluegrass track, I go wow, I never grew up listening to bluegrass, I've never learned how to play bluegrass, never took any lessons, but when I listen to it I think I wish I could do that you know?  So I have done that over the years where I get exposed to these different styles that are outside of my musical social circle and I get intrigued by them and I slowly start to practise.  But it'll take me years before I feel confident enough to whip it out in public and try some bluegrass or Bebop or something like that you know.  I do love a lot of music and I think that there's always so much to learn.
Lastly, who do you consider to be the newest up and coming guitarists?
Yeah, you know the last ten or fifteen years has not been the kind of scene where it's cultivated a lot of guitar players, it's been all about the singer.  It's a bit rough for the young guitar player out there trying to make their mark.  Guitar playing in the arrangement of most popular forms of music has been sort of muted and relegated to parts instead of ripping self-expression you know that sort of thing.  What I've seen from around the world I can tell you from personal experience of touring in India, South America, North America, all over Europe, is that the younger generation, from ten to fifteen years old, those kids are really ripping it up and they want to say something with their guitar, so I get lots of videos from kids when we go to different concerts when I'm playing on tour and just blown away by how good they are and how they pop up out of nowhere now.  Mainly because of YouTube you'll find a twelve year old kid from Mumbai who can play Heavy Metal or Blues just as well as some kid from Mississippi or London England, there's no border anymore, and music was already an international language and now it's out of control and so you never know where that new great crop of players is going to come from, because they can come from anywhere.  They could come from right here in Sydney, or New York City or as I said they could come from New Delhi or Tokyo or Prague you know, it's very exciting.
Essential Information
From: San Francisco, USA
Website: http://www.satriani.com
Latest release: Black Swans and Wormhole Wizards (2010) Chickenfoot III (2011) Satchurated (2012)
Don't miss the axeman's night of nights! G3 performing at:
Sydney,  Hordern Pavilion – Friday March 30 – reserved seating
Melbourne, Palais Theatre – Saturday March 31
Melbourne, Palais Theatre – Sunday April 1 * Just announced.
Adelaide, Festival Theatre – Tuesday April 3
Brisbane, Convention Centre -Thursday April 5
Byron Bay, Bluesfest – Monday April 9
Three guitar heroes! Three bands! The infamous G3 Jam – all packed into ONE hot show!
Prepare to witness some of the most electrifyingly brilliant displays of guitar mastery ever seen when the most anticipated international live guitar event arrives in March 2012!
G3 bring their combined guitar pyrotechnics to Australia & New Zealand in what will be dazzling two-and-a-half-hour-long shows of guitar wizardry and musical daring.
G3 guitar gods Joe Satriani and Steve Vai will be joined on tour by the renowned Steve Lukather.
Fans will be treated to individual sets by each guitarist with their own bands before joining Satriani and his band on stage for an all-star jam session.
Since its inception and instant success in 1996, an incarnation of G3 has toured almost annually. Featuring three selected guitarists of this generation, G3 have performed sold out shows in the US, Europe, South America, Japan and here in Australia.
Founded by Joe Satriani, G3 has featured many celebrated guitarists including: Steve Vai, Kenny Wayne Shepherd, Yngwie Malmsteen, Robert Fripp, Adrian Legg and Eric Johnson.
This year's line up threatens to over-shadow all of them.  Please note that the lineup will also be performing as part of the Byron Bay Bluesfest, all the details for that can be found by clicking right here….