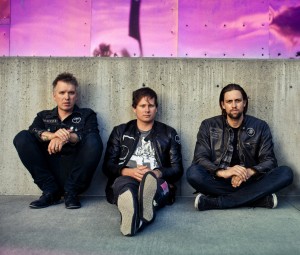 Tom DeLonge needs no introduction. Forming ANGELS & AIRWAVES during Blink 182's hiatus, they have gone on to reach critical success leading an army of die-hard fans.
Combining epic melodies and monstrous arena rock choruses ANGELS & AIRWAVES debut album 'We Don't Need to Whisper' had Kerrang! calling it "bold and brilliant…with some stunning moments of perfection…euphoric".
ANGELS & AIRWAVES take the listener on a musical journey and this is nowhere more prevalent than their new albums 'Love: Parts One & Two' which sees the band at their ethereal best.
Possessing an epic and electrifying live show; ANGELS & AIRWAVES play two exclusive Sidewaves in Sydney and Melbourne.
MADINA LAKE has endured more in the past two years than most artists will experience in their entire career. There were moments of terror, trepidation and triumph and all those moments have been captured in the bands entrancing and enthralling final part of their immersive album trilogy "World War III".  It is their most powerful and heartfelt album yet with Alternative Press declaring it a "record drenched in electronics, shot through with ass-shaking grooves and boasting towering refrains designed to be sung by thousands of voices."
Having mastered the art of writing irresistible choruses and powerful rock anthems, FRAMING HANLEY have been turning heads since their inception.  FRAMING HANLEY'S meteoric rise is set to continue with the release of their sophomore album ' A Promise To Burn' full of " good old no-nonsense rock anthems" – Rock Sound
Check out our interview with Nathan Leone of Madina Lake right here…
TICKETS ON SALE THURSDAY 26th JANUARY 9AM AEDT
MONDAY 27TH FEBRUARY SYDNEY, UNSW ROUNDHOUSE– LIC/AA
www.ticketek.com.au
THURSDAY 1ST MARCH MELBOURNE, THE FORUM – 18+
www.ticketmaster.com.au