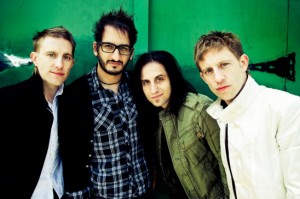 Starting out with the ambitious endeavour to make a trilogy of albums set around the fictional 1950's town Madina Lake and a storyline that involved the disappearance of a gorgeous local Adalia and the attempts to find her, never could the band have anticipated that real life events would merge into this fictional story.  In June 2010, bass player Matthew Leone (also twin brother of lead singer Nathan), was brutally bashed and sustained critical head injuries in an act of courage after attempting to stop a man from beating his wife.  After months of recovery, the band resumed working on what has now become World War III…which as Matthew puts it in the official press release for the album "The unexpected reality of what we went through was instilled into this phase of the story. In the mythological realm of Madina Lake, there's a palpable sense that something catastrophic is on the horizon.  When my accident happened in real life, it was a good example of what we were trying to depict in the story. We were writing about the fear of the unknown. Then, it became the known."
Madina Lake return for their third appearance at Soundwave Festival in 2012, we chatted to lead singer Nathan Leone about the new album and the support given around the world towards the band from both fans, metal heads and the likes of Billy Corgan.
Hey Nathan, thanks for taking the time to chat today.  So with a European tour about to be commenced any day now, where in the world do we find you today?
Right now, we are lucky enough to be home in Chicago, getting ready for this tour that's kind of going to be the biggest that we do in terms of production and everything else, so we are kind of scrambling to put it all together before we leave on Sunday.
The UK has been a happy hunting ground for you, hasn't it?
Yeah it's been amazing.  We've had a lot of luck over there, it's become a bit of a home away from home for us.  It's a very passionate country for better or worse, they either love you or hate you and you will know it either way.  For us that's wonderful because the support we have developed over there is very passionate and amazing to us, so I feel lucky that we get to start the tour over there and from there we do all of Europe, then Japan and Soundwave in Australia.  We can't wait!
Speaking of Soundwave, you've had a couple of appearances already haven't you, how did you find those visits?
Yes we were lucky enough to do both 2008 and 2009.  And here we go again with the clichés, nearly every band, depending upon where they are in the world will say that Australia is their favourite place to play and be.  However, in Australia's case, it's the truth.  Honestly, it's such an amazing culture, a very passionate one, but at the same time laid back with that lust for life.  I feel like in Australia you guys just love living!
How would you compare the level of interest in the band here in Australia to other parts of the world, at least from what you can determine?
In terms of the passion and lust for music there's a lot of similarities between Australia and the UK.  But what I love about Australia is that we haven't yet been hit by any piss bottles haha!  In England it's kind of like dodging snowflakes at times, particularly if we are on a metal festival and we are not a metal band.  But I do love that though, either way, I love the intensity of it.  Australia I think would have to seriously be the number one crowd base, everybody just wants to have a good time and that's the whole point of it all.
How do you go adjusting to that type of crowd at say a Download festival?
Well, we have had to learn the hard way basically.  But the one beautiful thing in a sense with Download, was the fact we were just coming off my brothers incident, which in honesty both the UK and Australia have been so gracious and generous in supporting us and we're so grateful I can't even put it into words. But that was the one beautiful thing about Download, even the most hardened metal heads showed so much respect for what Matthew had done and the fight that the band had been through and it turned into be one of most beautiful experiences.
How have you found the experience of performing the songs from World War III thus far, which given the circumstances with Matthew around the time you commenced working on the album, I am sure some of those songs have emotional impact on you guys
That's an amazing and much appreciated question.  I think we are going to play maybe 3 or 4 new songs in our set and there's a handful that are directly related to the incident.  It does get difficult at times, but simultaneously it's a very cathartic experience and it helps us purge all the personal damage from it all.  So we try and focus on that aspect, as that can be a beautiful thing.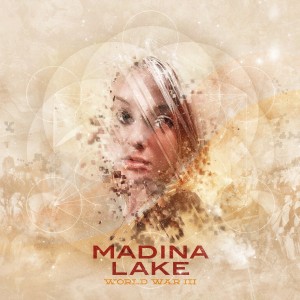 World War III has been out now for a few weeks around the world, how has the response been thus far?
To be honest, we've been blown away by it.  We're not really used to that kind of press.  The first two records we were lumped into a genre we never really felt a part of and accordingly we were maybe prematurely judged on that basis.  But this time around I feel like everything we've been through and the support the entire worldwide music community has given us, I feel like people really paid attention to the record and so far I feel like the response has been so positive, we can't believe it.
World War III is the third album as part of the trilogy, what would you say to someone who might only just be discovering the band.  Is this an album that can be enjoyed in isolation of the other albums?
Yes absolutely, one of the things we established right at the beginning in terms of lyrical content and style of music would not be tied specifically to the story.  Everything we write comes from real life experience and things we believe in, after we finish the writing and stuff, and then we are able to wrap that around the bigger concept.
With Smashing Pumpkins being such a big influence on the band, how then was the experience of having Billy Corgan involved in this album with the track Imagineer and his support during Matthews recovering in helping raise funds?
It was one of those dream come true kind of experiences that was actually so unrealistic that you didn't waste time dreaming about it!  It was really hard to imagine coming from such a difficult time that things had turned around to the extent that we had been graced by such incredible opportunities and amazing people.  We were as nervous as could be and another concern when you meet idols is that in some way, shape or form they will disappoint you, in this case it couldn't have been more opposite.  Billy's the most incredible, gracious, talented person I met so we are very lucky.
So now that the trilogy is finished, or is it really finished?, what's next on the horizon?
Yes it is done, first and foremost and we are very proud and excited in that regard.  In terms of what's next, we've really consciously not tried to look forward at all.  Obviously we have learnt from Matthew's incident and after 6 or so years of touring, you realize you are always looking forward to that next thing and it kind of distracts and preoccupies the moment you are in.  Especially having Matthew survive and having him back in the band and have him visit Australia again and Japan with a record we are so proud of, we just want to take every ounce of pleasure out of that as we can.  But first and foremost we need to take care of Matthews health, but this is what he loves to do and the life he loves to live and the same goes for all of us, so we are just going to keep going for as long as people let us!
Essential Information
From: Chicago, USA
Band members:  Nathan Leone – Vocals, Mateo Camargo – Guitar, Matthew Leone – Bass, Daniel Torelli – Drums
Website: www.madinalake.com
Latest release: World War III (2011, 3Wise Records, Australia)
SOUNDWAVE FESTIVAL VENUES AND DATES
SATURDAY 25 FEBRUARY – BRISBANE, RNA SHOWGROUNDS
SUNDAY 26 – FEBRUARY SYDNEY, SHOWGROUND
FRIDAY 2 – MARCH MELBOURNE, SHOWGROUNDS ***SOLD OUT***
SATURDAY 3 – MARCH ADELAIDE, BONYTHON PARK
MONDAY 5 – MARCH PERTH, CLAREMONT SHOWGROUNDS
General Public tickets on sale now through http://tickets.soundwavefestival.com, www.oztix.com.au & Oztix outlets & www.ticketek.com.au 132 849
*All shows are licensed and all ages
*Venue and line up subject to change