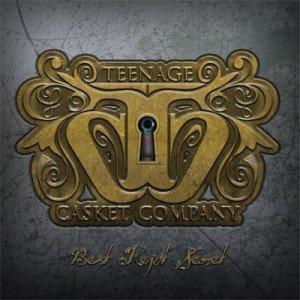 In 25 words: A lethal combination of driving guitars, hooks, soaring choruses and pure addictiveness.
Having first discovered Nottingham based Teenage Casket Company (TCC) on MySpace, yes MySpace, some 7 or 8 years ago, what I found in this "casket" was indeed a "best kept secret".  A band that captured the essence of the anthemic style of power rock that I loved best, combined with a live show that I managed to witness on two occasions which delivered the energy, stage moves and guitar pick trickery of those influences the band so proudly wear, not on their sleeves, but on their shirts.
Between 2003 and 2007 the band independently released an album titled Dial It Up and then an EP Eat Your Heart Out which spawned the single and a video for Don't Look At Me Like That. But it was their fearless work ethic and relentless touring that saw the band trek all over the UK, Europe and USA playing with the likes of Danger Danger, Acey Slade, Mitch Malloy, Vains Of Jenna, The Erotics, L.A Guns, Sign, Vain, Robin Black and TUFF/Stevie Rachelle.
To steal their own words "an honest band makes it's own friends" and that they certainly did, with their accessible and totally down to earth attitude gaining a legion of "coffin kids" worldwide and some big name admiration from bands such as Bowling For Soup and Danger Danger and did all of this and more, without any major label or management support.  But that was all in the past, after taking a break to pursue other projects and refresh the mind and soul, in 2011 TCC are BACK, albeit now as a 3 piece, with the departure of co-lead singer and guitarist Jamie Delerict. Back with a "greatest hits" of sorts titled Best Kept Secret, featuring tracks from their album and EP, as well as a brand new track Best Thing Is My Radio.
Choosing the 10 older tracks to feature on Best Kept Secret can't have been an easy task, but the chosen ones represent a lethal combination of driving guitars, hooks, soaring chorus's and pure addictiveness, none better illustrated than Cocaine, pardon the pun… Despite the departure of Delerict, Best Kept Secret still pays homage to the punkier, angsty and snarlier side of the band with songs such as Dial It Up and Mirrors & Wires included. With the bands pedigree of growing up on a diet of 80's hard rock, it's no suprise that lead songwriter Rob Wylde can write a killer power ballad, with Believe In You featuring all the trademarks of a cigarette lighter love song, well except for the token black and white heart wrenching film clip.
Fast forward to 2011 and with the band having played some return shows in the UK and with new songs being written as we speak, I wait with anticipation of what the future holds.  Whilst the songs on Best Kept Secret capture a snapshot in time, if new track Best Thing Is My Radio is any indication, arguably the most infectious song the band has written and recorded, TCC will be a 'best kept secret' for not much longer.
* Check out our interview with Teenage Casket Company right here…
Essential Information
From: Nottingham, UK
Check it out if you like: Anthemic power rock
Record label: Jamsync Music
Release Date: Out Now
Website: www.myspace.com/teenagecasketcompany & www.facebook.com/teenagecasketcompany
Track listing:
1. Best Friend Is My Radio
2. Cocaine
3. Dial It Up
4. Down On Luck
5. Thank You For Nothing
6. Mirrors & Wires
7. Don't Look At Me Like That
8. Believe In You
9. One Thing You Don't Need
10. Eat Your Heart Out
11. Ain't Got Nothin' On Me