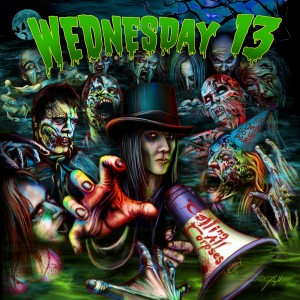 "For me to be able to come back and tour as Wednesday 13 at Soundwave that's a really big accomplishment for me. Not to be on a major label, doing my stuff DIY as I do it, and being listed up amongst a lot of the big bill bands, it's really, really cool and makes me feel good that I've stuck to my guns and stood up for what I believe in."
Wednesday 13 must surely be one of the most prolific music artists on the planet, having released an album (eg. Wednesday 13, Murderdolls, Gunfire76, Bourbon Crow) nearly every single year since the year 2000.  Having only just released the slashing new Murderdolls album last year, Wednesday 13 now returns in 2011 with Calling All Corpses, his first solo album since 2008's Skeletons.  Having just been announced on the massive Soundwave Festival 2012 line up, it will also see Wednesday 13 backing up for a second year in a row on the festival, with the Murderdolls appearing last year.
Just a matter of hours away from taking the stage in Chicago, we chatted with Wednesday 13 about new album Calling All Corpses, returning to Australia and the fact that finally the world seems to be catching up with what Wednesday 13 has been doing for years…
Hey man, thanks for taking the time to do this interview!  So you are out on tour right in the USA, where do we find you right now?
We just pulled into Chicago a few hours ago and we play tonight.  Basically it's our fourth show into the tour and we are still fresh and still new and working out a few of the kinks, but it's great to be out touring again and touring a new record.
So who have you got out on tour with you as far as your band goes, is it essentially the line up that appears on Calling All Corpses?
It's the exact same line up as was on the record, but we just added a new guy who wasn't around during the recording process, our bass player Troy Doebbler.  So we've got a full force on stage and it's one of the favourite line-ups I've ever had.
I am assuming you have a bunch of the new songs in your set, how have you been enjoying playing them and how have the crowds been digging them?
There's nothing better than getting out on stage and playing new songs and you want people to like them as much as the old songs you know.  It's kind of nerve wracking when you come out and play them for the first few times as you hope they translate well live.  In my brain, you know, all summer I wrote this record, I recorded it and waited for it to come out and thinking "this song is going to go down great live", so it's been great to finally play them live.  Unfortunately we can't play the whole record in its entirety, I can only play a few each night.  Right now we have worked four of the new songs into the setlist and honestly they have been going off just as great as the classic songs.  I open the set with a new song and end the set with a new song, which is pretty ballsy, but it goes over great!
The new Wednesday 13 album has been out for a few weeks now, first things first, at least the way I hear it, this is definitely a more upbeat, catchier, tongue in cheek album overall.  Was this a specific intention, or is it more a product of where you were at personally when writing for the album?
Like you said, I think it's a little bit of all of that.  I think it's definitely where I'm at and first off, I don't like to make the same record over and over again.  A lot of people when they first heard this new record were like, "well I want the Transylvania record" and I'm like we'll go listen to the Transylvania record then!  I try to do different things with each record and for this record I didn't want to go back and do what I did on Skeletons.  That album speaks for itself, it was a different record at the time, it was darker, it was heavier and a lot of fans didn't like it at first, but now it's their favourite record after they've sat on it for a while.  I think this record is maybe similar to Fangbang or my old band Frankenstein Drag Queens, but at the same time it's got it's own identity and stands out as a different record as well too.  For me I was just kind of bored with the whole lyrical thing I did with Skeletons which I carried on into my Gunfire 76 project and into the Murderdolls record, so that's three albums I got out all my bullshit and bitching and whining and personal problems, so that's all out on the table.  This record is a return to the leave your brain at the door mentality.
Since the last Wednesday 13 album Skeletons, you have released new Murderdolls and also Gunfire 76, how different did you find your song writing process for Calling All Corpses?
Well I'm very aware and not closed minded and I always try and learn from stuff.  Every time I record or play with Joey I learn something else.  That guy pretty much taught me everything I know as far as studio stuff goes.  I'm completely indebt to that guy forever, he brought me into this whole world.  Overall I try and write a good song that at the end of the day is going to stand up in a few years from now and they won't be a flash in the pan or filler song and over time these songs last.  With this record I wanted to make one that I could tour on for a year and I wouldn't hate these songs and they would go over great with an audience.  So far the reaction has been exactly that.
Digging a little deeper beyond the song titles, were there any key influences on the songs in a lyrical sense?  There's the autobiographical Something Wicked for example…
I try to do stuff now where I can write in metaphors.  A lot of people will read the titles first glance and they will be like here we go with the movie titles again.  But they're not, London After Midnight is a movie, but that song has nothing to do with the movie.  It's a song about being on tour and a couple of different tour experiences I have combined into one.  The song We All Die, that was a personal song on the record that a lot of people will just think is about a zombie apocalypse I guess, but it's actually about my experience in the earthquake in Japan earlier this year in March, which fucked with my brain for months and months and months…. It still has.  So I kind of write in metaphors where people think I am singing about the typical Wednesday stuff, but I get my stuff out with it as well.
So that earthquake experience in Japan, you had just been out here in Australia for Soundwave hadn't you, it must have been a very crazy experience.
It definitely was, but at the same time I can take negative things like that and turn it into something positive.  The negative things from that Japan earthquake turned positive because this record is an exact result from that because I pretty much locked myself in my room in my apartment and wrote this album, it was like therapy in my mind.  I had posttraumatic stress from the earthquake and I still have it you know, but writing this record was my escape, it's how I got my mind off it, I just got back into writing sings.  I worked day and night, nonstop for a month recording this record.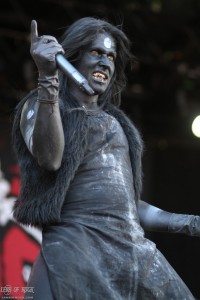 Speaking about all the releases you have been involved, you are certainly incredibly prolific, with nearly an album each year, in amongst all the touring commitments etc.  Are you the type of person who can write/record whilst out on the road or just fall off tour and immediately start working on a new album with no break?
I mean honestly, I don't know how I do what I do without just going crazy, but I think I am a little bit crazy!  But this is all I know, it's all I think about and this whole summer I basically had off waiting to go out on tour for this record.  For me, if I fast forward 4 or 5 months from now after all this touring and I'm so tired, I'm so tired I want a day off, if I had two days off, I would be so bored and ready to tour again.  That's just how I am, I need one day off to recharge my batteries and then I'll be ready to get into recording a new record or whatever.  In 6 or 7 months from now I will probably be back in the studio recording a new Wednesday 13 record!  I don't stop.
So you are heading back to tour Australia, with next year being Soundwave 2012.  It's a pretty massive line up and you have your Murderdolls mate out here with Slipknot!
Oh yeah man.  Just being a part of it last year was really fortunate, getting to tour with all those awesome bands there, it was such a cool experience.  I really can't even explain how cool it is.  Playing in front of the audience is one thing, but to then go backstage and watch other bands…like watching Slayer play everyday from like 10 feet away from me, that's insane.  I'm like this is the coolest thing ever!  So now in 2012 as I'm looking through the line up I'm seeing a whole heap of friends and a lot of bands I like, so it's going to be a super great experience.  For me to be able to come back and tour as Wednesday 13 at Soundwave that's a really big accomplishment for me. Not to be on a major label, doing my stuff DIY as I do it, and being listed up amongst a lot of the big bill bands, it's really, really cool and makes me feel good that I've stuck to my guns and stood up for what I believe in.
I know you have some dates coming up with Michael Monroe and Crashdiet next month in the UK, which will be, awesome package of bands…have you played with either before?
We got to play one show with Michael Monroe last Wednesday in California so we had a little taste of what the tour is going to be like.  He's got the best fucking band ever. To me, I get dressed early just do I can go and watch his show, I watch him and it excites me to go and play.  The guy is older than me but he runs circles around me and makes me feel like I am the older guy.  He's great, he's one of my rock n roll heroes and I've learned so much from him.  I got to do the farewell Hanoi Rocks tour back in 2008 which was really cool as well.
How extensively are you looking to tour the album in 2012?
Haha I'm already tired looking at my schedule! This record and the touring plans for it are probably going to be the most extensive and longest I've ever done.  Right now I'm booked all the way through to Australia, which means February, and then I'm going to be headed back to the USA after Australia and then South America and the European festivals in summer and then I'm hoping to be back in 2012 to do a W13 headline tour of Australia.  So it's going to be non-stop and somewhere I'm going to try and find time to work in another Wednesday 13 record on there as well.
Ok, last question!  At least my observation over here in Australia, there's a whole new generation of teenagers getting into newer bands such as Black Veil Brides and Steel Panther, the Swedish sleaze rock scene and discovering for the first time the likes of Alice Cooper and Motley Crue, have you found this has also reflected with the interest in Wednesday 13?
Yeah that's cool that you said that as it totally makes sense now.  For example I can explain it just as how I've seen it through my own eyes.  In 2005 I toured as Wednesday 13, did a solo tour and it was amazing, great fans.  Then I came back 5 years later with no touring and not many of my recent releases had been widely released over there in Australia, yet I had 3 times the audience!  I was like what the fuck is going on?  Then there was Murderdolls at Soundwave where we got a great reaction and the record did really great in the charts and then the reaction for this latest record.  It almost seems like time has finally caught up with what I'm doing.  I've always explored the macabre and weird, now you've got zombies, werewolves, vampires and monsters, it's all mainstream now and I've been singing about this stuff since I was 15 years old. So I think it's finally come around and people are noticing it now and thinking shit, this guys been doing it for years.  Those bands you mentioned like Alice Cooper and Mötley Crüe, they're the reason I do what I do, everything is kind of going full circle now.  I speak to Alice all the time and he has people that come in and tell him I got into you because Wednesday 13 won't stop talking about you!  So it's a really cool thing and I don't ever hesitate to put my rock n roll heroes on my sleeve, Mötley Crüe, Alice Cooper, Twisted Sister and KISS, they're the reasons I do what I do and I'll still be a fan boy till the day I die of those bands.
Check out our review of Calling All Corpses right here…
Essential Information
From: USA
Website: www.wednesday-13.com
Latest release: Calling All Corpses (2011, Riot! Entertainment, Australia)
SOUNDWAVE FESTIVAL VENUES AND DATES
SATURDAY 25 FEBRUARY – BRISBANE, RNA SHOWGROUNDS
SUNDAY 26 – FEBRUARY SYDNEY, SHOWGROUND
FRIDAY 2 – MARCH MELBOURNE, SHOWGROUNDS ***SOLD OUT***
SATURDAY 3 – MARCH ADELAIDE, BONYTHON PARK
MONDAY 5 – MARCH PERTH, CLAREMONT SHOWGROUNDS
General Public tickets on sale now through http://tickets.soundwavefestival.com, www.oztix.com.au & Oztix outlets & www.ticketek.com.au 132 849
*All shows are licensed and all ages
*Venue and line up subject to change