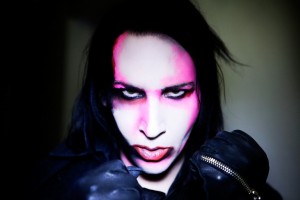 "MARILYN MANSON reminds us what it's like to see a rock star actually perform for his fucking fans" – NME
Very rarely does an artist come along that defies the boundaries of convention and remains relevant in a storied career spanning over two decades selling in excess of 50 million albums. MARILYN MANSON has successfully pioneered 'Shock Rock' whilst redefining alternative music, blazing a trail of controversy and originality.
MARILYN MANSON remains a complete spectacle delivering one of the most creative and entertaining live shows in the world today and something that should without question be on everyone's "List of things to see and do before you die" – Sounds Magazine
After selling millions of records and leading an army of rabid fans across the globe, COAL CHAMBER'S career came to an abrupt halt with the band disbanding at the peak of their career in 2002.
Fast-forward 10 years and for the first time in over a decade COAL CHAMBER will be reforming for Soundwave 2012 and 2 exclusive sideshows.  "COAL CHAMBER is and always will be a very special part of my life, so these few shows are for those people and for us" enthuses charismatic front man Dez Fafara   Don't miss your chance to be apart of metal history.
Forming whilst on hiatus with Murderdolls, WEDNESDAY 13 has firmly cemented himself as the leader in Horrorpunk. With an unruly live show of fun and debauchery "Everyone leaves sweaty, smiley and enthused by what they just witnessed…they are everything that is right with rock music today" – caughtinthecrossfire.com
 With a blend of intense melodic metal and a penchant for the macabre, MOTIONLESS IN WHITE is taking the metal world by storm. Their spectacular debut album 'Creatures' has fans and critics alike singing their praises with Caughtinthecrossfire.com declaring it "A beautifully crafted masterpiece that will not only serve as the perfect soundtrack to your Halloween, but to anything else as well".
Check out our interview with Dez Fafara from Coal Chamber right here…
Check out our interview with Wednesday 13 right here…
——————————————————————————————————-
TICKETS ON SALE FRIDAY 16 DECEMBER, 9AM 
FRIDAY 24 FEBRUARY BRISBANE, EATON HILL HOTEL – Licensed A/A
www.oztix.com.au 136 100
WEDNESDAY 29 FEBRUARY SYDNEY, ENMORE THEATRE – Licensed A/A
www.ticketek.com.au 132 849
TUESDAY 6 MARCH PERTH, METRO CITY – 18+
*Coal Chamber and Motionless In White not appearing in Perth
 www.oztix.com.au
Presented by Channel V and Soundwave Touring