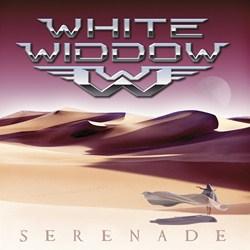 In 25 words of less:  Unashamedly 80's inspired melodic rock anthems with more keys than a locksmith, destined to further affirm the international standing of my fellow Aussies.
Releasing two studio albums in 12 months is not an easy task, no matter who you are, but combine that with the much hyped "second album syndrome" and you could be destined for an epic fail as many bands have indeed done.  However for Australia's White Widdow, on new album Serenade it seems they handled both as competently as they can deliver keytastic melodic rock goodness.
Using the broad brush of melodic rock and AOR to paint their canvas, Serenade sees the band offering up a wider variety of tracks stylistically and musically, thrown in a little more diversity than their debut.  From the outset, the sound throughout Serenade is huge, in an almost Def Leppard Hysteria era type huge.  For those of you familiar with Swedish band Grand Design, that bands frontman Pelle Saether mixed and mastered the album.  But hey, he can't make backing vocals sound huge if they aren't there in the first place, so it's obvious that on this album White Widdow have upped the stakes so to speak and tried to deliver as massive a sound as possible, which they have indeed succeeded with.
Album opener Cry Wolf is what I consider trademark White Widdow coming from the same place as Cross To Bare off the debut.  One of the heavier songs on the album it's a showcase for the musicianship of the band and a track made for performing live.  As far as the bands keyboard drenched sound, for me personally it channels not the melodic rock and AOR of the 80's, but more the electronic, synthpop and ambient style of French composer and performer Jean Michael Jarre, most famous for his album Oxygene which was released way back in the late 1970's.  Strangers In The Night along with How Far I Run are probably the standout tracks, with their urgent, immediate and catchy choruses.  Whilst I couldn't understand at the time why How Far I Run only made it as a bonus track on the debut album, I think it has definitely found a better home on Serenade. 
Speaking earlier of the greater diversity on this album both musically and stylistically, it's delving deeper into tracks such as the ballad that Def Leppard obviously forgot to record for Adrenalize in Do You Remember.  Little things such as the backing vocal arrangements that follow this tracks guitar solo, or which appear throughout the latter track, Mistake, that really illustrate the greater maturity and obvious confidence the band have gained since writing for the debut.  Reckless Nights is a good time anthem that is a cross between early Danger Danger and Blue Tears.  An album such as this wouldn't be complete without a "cigarette lighter love song" and the band deliver that with Patiently which closely follows the tried and true power ballad formula.  Hearing a song such as Show Your Cards certainly didn't surprise, the most stylistically diverse track on the album, it's bordering on high-tech AOR territory.  A song almost devoid of guitars, it may test those that devour the immediacy of tracks like title track Serenade and album closer Love Won't Wait, but it's a definite winner for those of us that are swept away by the bands trademark sound of heavenly keys.
With their blueprint of delivering unashamedly 80's influenced melodic rock practically set in stone, for those of you that may have been concerned Serenade would deviate from this, I can safely report that if you enjoyed the bands debut album, then prepare yourself for Serenade, set for release on September 23rd through AOR Heaven.  White Widdow are also set to play live shows throughout Europe in late September and October, culminating in an appearance at Firefest 2011 in the UK.
* Check out our interview with White Widdow right here….
Essential Information
From: Melbourne, Australia
Check it out if you like: The sound of keys and melodic rock!
Record label: AOR Heaven
Release date: September 23rd, 2011
Website: www.whitewiddow.com.au
Track listing:
1. Cry Wolf
2. Strangers In The Night
3. Do You Remember
4. Reckless Nights
5. How Far I Run
6. Serenade
7. Show Your Cards
8. Mistake
9. Patiently
10. Love Won't Wait