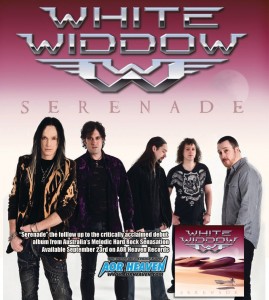 Hailing from Melbourne, Australia, White Widdow return with their second album, Serenade, only the best part of a year since their debut.  Retaining the same keytastic and unashamedly 80's sound of their first album, Serenade does however cover more stylistically under the broad spectrum of AOR and melodic rock.  The album was recorded at Solid State Studios in Melbourne, Australia and Mixed and Mastered by Pelle Saether (Grand Design) at Studio Underground in Sweden.
In support of the new album, White Widdow are soon to be heading where no Australian band has gone before…to play at the iconic Firefest Festival in the UK in late October along with the likes of Warrant, Jimi Jamison, Jeff Paris, Unruly Child, Strangeways and Kane Roberts the worlds only true festival for lovers of AOR and melodic rock.  The band have also lined up an appearance at the H.E.A.T Festival in Germany (Stage Dolls, Keel), along with shows in Italy, Sweden and Greece.
We chatted about the new album Serenade to the man integral to the keytastic sound of White Widdow, Xavier Millis – keyboardist and producer, amongst other things!
In around a year from your last release, you have pumped out another album. Aside from How Far I Run which was intended as a Japanese bonus track on the debut album, were the songs that appear on Serenade new songs you had written, or were some ideas kicking around from the first album?
No, all the other songs we're conceived of and completed between December 2010 and July 2011. We really didn't expect the response to the first album to be so overwhelmingly positive and it was only when we we're offered the Firefest gig that we discussed the need for a follow up.
Having gone through the process of writing & recording your first album, what were some of the biggest learning experiences of during the first album that you felt put you in a better place for 'Serenade'?
I think it was probably different for everyone. Personally, our first album is the first rock recording of any kind i've been involved with, so I was – and still am – constantly learning. The process definitely made me a stronger musician in every way. Three years ago I was only playing by ear and the process of songwriting was very trial and error.
With the glorious sound of keys so integral to the White Widdow sound and song structures, I have to ask, does the songwriting process for the band kick off with a keyboard melody/riff…or is it something more traditional such as a guitar?
The process has been quite varied. The first album was written over about a 2 year period and relied more on gigging our demos into shape. This time it wasn't the case, so there was a bit less group collaboration on ideas and more writing in pairs and solo. Sometimes Jules will bring a vocal/melody idea to Trent or myself, and even already have a solid vision of keyboard parts when they bring the idea to the band. Some songs do start with a keyboard or guitar part, and develop organically from there in a rehearsal. I also have a couple of songs I wrote by myself on this album.
Speaking about 'Serenade' as an album, musically and song wise I find there to me a little more diversity than your debut. Was this a specific aim for this album?
We were definitely aware of a couple of styles of songs we wanted to have in our repertoire that we lacked from the debut. So in that capacity we did think about it, but once in the midst of the writing process with demos flying around thick and fast it was less about that and more about which songs were strongest.
I could ask questions about many songs off 'Serenade', but one in particular is 'Show Your Cards', which takes White Widdow into almost high tech AOR territory and is key/synth heaven…how did this song originate?
Jules and I had intended to try our hand at something more in the Hi-Tech domain. With me being an electronic artist outside of the band, and a huge fan of 80s pop, the point where those styles cross into AOR was always a huge discussion point. This was one that certainly started with the keyboard riff from the chorus, which inspired the vocal, and it shaped from there. I think while it's definitely different territory with it's faster tempo, synth choices, subtle vocoder and the pulling back of the guitar somewhat, it still came out with a White Widdow sound which is important.
You had Pelle Saether from Swedish melodic rock act, Grand Design mix and master the album and the result is a HUGE sound. Obviously that was the instructions to him, make this album sound as massive as possible?
We chose to go with Pelle as we liked the sound he achieved on the Grand Design 'Time Elevation' record. Knowing that going in, we were pretty confident of a big sound from this process. There wasn't a great deal of back and forth about the desired result, we we're pretty bowled over on receiving the first mix back!
But not to underdo your invovlement Xav in the recording process and final product, correct me if I am wrong, but basically you act as producer and manage the recording process up until the finished product was sent across to Pelle. How do you find balancing this level of responsibility with also being such an integral part of the band as key board player?
This actually proved a bit difficult given the release timeline we had committed to, but thankfully it all came together. It's easy on songs for which I wrote the majority of the music, but songs that were brought into the band largely on guitar sometimes prove harder to write key parts that are interesting and add-to the experience without stepping all over the existing riffs and feel of the song. I was always aware while in the producer/engineer chair that I had to get off my ass and start playing my parts, and in the end it all came together.
In addition, being so integral to the songwriting for White Widdow and the song arrangements, what are some of the key things you try and ensure feature in each song to give the White Widdow "trademark" sound?
I don't know if there's anything conscious that I keep going to. I know I'm always trying to avoid revisiting particular progressions we've used before to keep things fresh musically. There is a conscious cat-and-mouse game with me and Enzo, trying not to compete for rhythmic or melodic attention during any one part of a song. I can't overstate the importance of a good pre-chorus, and we definitely have developed an expectation from the songs in that way. Jules usually has a solid vision of where he wants a song to go once it's in the middle of the demo stage, so that shapes our sound a lot too, I imagine. We're all still learning what our sound is so it's a hard one to answer.
For the benefit of us non-songwriters, how different/or similar has it been for you personally writing an AOR song, versus writing for what you are more well known for here in Australia with Weapon X and X & Hell?
The whole X & Hell period is like a past life really. Since the last album was recorded in 07/08, I've been more focused personally on my Dublin Aunts project which to date has yielded mostly 80s-tinged keyboard-heavy disco. In that regard, there are huge similarities to the keyboards in the White Widdow songs, and one certainly feeds the other inspiration wise. A keyboard riff I play could really end up being something for either project. The songwriting process of demoing and finishing songs is however completely different, and I kind of call the shots for Dublin Aunts which is both a blessing and a curse. I never seem to finish many songs when I'm keeping my own counsel, but with no other musicians to worry about I'm free to let my creativity run wild.
As far as the evolution of your keyboard sound and style in the AOR domain, who are some of your major influences? I dare say the likes of Greg Giuffria must be in there somewhere?
Yeah the Giuffria stuff is outstanding. Jonathan Cain is a big influence. I love the White Sister stuff. Lately, I really like Work Of Art. To be honest, I think the bigger cross-over records of the 80s, and the stuff that Jules played to death while we were growing up, has been a bigger influence subliminally than anything. My favorite keyboard part in history would be from Stevie Knicks' 'Stand Back' which was played by Prince. I listen to a broad spectrum of keyboard heavy music. Bands like Chromeo & Van She, 80s disco revival artists like Lifelike & GRUM have been huge inspiration for me.
Last year you supported Ted Poley as his band during his solo shows in Australia, this year you are playing a bunch of shows in Europe, with the pinnacle being playing at the biggest AOR festival in the world, Firefest. Starting off playing AOR covers a few years back as the band did, these experiences must all have a bit of a surreal feel to it?
Haha! Definitely. It's very weird. It's weirder for friends of mine who aren't from this world. It has completely ambushed them. We always planned to write songs and release them, but we had no idea if it would result in anything worth listening to, let alone be touring internationally. We feel pretty fortunate to say the least.
Are there any bands you are specifically looking forward to seeing perform at Firefest?
Unruly Child is right at top of the list. Never thought it would be realistic to expect to see Marc/Marcie Free live but that looks to be happening. Seeing Jimi Jamison performing Survivor tunes is also an exciting prospect.
With your brother also in the band, lead singer Jules Millis, whilst you have both led different musical paths outside of White Widdow, I have to ask did you guys growing up ever talk about having a band together such as White Widdow?
Never. Not once. Our parents have been suitably confused.
As far as AOR is concerned in Australia in the current decade of the 2010's and for a good number of years before that, you guys are certainly the pioneers. Since the existence of White Widdow, have you in any way noticed a shift in the level of awareness or popularity of AOR amongst the confined scene we exist in here Australia?
I know that within the circles we gig in there has been increased support, which is great! I'm not sure about an increased awareness though. It seems those who know about it feel how they feel, and that's that. I think there's a huge number of Australian's playing songs like Noiseworks' "Take Me Back" on repeat, not realising it's pretty much AOR, and this music is still be crafted – even in their own backyard.
*Check out our review of Serenade right here…
Essential Information
From: Melbourne, Australia
Sounds like: AOR
Band members: Jules Millis – Vocals, Enzo Almanzi – Guitars, Trent Wilson – Bass, Xavier Millis – Keyboards, Jim Naish – Drums
Website: www.whitewiddow.com.au
Latest release: Serenade (September 23rd, AOR Heaven)